Arsene Wenger was back in London this week, ahead of pre-season preparations with Arsenal. Prior to his return, the Frenchman was in his home country, supporting and giving his verdict on the European Championship.
Focus on the new season
Arsenal, have a huge season ahead of them, with managerial rivalry's restored and rival teams in general strengthening, it's essentially judgement time for the Gunners as they face their biggest test in a long while.
After returning to his usual pre-season routine, Wenger spoke about the returning players from international, and the importance of each of them to take some time away from football following their non-stop summer.
He began by confirming that both Laurent Koscielny and Olivier Giroud will receive at least four weeks holiday, as France reached the final and both players made appearances in all of their country's games.
"You consider the rest time because France had a long, long go," explained Wenger.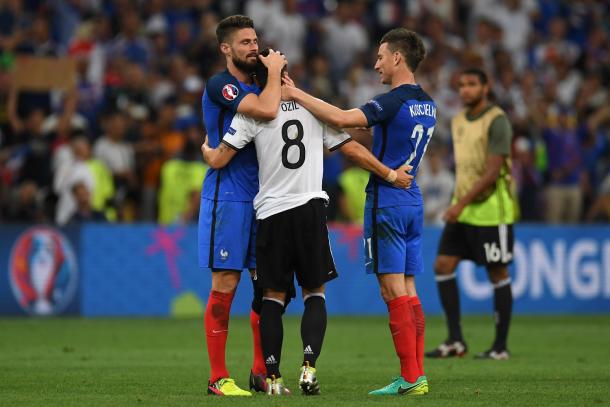 Arsenal at the Euros
He continued to congratulate some of his players' performances at the competition.
"Giroud and Koscielny had a good tournament even if they didn't finish as well as they'd hoped," added the Arsenal manager.
France were forced to settle for second as they were painfully defeated by Portugal in the final. Another difficult exit to swallow was that of Mesut Özil's Germany, as they lost 2-0 to France in the semi-final.
Wenger touched upon Arsenal's player of the season's individual time at the European Championships, saying: "I think Özil had a good tournament as well. I met him after the game with France."
Özil was crowned German player of the tournament for his creative efforts, but was of course hoping to be lifting the trophy to compliment his individual success.
After a disappointing season, Aaron Ramsey came to life at the Euros, succeeding expectations with his high spirited Wales team.
Wenger paired his compliments for Ramsey alongside Alexis Sanchez, who won the Copa America with his Chilean teammates.
"Some players had a very positive experience, like Ramsey with Wales and Alexis with Chile," Wenger told Arsenal Player.
It is uncertain just how much time the two will get away from training, but it is expected to be after the Premier League season starts.
Arsenal's first game of the season comes at home against Jürgen Klopp's Liverpool, who will travel to North London with a refreshed side. It will be interesting to see just how Wenger approaches the season opener, with a huge number of his key players expected to be absent.