Last week was an eventful one for Thierry Henry, who was caught up in controversy with his former club, Arsenal, after turning down the chance to manage their U18's team.
The club legend was given an ultimatum by Arsene Wenger, to choose between punditry at Sky Sports or coach at Arsenal. Henry decided that his role at Sky was too good to lose, and parted ways with The Arsenal. However, speaking for the first time since the incident, Henry confirmed that he still dreams of managing the Gunners.
Henry's heart is still with the club
Henry revealed in an interview that it is still his biggest dream to manage the club that assisted him in becoming one of the world's most legendary strikers. Henry said: "I would be lying if I said it wasn't a wish that I have because I love Arsenal."
After eight years wearing red and white, Henry departed Arsenal for the first time, as he moved on to Barcelona following the team's Champions League final defeat to the Catalan club the year before. Henry left North London as their all-time top goal scorer, before returning in 2012 for a short loan spell. It was an emotional farewell by the man that Arsenal fans brand as 'The King', yet the Frenchman still aims for another return.
"The game is my passion and always will be," he began. "I would like to manage but I am far from it." Despite earning his coaching license last year, Henry admitted that he would like to expand his all-round knowledge of coaching a pro-club before taking the plunge.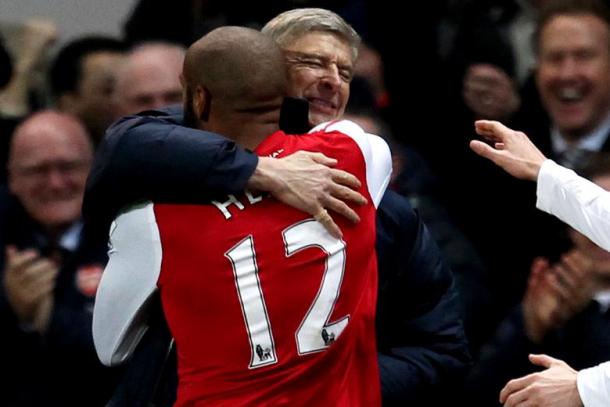 A difficult situation between Henry and Wenger
Henry concluded by speaking about the situation in which he parted ways with Arsenal, after being offered the head coaching role by head of Academy, Andries Jonker: "I felt I could add something to the kids and I could also gain valuable experience myself." Henry continued to say, "If it's not there [Arsenal], then so be it."
He signed out of his speaking time, saying: "I have to respect the situation and that is the way it is." Despite his sincere disappointment, Henry revealed that his loyalties do still lie with the club after the coaching saga: "I will continue to support the team and wish them all the best for this season."
Arsenal fans will too be expected to continue their support towards Henry, putting their initial disappointment with his decision to the back of their mind to back Henry on his footballing adventure – a man that will forever be loved and idolised at The Arsenal.