Arsenal's Francis Coquelin became the club's unexpected star as he shot through the squad's pecking order two seasons ago. The passionate defensive midfielder showed Arsenal fans what they had been formerly been missing in the midfield, as a consecutive number of dominant performances earned him his spot in the starting eleven.
However, following the signing of Mohamed Elneny, and the return to fitness from Aaron Ramsey, the Frenchman momentarily lost his place at the end of the season. Now, with the £35m signing of feisty midfield rock Granit Xhaka, Francis will have a further challenge to face ahead of the new season.
Coquelin talks last season
Arsenal had a disappointing last season in truth. The gunners finished second, but could have had their hands on the title in May, had they not slipped up so occasionally in 2016.
In an interview with the club website, Coquelin reminisced on the mistakes and path of last season. "It was a really tight season last season and it was a strange one," the midfielder began. "I think it was unexpected that Leicester would win it but they did terrifically."
Claudio Ranieri's Foxes were impressive from start to finish last season, and won the league historically and finished ten points clear.
Arsenal were the only team to beat Leicester twice, but the Gunners couldn't hold their nerve from the new year in.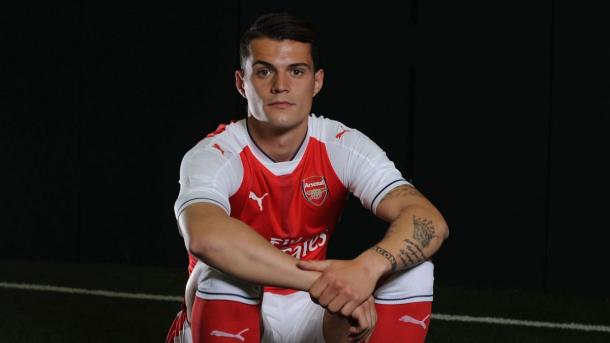 Last season's regrets can be next season's gains
Named by Thierry Henry as 'Arsenal's police officer', Coquelin confirmed that the club have been delving deep into the positives and negatives of last season to ensure the next one is different: "We've gone through everything we did last season, we had a strong season, but it's going to be about details."
With the 'bigger' clubs set up to battle with new managers and signings, Arsenal will be eager to keep their place among the best: "The games all the people expect us to win, we have to win them and respond as well in the big games."
Coquelin stated, embarrassing home results towards the end of the season consequently cost the Gunners their first league title in 12 years.
Coquelin moved on the speak about his new competitor, Granit Xhaka: "It's Arsenal Football Club, we know we're going to sign quality players." He continued to say, "I saw him in the Euros and he's a good passer of the ball, he's strong and good in the air so I think he's going to add quality and strength to the squad and that's a good thing."
Coquelin did not star in France's European Championships campaign, and as a result has been putting the hours in at London Colney as he thinks ahead to next season.