Arsenal's emerging golden boy, Alex Iwobi has spoken about his hard work in pre-season ahead of his first full season as a member of the clubs first team.
Iwobi emerged on the scene in the Arsenal first team in March 2016, after making his Champions League debut at the Nou Camp against Barcelona. The Nigerian looked more than comfortable on the pitch, surrounded by some of the greatest players that the world has to offer and since then, he has never looked back.
Demanding tasks for players in pre-season
Speaking to Bleacher Report, Iwobi opened up on the importance of pre-season and how it ignited the spark of hope that ignited his flourishing career at Arsenal.
He began his talk with BR by discussing the demanding nature of pre-season training, especially after playing in a league like England's top division.
"It's been hard. In the morning, we tend to do a lot of circuit training and some running with and without the ball." Explained Iwobi. "We also do possession drills which can be hard work—and then we will go into the gym to work on upper- or lower-body strength."
Pre-season is, as expected a daunting period for professional footballers as they look to regain the high fitness and ability required to play at the highest standard.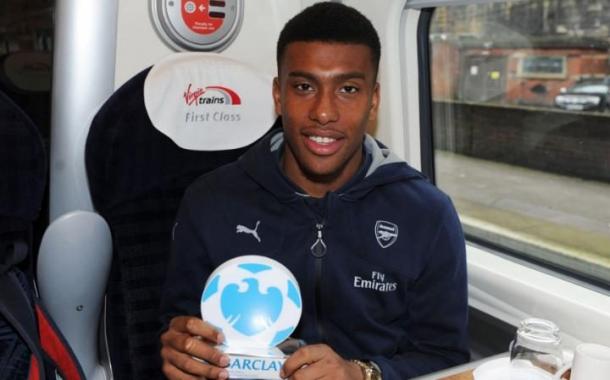 Eager to keep his name in the starting XI
"It is hard, and I have noticed I have been going to bed much earlier. Sleep is very important; you need rest when you train hard," added Iwobi.
The youngster in particular will be focused upon next season, as he battles to keep his place in an extremely talented Arsenal squad.
The 20-year-old winger admittedly surprised Arsenal fans when he came on the scene, scoring twice and claiming three assists during his short spell towards the end of the season.
Iwobi admitted that his aims in pre-season are solely on keeping his place in the starting eleven, as positional competition heats up.
"We are going on a pre-season tour, and I just hope to continue to show what I am capable of and continue to get games." Iwobi captured Wenger's attention in last season's pre-season competitions, as expected, he will be certain to do the same again.
Arsenal youth drooling at the chance to make it big next season
"The manager has shown he is willing to give young players a chance, and he does give me confidence," added the Nigeria international.
Arsene Wenger is notorious for having placed huge faith in young players in the past, with high potential youngsters returning from loan spells, the scrap for a glance from Wenger will be ever-higher for the young players.
Players such as Gedion Zelalem and Chuba Akpom are returning from their loans at Rangers and Hull City, the two attackers will have their sights set on fulfilling their capabilities and following in Iwobi's footsteps into the spotlight of Arsenal Football Club.