Thanks for joining us here at VAVEL for this pre-season friendly. I've been Rob Tonkinson, remember to follow VAVEL, @VAVEL and our Arsenal account @ArsenalVAVEL on Twitter. You can also follow me on Twitter @robtonkinson94. Good night.
That's it! Arsenal's first pre-season test ends in a draw after a late Alex Oxlade-Chamberlain equaliser cancelled out Autret's opener from the first half. In the end a fair result, match report to follow shortly.
FULL TIME: RC LENS 1-1 ARSENAL
90: Willock looks a real talent, takes on Lala and gets round him with ease, his cross isn't nodded in by Campbell in the middle and Lens clear.
89: Well worked move from Arsenal and especially Zelalem but Gibbs strays offside as he is played in by the American midfielder.
88: LENS SUBSTITUTION: Wylan Cyprien for Benjamin Bourigeaud
86: Game has calmed down again since the goal, the result isn't the most important thing tonight but there's certainly been improvement second half from Arsenal.
82: LENS SUBSTITUTION: Mohamed Fofana for Loick Landre
Hopefully that finish from Chamberlain will aide his confidence and the team's confidence. The game looked very much Lens' to lose but Chamberlain has pulled a rabbit out of the hat with his finish.
Finally, the Gunners have their leveller, a lovely chipped finish from Chamberlain over Douchez after a short pass from Gnabry. Great combination from the substitutes.
GOAL: RC LENS 1-1 ARSENAL: OXLADE-CHAMBERLAIN (81)
80: LENS SUBSTITUTION: Djeman Koukou for Jeanricner Bellegarde
79: Gibbs gets forward from left back and cuts the ball back to Campbell, the Costa Rican takes a swing at it but it only loops up for an easy save from Douchez.
78: Calum Chambers, Per Mertesacker and Francis Coquelin will play the whole 90 minutes of Arsenal's first pre-season game with the Gunners making their last to changes.
77: ARSENAL SUBSTITUTION: Chris Willock for Theo Walcott and Gedion Zelalem for Alex Iwobi
75: Chamberlain finds Walcott out wide who cuts inside and puts a shot across the box, it took a deflection and Arsenal have another corner.
Just under 20 minutes to go, yet to see Zelalem or Willock tonight. Lens' superior fitness starting to show in these later stages.
71: Scaramozzino gets into the box but shoots straight at the side netting, poor idea because there were Lens players in the box to aim at.
69: Arsenal trying to gain some midfield control, Campbell finds Walcott in the box but the English forward is offside.
66: Chambers again is played into trouble and Scaramozzino picks it off him, the ball makes it to Bostock who blasts one over Macey's goal.
64: Chamberlain runs at Lens and almost plays in Walcott for a one on one effort but #14 can't control the ball into feet and Lens get back in time.
62: A Lens corner isn't cleared by Arsenal and it comes out to Bourigeaud on the edge of the box who lets fly. Gunners keeper Macey has to tip it over the bar as it was dipping down. Lens unlucky not to be in front from a stunning goal.
60: Chambers puts in a great cross from right back overlapping Chamberlain, Walcott can't connect to it and neither can Campell, the Gunners' best chance since the opening effort from Akpom.
58: Walcott cannot get past Ba this evening, who again muscles him out of the way.
56: Lens finding their stride and keeping the ball excellently. Arsenal before had looked a lot better going forward but nothing substantial.
With the changes, Calum Chambers has moved to right back with young Bielik playing at centre back, Walcott has also moved over to centre forward.
52: Iwobi links up with Campbell with an excellent through ball but the Costa Rican is offside and follows it up by hitting the post anyway.
Quite a lot of changes to take in there, nothing too much of note in the first five minutes yet.
ARSENAL HALF-TIME SUBS: Keiran Gibbs for Mathieu Debuchy, Krystian Bielik for Nacho Monreal, Joel Campbell for Mohamed Elneny, Alex Oxlade-Chamberlain for Chuba Akpom, Serge Gnabry for Jeff Reine-Adelaide
Quite a few changes in the second half with Krystian Bielik and Serge Gnabry coming on also.
KICK OFF!: Arsenal get us underway for the second half (45)
ARSENAL SUBSTITUTION: Matt Macey for Emiliano Martinez
It was very poor defending from Arsenal on the goal, after Chambers' mistake nobody was covering Autret in the middle with Mertesacker and Debuchy struggling to get back.
It's been very clear that the hosts are a week from their new season and this is the Gunners first pre-season friendly with many of their top players out. Lens look a lot more energised and cohesive going forward, Arsenal need a bit more control in midfield and a bit better passing in the second half.
So disappointing end to the first half after a Calum Chambers mistake leads to the first goal of the game from Mathias Autret.
HALF TIME: RC LENS 1-0 ARSENAL
45: Debuchy booked for a late challenge on the eve of half time. He's looked good going forward but very rash at the back.
42: Break in play for a clash between Debuchy and Anthony Scaramozzino, the Lens man was face down in the turf but looks to be okay. Debuchy did jump with an arm raised but it didn't look malicious.
42: Coquelin knocks on a pass towards Walcott who lashes it over the bar rather than opting to look for Akpom who was in the middle.
41: The Gunners have responded well by coming forward but Lens - who boasted the second best defensive record in Ligue 2 last season - are hard to break down.
37: Disaster for Chambers whose loose header is latched onto by Zoubir, Martinez squanders his chance as much as possible but it falls to Autret who buries the open goal.
GOAL: RC LENS 1-0 ARSENAL: AUTRET (37)
33: Walcott may have bags of pace but Abdoul Ba who even dwarfs Per Mertesacker races past him to get to the ball. Sadly for him his second touch sends the ball out of play.
32: Debuchy looks as if he's auditioning for a midfield role with some of his passes, again an outside of the boot long range pass trying to find Walcott, Ba's long legs knock it away for a corner.
30: Walcott's corner flies through everyone and comes out to Elneny who smashes it over the bar from distance.
29: Debuchy has had a decent first half hour going forward, he plays in Walcott again but the Englishman can't find a decent cross in and gets a corner as consolation.
28: Referee letting a lot go in this game, there was an earlier Coquelin challenge that wasn't penalised and now a shoulder to shoulder that saw Debuchy send a Lens player flying which was allowed also.
25: Young Adelaide is looking lively winning the Gunners a corner. Walcott flicked on a throw in which allowed him to come inside before the ball was knocked out for a corner.
24: Adelaide gets down the left hand side and easily wrong foots Cvetinovic but shoots horribly wide against his former team.
21: Debuchy releases Walcott down the right hand side, he cuts inside and tries to find Akpom who can't control it for a shot and goes back to Debuchy. It misses the French full back and goes out for a throw in.
18: Iwobi tries a cutting pass through the Lens back four but it's too long for Akpom and runs through to Douchez. Good ideas from the young Nigerian who this evening occupies the #10 role usually reserved for Mesut Özil.
16: Arsenal starting to show a bit more quality in possession but can't quite find the killer pass.
12: Autrait gets in behind Mertesacker but can only place his low effort wide of the post. Lens should be ahead here.
10: The hosts look the more cohesive unit going forward thus far, it shouldn't be forgotten that this is Arsenal's first real outing and Lens are a week away from the start of their Ligue 2 season.
Lens' John Bostock is one to look out for tonight, started his career at Crystal Palace before a big money move to Arsenal's biggest rivals Spurs. It didn't come off for him at Tottenham and after a succession of loan spells he moved to Belgium and is now at Lens after a move from Oud-Heverlee Leuven.
Quite the start in this one with both sides having early opportunities, some sluggish defending from both sides.
4: Zoubir goes on a long dribble and finds himself 1v1 against Martinez and luckily for the young Argentine he puts his effort over the bar.
3: Arsenal get the first chance of the evening, Iwobi scurries through the Lens back four and lays it off for Akpom who can only find the gloves of Douchez with a tame effort.
KICK OFF!: Lens get us underway here in Northern France.
LENS SUBS: Simon Banza, Teddy Chevalier, Wylan Cyprien, Mohamed Fofana, Kevin Fortune, Djeman Koukou, Jean Kevin Duverne, Enzo Ebosse, Mounir Chouiar, Jeremy Vachoux, Akim Zedatka
LENS TEAM NEWS: Nicolas Douchez (GK), Kenny Lala, Loick Landre, Anthony Scaramozzino, Dusan Cvetinovic, Abdoul Ba, John Bostock, Mathias Autret, Benjamin Bourigeaud, Jeanricner Bellegarde, Abdellah Zoubir
Five minutes from kick off, apologies, still searching for full confirmation of the Lens team. News is a lot harder to find for the Ligue 2 side than it was for the Gunners.
Whilst we're waiting for the game to kick off (7pm), send your tweets into @ArsenalVAVEL on your thoughts on newest signing Rob Holding and what the Gunners need to doing this summer. Only three weeks till the season starts and still no new forward.
No word on the RC Lens team as of yet, we'll name the hosts starting XI when it arrives.
A return to the side for Debuchy, Zelalem and Gnabry who spent time on loan away from the Emirates last season too.
There is a mix of youth and experience within the team however, chances given to Adelaide and Akpom from the start as well as Bielik and Willock who start from the bench.
No chance to see any new signings tonight then, not too surprising considering Granit Xhaka only joined up at London Colney a few days ago. Rob Holding was not expected to play today considering he'd only signed this morning.
ARSENAL SUBS: Matt Macey, Keiran Gibbs, Krystian Bielik, Gedion Zelalem, Joel Campbell, Alex Oxlade-Chamberlain, Chris Willock and Serge Gnabry
ARSENAL TEAM NEWS: Emiliano Martinez (GK), Mathieu Debuchy, Per Mertesacker, Calum Chambers, Nacho Monreal, Mohamed Elneny, Francis Coquelin, Theo Walcott, Alex Iwobi, Jeff Reine-Adelaide and Chuba Akpom.
Evening all, Rob Tonkinson here, with you for Arsenal's first pre-season game of the new season against RC Lens. Team news for the Gunners coming in now and we will have it for you shortly.
Stay tuned for all the build-up and action from Arsenal's first pre-season friendly ahead of the coming 2016/17 campaign. Follow action-by-action updates as Arsene Wenger's side take on RC Lens.
There has been criticism of Arsenal's transfer policy, but the Gunners are a better team this time round, in comparison to the start of last season, where they finished the campaign runners-up behind Leicester City.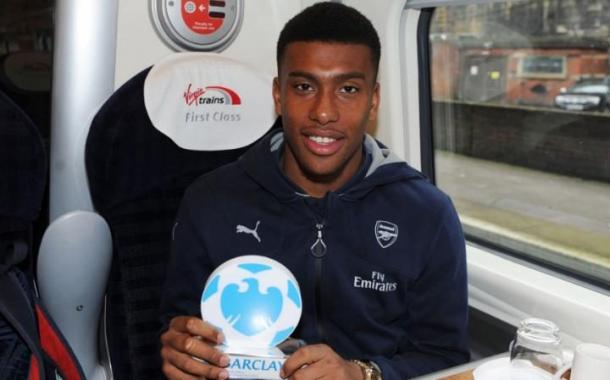 The 20-year-old on pre-season training: "It's been hard. In the morning, we tend to do a lot of circuit training and some running with and without the ball." Explained Iwobi. "We also do possession drills which can be hard work—and then we will go into the gym to work on upper- or lower-body strength."
Alex Iwobi could be one player who will start in France, and after an impressive spell in the first team towards the end of last season, the Nigeria international could be set for a start in the opening Premier League fixture against Liverpool.
They met the following season in the 1999-2000 UEFA Cup semi-finals, Dennis Bergkamp, Thierry Henry and Kanu scored for the Gunners over the two legs, cancelling out Pascal Nouma's consolation. Arsenal lost the final 4-1 on penalties to Galatasaray following a 0-0 draw in Copenhagen.
Both teams were eliminated at the first round, Arsenal in 3rd place, whilst Lens were knocked out as one the worst second placed teams.
There's only been four meetings between the two clubs, they met in the 1998-99 UEFA Champions League group stages, where a last minute Tony Vairelles strike cancelled out Marc Overmars' opener in Lens, whilst future Middlesbrough midfielder Mickaël Debeve scored the only goal at Wembley which was the difference between both sides as they each finished with 8 points in the group stage.
Former PSG goalkeeper Nicolas Douchez is arguably Lens' top summer signing in 2016, all their transfers have been bosman moves as they look for a return to Ligue 1.
Whilst many top players are unavailable, including Chile's Copa America Centario winner Alexis Sanchez, this could be Arsenal fans first opportunity to see new signing Granit Xhaka in an Arsenal shirt following his move from Borussia Mönchengladbach this summer.
The Gunners will be without their key stars who made it to the final four of Euro 2016, including France's Laurent Koscielny and Olivier Giroud whom were losing finalists, Wales' Aaron Ramsey and Germany's Mesut Özil, both midfielders were losing semi-finalists in France.
Arsenal travel to Lens in Northern France for their first pre-season test against Ligue 2 side RC Lens at the Stade Bollaert-Delelis, which hosted England's late 2-1 victory over Wales at the recent European Championship.
Good evening everyone, and welcome to VAVEL UK's live minute-by-minute commentary of today's pre-season friendly between Arsenal and RC Lens. With kick-off set for 7PM, we've plenty of time to build up to the game and get the confirmed team news, so stick with us! I'm Rob Tonkinson, and I'll be taking you through the 90 minutes.