On the afternoon of July 22, 2006, Arsenal dedicated their first match at the Emirates Stadium to one of their most decorated figures; Dennis Bergkamp, the man that changed the club forever.
Dutch pride
Born in Amsterdam in 1969, Bergkamp began his footballing career as a youth player at his local club, Ajax. He featured for Ajax's youth team from the age of 11, and it didn't take much to identify that the boy was special.
Legendary coach and player, Johan Cruyff gave Bergkamp his first team debut aged 17 in 1986, however the young Dutchman did not become an established first team regular until 1989. Bergkamp's rapid rise to the peak of Dutch football coincided with Ajax's Eredivisie win in the 1989/1990 season.
The Dutchman was the top scorer in the Eredivisie in 1991, 1992 and 1993. After 13 years developing his ability at Ajax, Bergkamp departed his home club for the bright lights of European football outside of Holland, Bergkamp scored 122 goals in 239 games for Ajax's first team.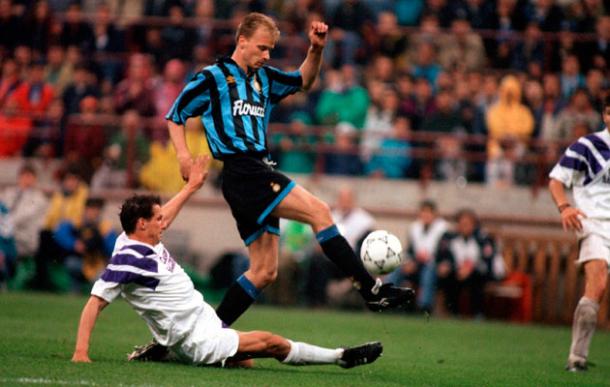 Joining Europe's Elite
Bergkamp opted to leave his home club in 1993 after achieving some of the highest honours in his country, including being named Dutch player of the year in 1991 and 1993. As expected, the 24-year-old attacker was in high demand from clubs all over Europe, however after being advised by former coach Johan Cruyff to resist temptation to join Real Madrid, Bergkamp selected Inter Milan as his first professional club away from the home comforts of Ajax.
At the time the Serie A was considered as the most elite league in Europe, Bergkamp's desires were in Italy, and so he packed his bags and moved in a deal worth around £7.1m.
It did not take long for Bergkamp to realise that the fantasies of Inter Milan were far from what he got, as he struggled to find his feet. This was mainly due to the club's poor form and inconsistent managers at the time. In a two-year spell at Internazionale, Bergkamp was managed by three head coaches, and subsequently found great difficulty in settling under either as it seemed his best position was unknown. He was most commonly played as part of a three membered strike force by his first coach at Inter, Osvaldo Bagnoli.
Things went from bad to worse for Bergkamp, as following the club's new ownership, Maurizio Ganz was signed, a striker who looked to be the man to replace Bergkamp in the first team after two years of unsettled play.
The contrasting line and defensive styles knocked Bergkamp's confidence as he found great difficulty in breaking down defences like he so commonly did at Ajax.
A move was on the cards for the midfielder, Arsenal was his new home, and the rest – as we know - is history.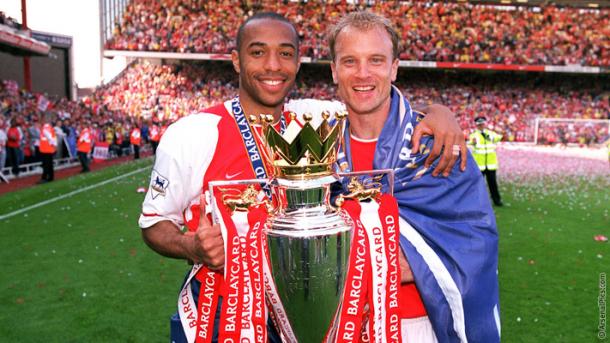 Bergkamp's Arsenal
The Iceman became Bruce Rioch's first signing as manager of the club for Arsenal's record transfer fee of £7.5m. Despite struggling in his first season at Arsenal, it would prove that the signing of Bergkamp would change Arsenal forever, as he essentially revitalised the club's status in 1996 after a few years out of the spotlight in the Premier League.
The appointment of Arsene Wenger in 1996 complimented Bergkamp, as the Frenchman was not slow to identify the mesmerising, innate talent that the Dutchman had. Wenger sculpted his team around the brilliance of Bergkamp, as he played as a free roaming number ten.
"He is the peak of his career and I don't think there's anybody better in the world." Boasted a very pleased Arsene Wenger with his player.
Wenger's style recharged Dennis' spark after a dip in his career following his move to Inter, the two were thriving off one another, and it only got better for the midfielder as he was provided a new toy to play with in 1999 – Thierry Henry.
Henry and Bergkamp were the solid definition of 'a match made in heaven'. The striker fed off Bergkamp's creative brilliance and Bergkamp did the same, reaching new highs to his game, pulling the strings in midfield.
The best thing about the partnership was their ability to play each other's roles perfectly, also. Henry could assist, and Bergkamp could score. They cemented their highest scoring season together in 2001/2002, as Arsenal were crowned Champions of England.
Henry scored 22 goals that season, Bergkamp scored 9, not forgetting the 15 assists he had to his name.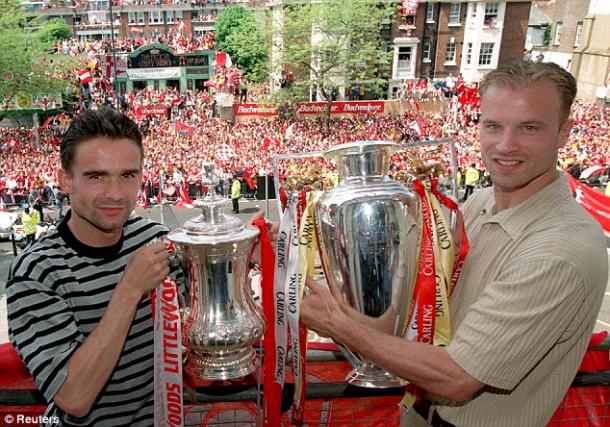 It's difficult to say goodbye
Wenger was building a squad superior to the demands of the Premier League, which was established in 2003/2004 as Arsenal went unbeaten for the season.
With Henry by his side, and the brilliance of Freddie Ljungberg and Robert Pires behind him, Bergkamp was very much at the heart of Arsenal's history making invincible team. In that season, Bergkamp was still very much at the peak of his game, scoring 4 goals and gaining 12 assists.
At the age of 34, the golden campaign was supposed to be Bergkamp's final season in the red and white of Arsenal, however the Dutchman surprised everyone, signing a one year contract extension.
"I am so pleased that I will be at Arsenal for another year. Next season will be my 10th with the Club, and that just shows what Arsenal means to me."
He declared following his extension, the iceman – his nickname founded by his fans at Arsenal - had found his home in North London, and he wasn't quite ready to give it up.
The following season, after Arsenal's FA Cup win against Manchester United, Bergkamp decided his time was still not over, as he signed a further one year contract extension. His final game as an Arsenal player was the 2006 Champions League final – I won't dwell on the game – Bergkamp was an unused substitute.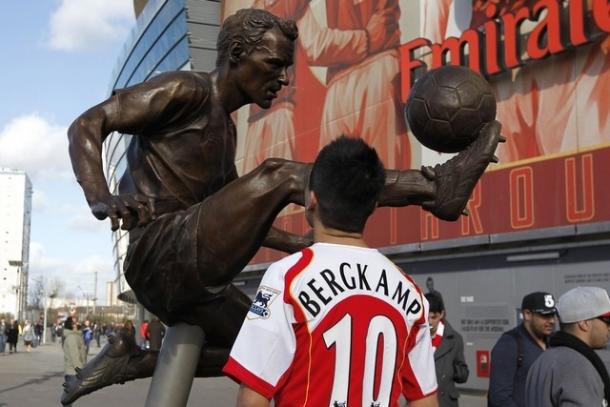 Club icon
Friday marked ten years since Bergkamp's final goodbye to the club, as his eleven year stay at the club was commemorated in a testimonial game, the first game at the Emirates stadium.
Arsenal legends took on Ajax in homage to Dennis, supporters wearing red, white, and orange to celebrate his glorious times as both an Arsenal player and one of his country's greatest ever international representatives.
The Iceman was set in stone in 2014, as Arsenal presented him with his very own statue outside the Emirates Stadium. He forever be associated with the fondest of memories at The Arsenal, and his responsibility for changing the style and direction of the club with the help of Arsene Wenger.
Bergkamp left a legend; Arsenal were no longer boring, Arsenal were invincible and most importantly, the club had moved forward by a considerable length in the modern game, and for that, we thank him.