July 22 2006 began an exciting era at Arsenal, for the first time since 1913 they would be playing matches away from the Highbury home they moved into when they controversially relocated North of the river – it was a step meant to help them compete with the best in Europe.
Necessity to leave
The need for expansion began after the Hillsborough disaster in 1989 and the subsequent Taylor Report the following year that meant top division football clubs would have to abandon their famous terraces and convert to all-seater stadia.
The restriction in capacity and the costs of converting grounds was heavy for a lot of clubs and the Gunners were no exception, the new North Bank completed in 1993 reduced Highbury from 57,000 to under 40,000 and with a need to compete with clubs like Manchester United who's match day revenue nearly doubled between 1994 and 1997 due to the expansion of Old Trafford, Arsenal sought pastures new.
Their first option was to expand the existing stadium but residential areas surrounded Highbury, making expansion impossible without demolishing housing around the ground.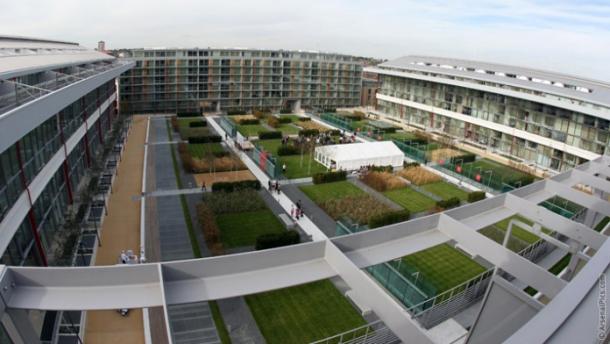 Another idea batted around was a move to the English national stadium, Wembley and share with the English national team, this idea was trialled with the Gunners playing their 1998-99 and 1999-00 UEFA Champions League home games at Wembley in front of technically record attendances (these attendances legitimacy as Arsenal's record highest are disputed by some fans because they weren't played at Highbury).
In the end, the Old Wembley itself was in dire need of redevelopment and was demolished in 2000 to make way for the new Wembley stadium completed in 2006.
In November 1999, the decision was taken to leave Highbury and build a new 60,000 seater stadium in Ashburton Grove and in December 2001 the plan was given the go ahead by Islington Council – the Gunners would be moving in 2006.
Domestic success
The plan to leave Highbury came coincidentally as the club enjoyed its greatest success during the late 1990s and early to mid 2000s going up against Manchester United in heated battles for the Premier League and domestic cup competitions.
French manager Arsene Wenger who joined in October 1996 built a team consisting of shrewd international signings and a backbone of the back five built by his predecessor George Graham and Arsenal won the league and FA Cup double in 1998 and 2002, as well as a third league title in 2004, going the entire league campaign unbeaten.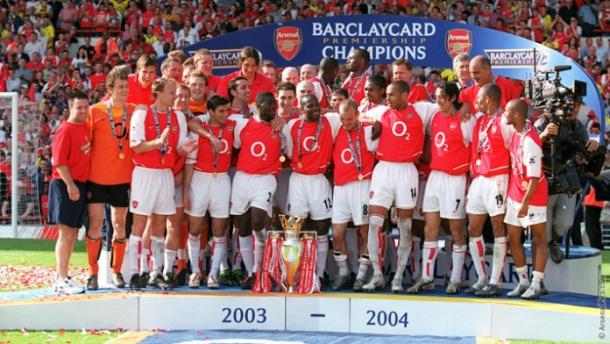 Arsenal wouldn't finish outside of the top two between 1998 and 2005 and added FA Cup's in 2003 and 2005 to their double successes.
The club also enjoyed one of its most successful spells in Europe, reaching the UEFA Cup final in 2000 and UEFA Champions League quarterfinals in 2001 and 2004.
However, their final season at Highbury would remain the only time Arsenal made the Champions League final, subsequently losing 2-1 late on against FC Barcelona in Paris in May 2006.
Austerity years
The move to the Emirates Stadium would not come cheap and saw a spell of austerity at Arsenal whilst the financial powers of clubs like Chelsea, Manchester United and Manchester City strengthened with foreign takeovers.
Although no strangers to losing star players, the sales of Nicolas Anelka to Real Madrid in 1999 and Marc Overmars and Emmanuel Petit to FC Barcelona in 2000 had helped finance the stadium and new training ground at London Colney – Arsenal's first years at the Emirates were synonymous with player exodus.
Two stars of the previous decade Dennis Bergkamp and Robert Pires both left the club after the Champions League final defeat, Bergkamp retiring and Pires moving to Villarreal once his contract expired.
After a first season at the Emirates, club captain and record goal scorer Thierry Henry was sold to FC Barcelona and it seemed every summer another player would be sold to pay for the stadium.
Emmanuel Adebayor, Kolo Toure, Cesc Fabregas, Samir Nasri and Robin Van Persie were the most crucial departures between 2008 and 2012 with their replacements usually sub-par cheap options or youth signings signed on a wing and a prayer they would develop.
The late 2000s and start of the 2010s saw the Gunners fall from Invincibles to perennial fourth place finishers and also-rans.
There were some glimmers of hope, in 2008 injuries to Eduardo and Van Persie saw them just miss out on the Premier League by four points, having only lost three games all season.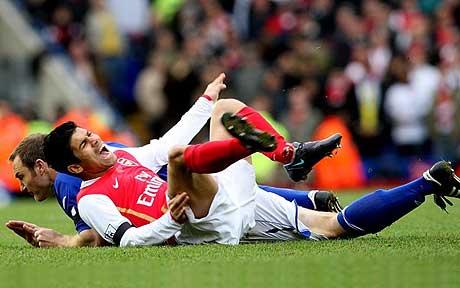 In 2009, they made both FA Cup and UEFA Champions League semi-finals but lost in both to Chelsea and Man United.
It would take until 2014 for Arsenal to win their first silverware, finally regaining the FA Cup, beating Hull City 3-2 at Wembley, they retained the cup the following season too.
European success, outside of the 2009 semi-finals has been non-existent since the move, failing to make it passed the last sixteen of the UEFA Champions League between 2011 and 2016.
Minor positives
Despite the lack of success and loss of talents, there have been some positives by leaving Highbury.
The Emirates Stadium has allowed Arsenal to increase their match day revenue, according to Deloitte, the Gunners made £101.84 million in 2014-15, higher than any other team in the world, although that's presumably because the club charge the most for season tickets and matchday tickets in Europe.
Arsenal are approximately £200 million cash rich, however, they still won't spend it improving areas of the squad that desperately need it.
Even as recent as last week Arsenal CEO Ivan Gazidis was telling ESPN FC the club were underdogs in financial competition for signings despite their riches: "We're making progress in what is a fiercely competitive world, against competitors that have the capability to spend far more money than we do.
"We're doing it by being very, very disciplined; spending money where we believe it makes a difference, but also giving young players a chance and believing in ourselves and our values."
It's no secret the areas in which Arsenal are short this season and preaching austerity is foolish when the club can't hide how cash rich they are in their annual statements nor do they shy away from spending big money when it suits them, splashing out for Mesut Özil (£42.5m), Alexis Sanchez (£31.7m) and Granit Xhaka (£30m) – Xhaka signing this summer.
However, Arsenal didn't compete with clubs for those players, they were opportunistic, signing Özil when Real Madrid needed to offload to afford world record signing Gareth Bale and Sanchez the following summer when FC Barcelona needed to free up some cash for incoming Luis Suarez.
Worthwhile?
The new stadium has given Arsenal a platform to compete with the top clubs in the world and perhaps more could be blamed on those with their hands on the tiller, since the stadium debts have largely been paid off already.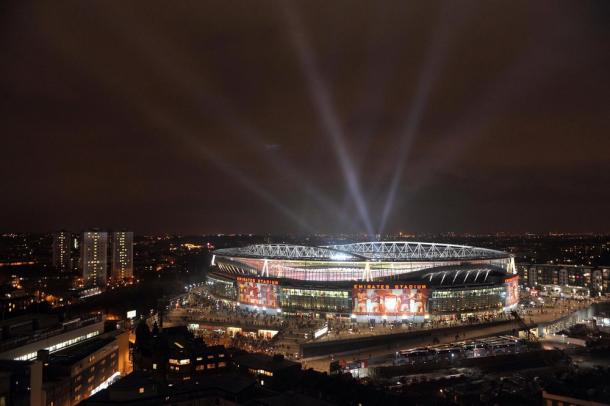 It was expected Arsenal would have to go through some times of financial poverty, it wasn't helped by the fact their move came as Chelsea and Manchester United's financial positions got stronger and they were later joined by City and had the market have largely remained the same as it did in 2001, Arsenal may not have felt the effects of the move as greatly.
The Gunners were never synonymous with competing for world record signings like the ones paid for Zinedine Zidane or Luis Figo in the early 2000s when they were their strongest but the fees put on the players they would sign and globalisation making it easier to find unearthed gems put a strain on Arsene Wenger's pulling power.
What's even worse is that a decade on, the television revenue in the Premier League is at an all time high as well as sponsorship revenue.
With American majority shareholder Stan Kroenke also part of the club, had Arsenal opted to move to the Emirates in 2016, alongside Kroenke, the TV and sponsorship revenue would largely have paid off the stadium costs, much like what will probably happen with Tottenham Hotspur's new stadium in 2018.
The Emirates is a beautiful stadium, but it hasn't made Arsenal more attractive, it hasn't brought them more success at home or abroad nor has it aided their competitiveness for the best players in the world.