Twenty years is a long time in football. Players, managers and even some clubs come and go in that time, it's perhaps testament to Arsene Wenger that he's remained a constant for two decades.
1 October will mark twenty years since the Frenchman took charge of the Gunners and, whatever you think of his methods in the present day, you can't deny he is both an Arsenal and English football legend.
Arsenal in 1996 was a completely different team to the one of today, there was no new stadium, few superstar players and despite domestic cup and European success in recent seasons, there wasn't even muted talk of a league title.
Summer of '96
Despite a late Dennis Bergkamp stunner lifting the Gunners into the last UEFA Cup spot on the final day of the previous season, manager Bruce Rioch was given the boot after just one season.
Rioch never set the world alight at Highbury despite the major coup of Inter Milan's Dutch superstar Bergkamp and England's Italia '90 hero David Platt from Sampdoria at the start of his reign, and it never really clicked for the Scotsman.
It meant Arsenal started the season in some disarray with Rioch being given his marching orders just five days before the season began and Stewart Houston being put in caretaker charge again, like he did when George Graham was dismissed in 1995, Houston's job wasn't made easier by the off-field issues of club captain Tony Adams.
Adams' problems with alcohol had been no secret, in 1990 he'd been sentenced to four months in prison for drink driving but following England's semi-final elimination from Euro 1996, his addiction spiralled out of control.
Unlike the big acquisitions of the previous year, summer signings were rather light on the ground in pre-season, Valur Gíslason who never played a league game was brought in as was former goalkeeper John Lukic who re-signed after a spell at Leeds United.
It wouldn't be until three days before the season began that the Gunners made their big foray into the market, Remi Garde moved on a free transfer from RC Strasbourg to help settle in their future skipper Patrick Vieira who signed from AC Milan.
The months pre-Wenger
Houston's reign as caretaker was decent but unspectacular with two wins, two draws and defeat at Anfield to Liverpool, they lost their first leg of the UEFA Cup first round tie to Borussia Mönchengladbach at Highbury 3-2 in one of their worst European performances and Houston's time at Arsenal came to an end two days later when he left to take the vacancy at Queens Park Rangers.
Wenger was finally confirmed just prior to Arsenal's game against Sheffield Wednesday - one of the highlights of the season.
The Gunners struggled to create in midfield for much of the previous season and the start of the 1996/97 season even with Paul Merson and Bergkamp, the debut of summer signing Vieira would change all that.
Vieira's technical ability, size and power was a breath of fresh air to the Arsenal midfield, every attack would have to run through the Frenchman and he put in an amazing debut performance as the Gunners romped to a 4-1 win over Wednesday with Ian Wright bagging his first hat-trick of the season and his 100th League goal for the club.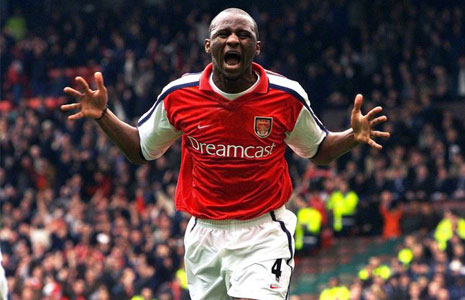 The new era
Wenger and Arsenal were no strangers before his appointment, several years before Wenger, on vacation in London, visited Highbury as a guest and would strike up a friendship with club chief executive David Dein, one of Wenger's biggest allies at the club.
Dein was instantly taken aback by Wenger's vision of the game and was desperate to bring the Frenchman to Arsenal, especially after Graham's unceremounious departure in 1995.
The rest of the Arsenal board were hesitant to bring in their first foreign manager, which in the mid-1990s was still a rarity for English football but as Rioch's time at the club soured, they were all in favour of the former Nagoya Grampus Eight manager.
With Wenger's appointment settled and the Frenchman to take over in October, his long-term deputy Pat Rice would steady the ship before his arrival, although he couldn't keep Arsenal in Europe, losing 3-2 in Germany to 'Gladbach in the return leg, he did win Arsenal's two league games 2-0 over the North East sides Middlesbrough and Sunderland.
Skipper Adams publicly admitted to his personal demons and was now actively seeking help, becoming one of Britain's most high profile recovering alcoholics, his return to the side saw some defensive stability as Arsenal switched to a 5-3-2 upon his return.
Wenger's first game ended in another 2-0 victory, with a win at Blackburn Rovers, a 0-0 draw for his homecoming against Coventry City at Highbury sent Arsenal top for the first time on goal difference and a week later former manager Graham's new team Leeds United were easily dispatched 3-0.
An unfortunate defeat at Old Trafford would be Wenger's first defeat of his reign but he followed it with a first North London derby victory over Tottenham Hotspur a week later thanks to two stunning goals from Adams and Bergkamp in the dying embers to secure a 3-1 win.
They continued the pace to finish 1996 in third place, just five points off leaders Liverpool but with a game in hand, December had been a poor month however, winning only once at the start of the month.
Disciplinary problems
Unlike today when it seems injuries derail title challenges, it was suspensions in 1996/97 that halted Arsenal's title bid, Bergkamp's sending off on January 11 against Sunderland was the Gunners' fifth in ten games and left them short of strikers in the first month of 1997.
However, it was February when the wheels began to come off, failing to win any of their four fixtures, including defeats to reigning champions Manchester United at Highbury and surprise packages Wimbledon.
It left Arsenal six points off United at the end of February and they'd played a game more than the eventual winners, it was clear Wenger was still a few players short of overcoming Sir Alex Ferguson's juggernaut.
Enjoyable end
Arsenal rediscovered some form for the final three months of the campaign, losing only twice, sadly it was to title rivals Liverpool and Newcastle United, the controversial defeat in late March at home to the Reds saw Wenger concede the title with six games to spare.
With second place granted a place in the following season's UEFA Champions League for the first time, it was imperative for Arsenal to try and finish as high as possible, however, a slight blip of two draws and the defeat to Newcastle in their final four games saw Arsenal finish third on goal difference behind the Magpies.
It meant Arsenal again qualified for the UEFA Cup first round but their third place finish under Wenger was their highest finish since they last won the league title in 1991 and their highest finish of the Premier League era to date.
For Wenger, it was a decent platform and after signing Marc Overmars and Emmanuel Petit in the summer of 1997 as well as the integration of young Nicolas Anelka who joined in February 1997 from PSG, Arsenal would win their first league title under the Frenchman, as well as the FA Cup weeks later, their first league and cup double since 1971.