New summer signing Rob Holding continued his fine pre-season form with his first goal in an Arsenal shirt in the 3-1 win over Mexican side Chivas in the early hours of Monday morning.
Holding, 20 joined the Gunners from the struggling Bolton Wanderers two weeks ago in a deal worth £2 million to the Greater Manchester outfit.
Holding relieved with first Arsenal goal
In an interview after the win, that included a superb solo effort from Alex Oxlade-Chamberlain and close range finishes for Chuba Akpom as well as Holding; he spoke about his relief at getting his Arsenal career off to a flying start.
"I was in the right place at the right time...as it is coming in, I've had a bit of time to think; 'I thought I'd best not hit this over!'" he joked, before adding "First goal, so, really happy with that."
Holding has joined Arsenal with the weight of expectation on his shoulders; he's a player who has been touted for the top by various personnel at Bolton, Arsene Wenger and by England U21 manager Gareth Southgate, who called Holding up to the victorious Toulon Tournament side in May.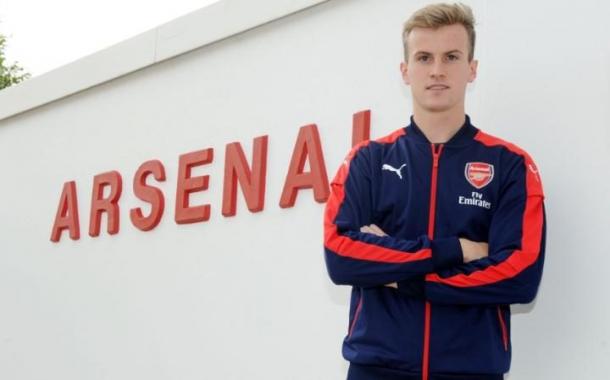 Holding is eager to impress
After impressing in the victory over the MLS All-Star line-up last week, Holding claimed that that game was necessary in order to get up to speed, and the experience against was much more competitive. Upon reflection, Holding said "It got a bit nasty...The MLS All-Star game was a bit of a show, but this felt like a proper game, and they wanted to win, so it was a good test."
In addition, Holding also expressed his eagerness to impress the Arsenal fans at home once the season starts in just under two weeks' time - but credited the fine turnout by the American crowd at the StubHub Center. "It is unbelievable, you can see all the fans and all the turn out again." the Teesider said "It was the same in San Jose as it is in LA."
With injury and fitness doubts in mind ahead of the fixture against Liverpool at the Emirates Stadium on 14 August, Holding may find his induction into the Premier League comes sooner rather than later, but the young defender seems to be relishing the chance. "I can't wait to get to London and show what I can do to the fans."