As another Premier League season dawns upon Arsenal, questions will be asked as to whether the Gunners can finally make the break through as serious title contenders following their second place finish last season.
As always doubt looms over the club as to their sincerity in becoming title challengers, as, as expected, the Gunners have been slow once more in the transfer window. With the slumped teams of last season sparking revival, it would be assumed that Arsenal will have to be at their best to compete next season.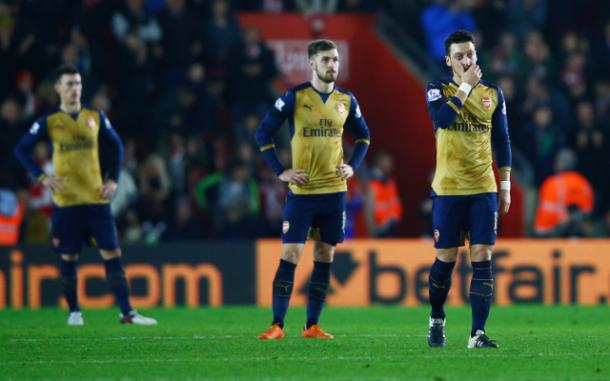 A season of inconsistency
It was an odd season to say the least for Arsenal, despite registering their highest league finish since 2005, there seemed to be so much lacking in the club as a unit, from the top of the club to the bottom.
Once again, lack of signings and inadequate results to the club's standards sparked conflict between the club and its fans, as many were simply frustrated at the situation at Arsenal.
As mentioned, Arsenal finished 2nd in the Premier League, snatching second place from the grasp of their rivals Tottenham Hotspur on the final day. While the position was of course celebrated for the manner it was obtained in, the Gunners still finished 10 points behind champions Leicester City, despite being top of the League on New Year's Day.
A series of completely shameful results in 2016 left Arsenal's title hopes in tatters, as it was confirmed once more in April that they were mathematically out of the title race.
Things weren't better away from the league
It was the same old story in the three cup competitions that the Gunners featured in, also. It's perhaps not worth mentioning that Arsenal were knocked out in the round of 16 in the Champions League, however, defeat to Barcelona was far less hard to swallow than the previous seasons' meltdown in Monaco. Their failure to win the group backfired on them once more, as European glory seemed far from reality.
After reaching the quarter finals of the FA Cup, Arsenal welcomed Watford to the Emirates Stadium in the bid for a trip to Wembley for the semi-final. Arsenal were left for dead by Quique Sanchez Flores' team, and the tensions between the club hierarchy and the fans were surfaced.
Arsenal fans will explain that Arsenal were only drawn into the Capital One Cup to knock out Tottenham Hotspur, after doing the job at White Hart Lane, Arsenal were stunned at Sheffield Wednesday as they were eliminated from the cup after a 3-0 defeat.
All in all, it would be fair to say that the surprisingly high league finish was deceiving of Arsenal's full story in the 2015/16 campaign, the Gunners were far from true title contenders throughout the season as once more, there was something missing from the team.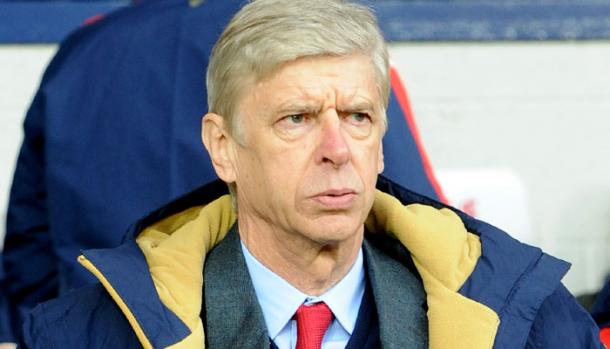 Arsenal can't make the same mistakes next season
Arsenal's Premier League seasons are nearly able to be predicted entirely it would seem, a top four finish after a failed shot at the title, injuries left right and centre, and a lack of signings the key factor to their mediocrity.
However, this season, Arsene Wengers' team may not be so confident in their expectations to gain a top four finish. With the appointment of three new managers out of the top six, the failed teams of last season are expected to be back firing as the regeneration of the competitiveness of the Premier League at the top of the table is well underway.
With Pep Guardiola, Jose Mourinho and Antonio Conte filtering into the league, along with the charismatic likes of Mauricio Pochettino, Slaven Bilic, Claudio Ranieri and Jurgen Klopp, the old ways of Arsene Wenger will be put to the ultimate test as the league is expected to be the most competitive around the top six than it has been in a long while.
Wenger's way
Many times last season, blame could be pointed at Wengers' tactical approach to games, his approach commonly being one dimensional. With the changing style of modern day football and the direction of managers, it is increasingly difficult to assume that one tactical approach will be efficient enough to withstand the pressure of the other 19 teams that become opponents twice a season.
Watching Arsenal last season, it was clear to see where the problems were, the outfield spine of the team. From the inconsistent partnerships in the centre back roles, to the inconsistent partnerships in deep midfield, to the inconsistent form of striker's Olivier Giroud and Theo Walcott, it was a season of tactical inconsistency from Arsene Wenger.
Particularly in deep midfield, the interruption of the blossoming partnership of Francis Coquelin and Mohamed ElNeny was misunderstood, as the re-emergence of an out of form Aaron Ramsey following his injury, pushed Coquelin out of the side. While Aaron Ramsey is an extremely favourable player, he was simply struggling to find form in midfield, and therefore was expected to be dropped from the starting eleven on a few occasions.
The same issue arose in at the peak of Arsenal's eleven, as the frustrating form of Olivier Giroud was replaced by the painful form of Theo Walcott, springing the question as to whether Wenger is too favourable of some names in the squad, regardless of form.
Inconsistency was the issue for Arsenal this season, resulting in the consistent disappointment in countless fixtures. Dropping points to Swansea, Manchester United, Chelsea, Southampton and Stoke – just a few of the regular upset fixtures. The upcoming season must be different, as the improvement of those around them seem to highlight the stalling progression of Arsenal, the threat is particularly high this season, and it would be arguable as to whether the dated, predictable match day approach from Arsenal will be capable of withstanding the pressure.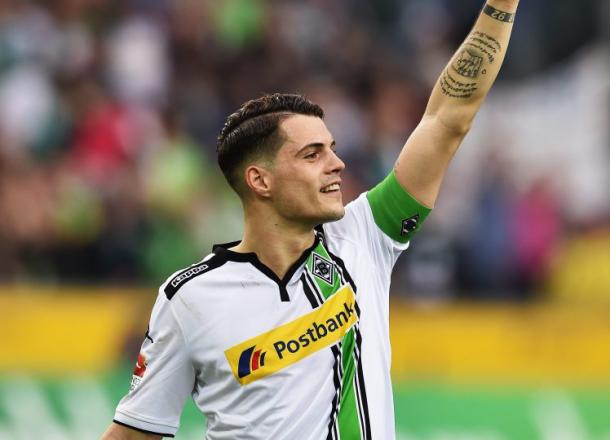 A transfer window far from exciting so far
The transfer window is so commonly a sore subject for Arsenal, due to their unique recruitment strategy. It's rare to see the Gunners splashing the cash on essential recruitments, which has perhaps been the deciding factor between them being title challengers, and top four finishers.
So far this season, Arsenal have introduced three players to their ranks. The first came back in June, as Wenger captured the signature of former Borussia Mönchengladbach midfielder, Granit Xhaka. The club agreed a £35m price tag with Borussia, as Xhaka became Arsenal's first summer signing. It was expected for the early signing of a player of the capability of Xhaka to just be the start of a busy summer.
Yet still, Arsenal fans await the singing of the players that fit the criteria of the missing gaps in the club. Arsenal have been seeking to sign a striker for many seasons, along with an established centre back also.
This coincides with the fact that for nearly a decade, Arsenal have been branded as a team that are 'two or three singings away' from being title challengers. The search continues, despite the arrival of Japanese starlet striker, Takuma Asano, and Bolton Wanderers' player of the season, centre back, Rob Holding.
The Gunners are still crying out for a true number nine, however, Wenger has insisted that his club are still firmly in the transfer window. Time is running out for Arsenal, with injuries and absentees from the start of the season, it's now or never for the Gunners.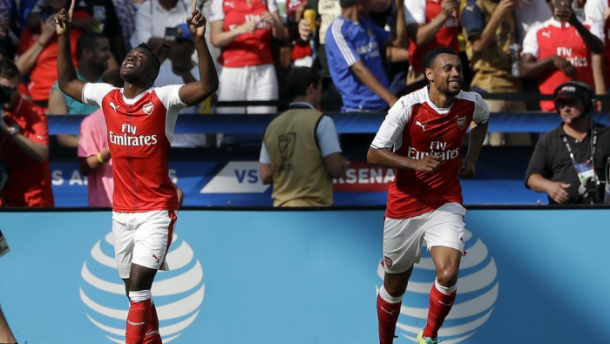 A positive pre season
Pre season has overall been a positive time for Arsenal. With four wins and one draw from five games, Arsenal survived an invincible pre-season. Looking at pre-season results alone, it would be baffling to claim that Arsenal are in a somewhat crisis in terms of looking for a striker, scoring 17 goals in five games along with seven different goal scorers.
The first game of Arsenal's pre-season was a rusty 1-1 draw with French club, RC Lens, it was notably Arsenal's first time in action since the start of the new season preparations, coming from 1-0 down to draw.
Next, the Gunners travelled to America to play two games. The first being the annual MLS All-Stars game, in which Arsenal eventually exited as 2-1 winners, Chuba Akpom scoring in the dying minutes of the game to seal the win. Following that, Arsenal moved on to LA where they won impressively against Mexico's Chivas. Goals from Alex Oxlade-Chamberlain, Rob Holding and another from Chuba Akpom concluded the club's time in the States with two wins.
Soon after, Arsenal were travelling again, this time joined with a few fond faces such as Aaron Ramsey and Alexis Sanchez, who returned from their extended breaks following their international duties. Neither featured in Arsenal's friendly in Norway against Viking FC, their presence was not notably missed as Arsenal fired eight past Viking. Braces from Alex Iwobi and Joel Campbell contributed to half of Arsenal's goals on the day, along with goals from Walcott, Akpom and an own goal by Michael Haukas.
It was a perfect preparation and boost of confidence for Arsenal's first meeting with Pep Guardiola's Manchester City. In a scruffy game to the standards of the two sides, Arsenal emerged victorious after coming from behind to win 3-2 in Sweden. Goals from Sergio Aguero and Kelechi Iheanacho were cancelled out by Arsenal's attack, as Iwobi, Walcott and Akpom added their names to the scoresheet.
With less than a week to go until Arsenal's season opener against Liverpool, Arsene Wenger's team couldn't have done much more in terms of gaining pre-season game time and positive results.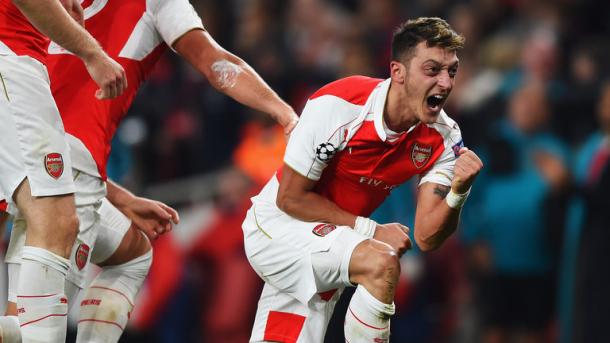 Who that can bring the thrill factor for Arsenal?
With the hope that the form of last season will be resumed by some of Arsenal's stars, there are of course a few names to keep a close eye on ahead of the new season.
Mesut Özil: It would be impossible to not mention this man following his immaculate season in the 2015/16 campaign. The mystical German playmaker has taken his time to settle in to the Premier League, his third season was key to both him and his team. Shortlisted for PFA Player of the Season, as well as winning Arsenal's player of the season, the German admitted that he had endured his best individual campaign of his career last season. Claiming 19 Premier League assists, scoring 6 Premier League goals and registering 144 created chances for his teammates – a Premier League record - Özil hit top form, fans can only hope that he can continue his form as he is close to returning to training after an extended break.
Alexis Sanchez: Like Özil, it would be difficult to not mention Alexis Sanchez. The Chilean attacker has taken naturally to the Premier League, his desire and winning mentality has assisted Arsenal may times, his goals and influence raising the club to win points when they weren't perhaps deserved. Last season could be categorised as an unflattering one by his standards, however with thirteen goals to his name and an injury to consider, it was not as disappointing as first perceived. Still, rejuvenated by an extended break following his remarkable Copa America with Chile, Alexis will be hoping to be back better than ever for the Gunners in his newly inherited number 7 shirt.
Alex Iwobi: The Nigerian 20-year-old made his breakthrough at Arsenal last year, being at the club since the age of six, he was granted his Premier League debut aged 19 against Everton. Iwobi scored on his debut, and since then has been engraved into the watchful eye of Premier League spectators. His versatility, maturity and level of performance are the critical factors to Iwobi's up rise at Arsenal, playing in the number ten role, on the flanks and as a free roaming striker on the rare occasion. With another strong pre-season under his belt, Alex will be hoping to pick up where he left off last season, certainly a player to watch.
Granit Xhaka: Signed before the window opened in June, Granit Xhaka was purchased by Arsenal after catching the eye of Arsene Wenger whilst playing in the Bundesliga for Borussia Monchengladbach. Notorious for his ill-discipline in Germany, there was some doubt as to whether a £35m price tag was suitable for a player of his age. The Switzerland international has certainly left many questioning their doubt in pre-season, as he looks to have really settled in with this Arsenal side. His commanding play in the centre of the field is an attractive attribute, as well as something that Arsenal have been missing for some time now. His ability to play a ball through the lines is encouraging also, as Arsenal have struggled in the past to find the variation in creating play from defence to attack in an efficient manner. Arsenal's number 29 is expected to play a huge part in what will be a challenging debut campaign.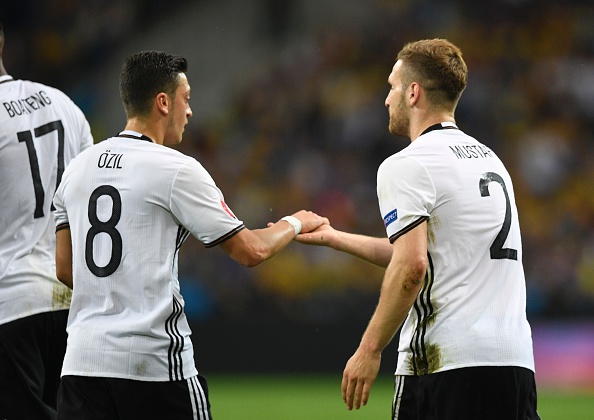 Still room for improvement
As previously mentioned, Arsenal's need for a striker and a centre back is becoming desperate as the season is just a matter of days away.
The situation in defence was made even worse by the unfortunate long term injuries of Per Mertesacker and Gabriel Paulista. Added to this is the absence of Laurent Koscielny, who has been granted a long holiday period following his involvements in France's European Championship campaign. The Frenchman is expected to re-join training next week, leaving him short for the Liverpool game and potentially the trip to Leicester City.
At the moment, three names occupy the possibilities for the centre back vacancies against Liverpool, 18-year-old Krystian Bielik, 21-year-old Calum Chambers and 20-year-old Rob Holding. With Liverpool's strike force looking dangerous in pre-season, it's fair to say this could be regarded as a crisis for Arsenal, who are seriously lacking experience ahead of the first game.
The gunners have been linked with Valencia centre back, Shkrodan Mustafi, Arsenal have reportedly made contact with the German international, but nothing more has developed with the situation. Mustafi would be just the player that Arsenal require, an experienced, composed, strong defender, equipped with a fantastic aerial ability and innate athleticism.
As for the strike role, the search continues. Arsenal have been linked with a handful of strikers this season, all but one being out of their grasp. Alexandre Lacazette remains as Arsenal's only realistic transfer target in attack, still, the challenge lies with prizing him away from Lyon, as the club stated that it would take an offer over £50m to lure the striker away from their grasp.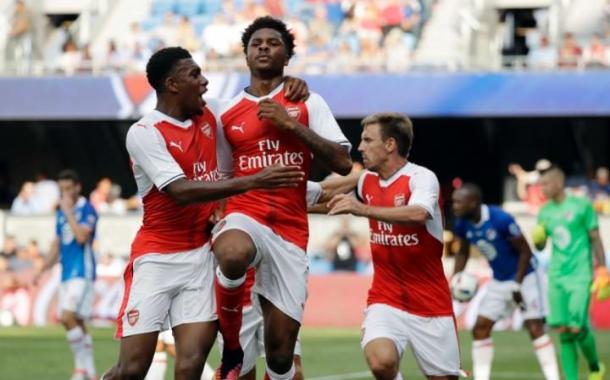 Arsenal's latest prospect: Chuba Akpom
Diverting away from the negatives regarding Arsenal's strike force is the promising talent of 20-year-old Chuba Akpom.
The English striker has developed up Arsenal's ranks with teammate Alex Iwobi since the age of six.
Akpom was sent on loan to Hull City last season, where he gained a sufficient amount of match time to help to fuel his game to the next level required to play for Arsenal. Since returning from his loan spell, Akpom has featured in all of Arsenal's pre-season games, where he has really captured the spotlight and the attention of his manager.
Scoring 4 goals in 5 pre-season games, the England U-21's international took the assumed role of a goal poacher, scoring when he was expected to, and rarely over complicating things.
His pace and composure have rocketed his chances of remaining to fight at the club next season, with there being rumour that he could make an appearance against Liverpool as leading striker Olivier Giroud remains on holiday.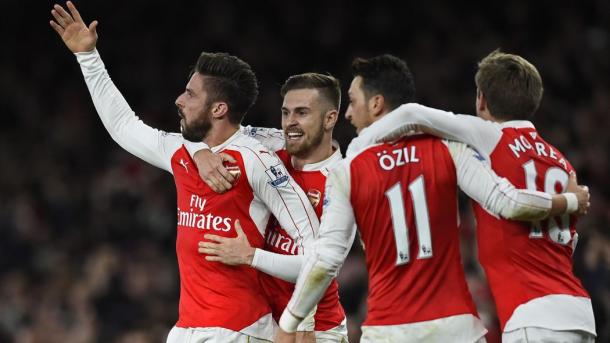 Predicted finish
In order to fully and fairly come to a reasonable conclusion to Arsenal's predicted finish, we would have to wait to see if the Gunners use the transfer window and funds to their full potential.
If the squad was to remain as it is now, without the edition of a striker or a centre back, it would not be unreasonable to place Arsenal outside of the top four. With rival teams strengthening what seems like every day, it would be difficult to see just how Arsenal can break their predicted dominance with the resources that they have right now.
However, if Arsenal were to make two signings in defence and attack, the scenario could change completely. An assured goal scorer and experienced centre back could rocket Arsenal up to being title challengers once more.
It's as simple as that, and with 12 years without a league title in their cabinet, now would be the time for Arsenal to step forward and make themselves known in the market.