The UEFA Champions League returns this week and the big match of the week is the third consecutive matchup between Paris-Saint Germain of France and Chelsea of England. The Blues got the upper hand in 2014 and PSG triumphed last year to advance to the semi-finals and quarter-finals, respectively.
However, what hasn't changed is the fact that the first leg will be at the Parc de Princes.
Chelsea's perspective
Guus Hiddink's side comes to this match without the established centre backs Kurt Zouma and John Terry, meaning that Branislav Ivanović will into the role alongside Gary Cahill. The Serbian is possibly better suited to centre-half in this situation, given his age and lack of speed meaning that Abdul Baba Rahman and Cesar Azplicueta, at the fullback spots, will provide much more speed and try to close down the PSG attack.
In the midfield, Nemanja Matic is suspended meaning that John Obi Mikel will be one of the defensive midfielders alongside Cesc Fabregas. Continuing with the midfield, we will most likely see Eden Hazard, Oscar and Willian, as Pedro will make the bench in this match. Up front, the starting striker will most likely be Diego Costa.
PSG manager Laurent Blanc has stated that the absence of John Terry is important, especially on set pieces. making mention to the game against Newcastle that when he went off it completely changed the defensive line.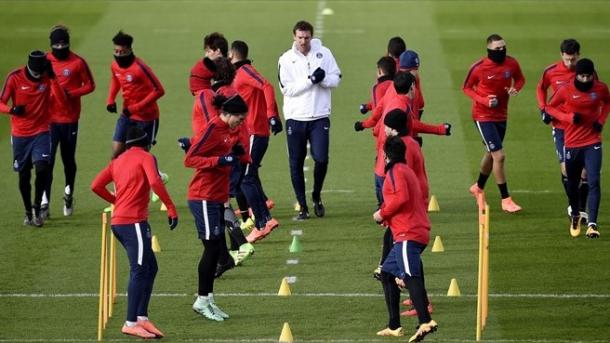 PSG's perspective
PSG come into this match with some injuries but also off the back of some unwanted news. Serge Aurier will miss this match and most likely the entire season due to his comments on a Periscope broadcast in which he made fun of his manager and teammates.
This is a huge blow for the Parisians as he is someone who has been an established right back for a team who has yet to lose in Ligue 1, and only lost once in all competitions this season. Marquinhos is expected to play on the right, with his fellow Brazilian compatriots David Luiz, Thiago Silva and Maxwell to complete the back four.
The midfield, we will see Thiago Motta, Adrien Rabiot and Blaise Matuidi, replacing influential star Marco Verratti, who is also match fit. Finally, up, front it seems that Edinson Cavani, Zlatan Ibrahimovic and Angel Di Maria will feature as the main wingers and striker. The fast wide players will prove to be difficult for the Chelsea backline, but if they can get the front three stopped, it could end up as a good result for the Blues.