Paris Saint-Germain bested the Blues on Tuesday by a narrow margin of 2-1, with Edinson Cavani securing the victory for Les Parisiens. However, Chelsea are not to be counted out of the competition yet.
Summary
Zlatan Ibrahimovic opened up the scoring in the first half with a goal off a set piece. John Obi Mikel was booked for tripping Lucas Moura from behind outside the box, and the Swede powerhouse's free kick deflected off of Mikel, who paid dearly for his mistake, and into the goal.
However, Mikel redeemed himself by equalising in stoppage time at the end of the half. The ball fell to him six yards out after a corner by Willian, and he controlled it and put it away to level at halftime.
PSG controlled the game well in the second half but could not break through Chelsea's back line until Cavani came on for Moura, scoring within only four minutes of coming on and sealed the win for the French side.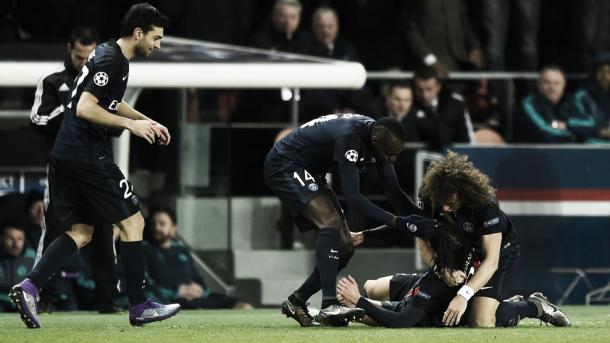 Chelsea will not be counted out yet
Guus Hiddink was disappointed with the result, and understandably so, as this was his first loss with Chelsea since joining them in December. However, he focused on the positives as well in his post-match interview.
"Of course the result is negative," he said. "On the other side, it's important to have an away goal. In the end it hurt a little bit but still we are in the race."
Hiddink added, "If we can do it at Stamford Bridge then the defeat doesn't matter as much."
The Dutchman believes Mikel has "had a kind of little revival", saying it is "good for him and the team".
He also said the Blues can be "satisfied with the performance", especially against "a team that is very strong".
Hiddink thinks the team didn't "mourn the absence of some players", as "the rest have to do it" because they "have the confidence to do what is asked".
Defensive duo have their say
Gary Cahill and Branislav Ivanovic, who formed the centre of Chelsea's defence in John Terry's absence, also spoke after the game.
The former admitted they were "disappointed at the end", adding that "1-1 would have been a fantastic result". Cahill does, however, think it "will be a different game at home".
"We defended really well throughout the game and dug in. We go onto the home leg. We know what we have to do," he added.
Given their history at the Parc des Princes, Cahill explained "hard it is here" and that "it's very difficult to get a result" there.
Ivanovic sang a similar tune, emphasising that they would be ready during the second leg: "We switch off concentration one tiny bit, and Paris have top strikers."
The Serb confirmed that the Blues "will do everything at home to go through", as well as urging his team-mates "to be more careful in London".