Unfortunately, that's all we've got time for this afternoon. I've been Sam France, guiding you through Chelsea's 5-1 win over Manchester City, and it's been a pleasure. Until next time, goodbye.
Chelsea's charge for the FA Cup continues, with Hiddink aiming to win it for a second time, in an attempt to salvage something from the season after the Londoners' terrible start under Jose Mourinho. For City, their main concern will be whether they can get a result in the Champions League against Dynamo Kyiv on Wednesday, with Pellegrini having rested the majority of his team today ahead of that game.
A ruthless second half from the Blues, who scored four without reply after a young City team went into half-time with the score one apiece. The pick of the bunch would surely be Willian's, just after the teams came out for the second 45, with goalkeeper Caballero at fault for the others.
90+2' FULL-TIME: That's it for today as the referee brings the game to a close. What a win for Chelsea!
90+1' Hazard and Oscar break from a corner with only Zabaleta back, but Hazard's pass is behind the Brazilian and the attack fizzles out.
90' Traore flicks a fairly harmless-looking cross high behind him and the ball loops up, dropping just inside the top corner off the woodwork. Chelsea have scored ten in their last two games at Stamford Bridge, now.
89' GOAL! Chelsea add a fifth out of nowhere!
87' Kolarov arrows a low shot across goal towards the bottom right corner from just outside the area, drawing a good save from Courtois. The Belgian goalkeeper claims the resulting corner fairly easily.
85' Chelsea give the ball away at the back but City can't capitalise as Barker fails to trick his way through.
81' Hazard cuts the ball back for Traore but the youngster can only turn it onto the back post, where it is cleared.
78' City introduce 17-year-old centre-half Cameron Humphreys to the fray for his first-team debut.
77' Manu Garcia shoots from the edge of the area but Ivanovic makes a great block to deny City a consolation goal.
75' SAVED! Oscar stutters and places his spot-kick nonchalantly to the left, but Caballero gets across well to beat it away. Traore isn't best pleased, as he wanted it for himself.
74' Penalty for Chelsea! City's old guard's bad day at the office continues as Demichelis bundles Traore over in the area. It looks a little soft, but you can see why it's been given.
72' Cahill's been in the wars from the first minute and he's down again, this time after catching a flailing Iheanacho elbow to the forehead.
71' Kolarov drives forward and shoots for the first time this afternoon, but his effort is immediately charged down. At the other end, substitute Oscar makes his first impact on the game by bending a long-range effort just shy of the top-right corner.
69' With two assists and a goal so far, though, Eden Hazard is having a great time. Is he back? Iheanacho goes close with a close-range backheel, but it doesn't get through a crowd of players on the goalline.
67' Hazard dusts himself off to take the free kick and goes away from the wall, planting the ball into the bottom corner on the keeper's side. Caballero is having a really bad time of it today.
67' GOAL! Eden Hazard scores a goal!
65' Raheem Sterling is watching from the touchline with the mournful expression of a hardy old sea captain buffeted by the wind and ocean spray. Meanwhile, Demichelis gets the first yellow card of the game for hacking down an advancing Hazard at the edge of the area.
64' Fabregas gets the ball from Hazard at the edge of the area, but he drags his shot across goal and well wide.
62' Chelsea's third has taken some of the buzz out of this game, with the hosts not looking to steam forward as they have done for much of the second half so far.
58' Pedro gets in behind down the right and looks to cut the ball back from the byline, but Demichelis is on hand to hack it behind. Caballero claims the ball under minimal pressure from the resulting corner.
55' The ball bobbles between Faupala and Iheanacho just inside the area and neither can quite get a shot away, before Kolarov's drilled cross from the left is blocked and cleared away.
53' The ball falls to Cahill in the middle of the area after an incomplete clearance from Fernando, and the centre-half swings a boot at it to drill a half-volley underneath Caballero in the centre of the goal.
53' GOAL! Gary Cahill might just have settled it!
52' Willian brings down Baba's lofted cross and pokes the ball through to Pedro, who wins a corner from his close-range shot. Faupala is the main who heads the set piece away.
50' The Chelsea fans want a penalty again as Pedro goes to ground just inside the area. The player doesn't appeal for anything, though, and looking at a replay it's clear to see that the Spaniard's momentum took him to the floor without any contact.
48' Willian has space to run into and he does so with glee, spreading the play to Hazard on the right then receiving the ball back and finishing well, almost passing it across the keeper and inside the far post.
48' GOAL! Willian puts Chelsea ahead for the second time today!
47' Aleix Garcia looks towards Iheanacho on the right wing, but misplaces his pass out for a throw.
46' Chelsea get the second half underway through Willian and Diego Costa.
Almost ready for the second half now. Crystal Palace and West Ham have already booked their places in the next round today, will we see a third London club progressing in 45 minutes' time?
Chelsea have played well and look the most likely to go on and win this, but City's youngsters are asserting themselves well and more than holding their own. A good game, if not an end-to-end thriller.
Half-time: Chelsea get another corner but there's no time to take it, and the two sides go in level at the break.
45+2' The corner is easily dealt with, resulting in a weak header towards goal from Cahill which is saved.
45+1' Costa wins a corner at Demichelis' expense. With two minutes added on, this could be the last chance of the half.
45' Willian tries his luck again, shooting from just outside the area this time but bending a low shot just wide of the far post.
44' Willian tries to show Pedro how it's done with a cut inside and shot of his own, but again Adarabioyo is there to block once more.
43' Pedro works a shooting opportunity, cutting onto his right foot from the left flank and drilling a shot towards the near post, but Adarabioyo sticks out a boot to deflect it out for a corner, which is cleared.
41' Caballero makes a world-class reaction save to deny a flying Pedro, punching the ball away well after Fabregas' cut back.
39' Hazard chips yet another ball in behind for Pedro to get on the end of and the Spaniard controls it well, cutting inside and shaping to shoot before being stopped in his tracks by the offside flag.
37' Chelsea switch off completely at the back and allow Iheanacho to get in behind. Courtois gets a hand to his ball across goal but Faupala reacts quickest to stab it into the roof of the net from point-blank range.
37' GOAL! Faupala pulls City level straight away!
35' Fabregas finds Hazard with the latest in a succession of excellent passes, and the Belgian lifts the ball over the keeper for Costa to dive in and slam home with an excellent diving header.
35' GOAL! Diego Costa opens the scoring with a diving header!
33' Iheanacho lets fly with a left-footed drive from range, but his effort screams over the bar. It had Courtois worried for a second, but it was still rising as it sailed into the crowd.
32' Zabaleta plays a speculative ball down the right in the general direction of Faupala, but the pass evades everyone and dribbles behind for a goal kick.
29' Baba puts in a peach of a cross from the left and Pedro gets on the end of it, chesting the ball wide of goal and wasting the opportunity. He's pulled back for offside anyway, but Adarabioyo looks to be playing him onside on closer inspection.
26' For the veteran of the team, Caballero looks as nervous as anyone on the pitch. Baba Rahman puts in a low cross towards him from the left, but he misjudges the bounce of the ball and spoons it up in the air, requiring a hurried clearance from a defender.
25' Willian clips the ball behind for Pedro but the Spaniard is offside. Moments later, Fernando gives away a free kick for a high boot which whistles just in front of Fabregas' face.
24' Pedro finds Fabregas in a pocket of space just outside the area and the former Arsenal man turns and shoots, but his low effort is too close to Caballero and the keeper saves with ease.
23' Kolarov crosses from the left but it strikes Azpilicueta and loops up conveniently for Courtois to catch.
21' Hazard spreads the play nicely to Willian over on the right wing and he comes inside to Fabregas, but the Spaniard's threaded pass for Hazard to chase goes behind for a goal kick.
17' Costa gets his first sight of goal but turns back away from the onrushing goalkeeper and the chance fizzles out. Chelsea fans want a penalty after he looked to have been bundled over by Adarabioyo, but Andre Marriner isn't interested.
15' Faupala looks like he would be a real pain to play against, which is just how Manuel Pellegrini must like it. He's chasing every ball and harrying defenders at every opportunity, and Cahill is feeling the effects of it after a clash of heads which has left him with a bloodied mouth. He's off again to get cleaned up.
13' Close! Chelsea thread their way through the retreating City back line as Pedro and Fabregas combine to set the former in behind, but he clips his left-footed shot past the keeper, across the goal and against the post.
12' Notorious shrinking violet Costa is down in some pain after being jumped on by Kolarov. The Serbian landed on top of him and slammed his face - covered by a protective mask - into the turf. No malice in it, but Costa will have felt that.
11' Hazard beats Aleix Garcia and looks to breeze past Zabaleta, but takes a heavy touch and runs it out for a goal kick. Cahill is back on, and looks alright to continue - not quite sure what the problem was.
10' Caballero hesitates on the ball under pressure from Hazard before shanking his clearance out for a throw. Meanwhile there's a worry for Chelsea as Gary Cahill is down receiving treatment for some sort of injury, with American youngster Matt Miazga warming up on the touchline.
8' City look to go forward again and Cahill has to lump the ball out for a throw, but Willian brings it clear for Chelsea.
6' Mikel searches for Azpilicueta on the right wing but asks just a little too much of the Spaniard and he can't prevent the ball bouncing out for a throw.
4' Caballero has to improvise a flick and half-volley away from a questionable pass back from Adarabioyo, but the veteran keeper manages to get the ball clear.
3' A fairly cautious opening to this game as you might expect, with a spin from Aleix Garcia the first real flash of skill. City attack through Faupala as the youngster finds a way through, but Courtois saves his low drive at the near post.
1' City get the game underway, playing the ball backwards but losing it quickly.
The teams are on their way out! This could be a great game, but how will City's young guns cope with the pressure with five debutants taking to the pitch?
Five minutes to go, the stands are filling up nicely and the atmosphere is building.
Another goal at Ewood, but it isn't Blackburn pulling their way back into it - Emenike has his second of the afternoon and the Hammers are coasting at 4-1 now.
West Ham have joined Blackburn in having a man sent off in their game, with Cheikhou Kouyate shown a straight red for a foul as the last man. That could just give Rovers a way back into the game.
Just half an hour to go until kick-off, now. Sit tight.
And just to show that I'll keep my word, West Ham have just scored a third at Ewood Park. Emmanuel Emenike with his first for the club.
In London, meanwhile, Spurs and Crystal Palace are goalless after 20 minutes. We'll keep you updated with all the goals as they go in.
Elsewhere, West Ham are currently 2-1 up against Championship side Blackburn Rovers, who have had a man sent off. Dimitri Payet (who else?) put the Hammers ahead with a stunning free kick and with half an hour to go, it looks like being the winner.
While we wait, why not check out some of our reports from yesterday's games in the FA Cup? Take your pick from our selection here.
Serbian pair Aleksandar Kolarov and Branislav Ivanovic will lead their respective teams out today. There can't have been all that many top-level English games with a Serbian captain on each side in the past.
And just in case you're worrying about mixing up your Garcias: Aleix Garcia is an 18-year-old starting in the middle of the park, while Manu Garcia is the same age and will play out on the right.
So five debutants for the visitors in what is a very young Manchester City team. Chelsea, meanwhile, field pretty much their first-choice starting eleven.
Manchester City subs: Hart, Clichy, Humphreys, Kompany, Fernandinho, Barker, Sterling.
Manchester City XI: Caballero, Zabaleta, Adarabioyo, Demichelis, Kolarov (c), Fernando, A.Garcia, M.Garcia, Celina, Iheanacho, Faupala.
Chelsea subs: Begovic, Miazga, Matic, Loftus-Cheek, Oscar, Traore, Remy.
Chelsea XI: Courtois; Azpilicueta, Cahill, Ivanovic (c), Rahman; Fabregas, Mikel; Pedro, Willian, Hazard; Costa.
So, an hour to go until kick-off, and we've got some team news coming right up.
Marriner's assistants will be Michael Salisbury and Lee Betts, with Michael Jones holding the position of fourth official.
Today's referee is 45-year-old Andre Marriner, from Birmingham. In 219 top-level matches, he has dished out 726 yellow cards and 46 reds, at an average of 3.3 yellows and 0.2 reds per game. He hasn't refereed for either of these sides so far in 2016 but recently presided over City's defeat to Arsenal and Chelsea's draw with Watford, both in late December.
If you're struggling to make a prediction for this one, the history books probably don't offer a great deal of help. Manchester City have knocked Chelsea out of the FA Cup twice in the last three years, but today's hosts have only lost one of the last 17 encounters between the two sides at Stamford Bridge. That was in 2010, when they were reduced to nine men following the dismissals of Michael Ballack and Juliano Belletti. Another blast from the past.
In Manchester, unstoppable Argentine Sergio Aguero has stated the sort-of-obvious in that City need to be doing better against their title rivals, here. It might not be a league game and Chelsea might not be title rivals this season, but a win today would do the visitors' confidence the world of good.
Hiddink is a popular man at Stamford Bridge at the moment. Recent goalscoring sensation John Obi Mikel has been speaking very highly about him here, claiming that he and his teammates have been afforded more freedom than under former boss Mourinho. Which isn't all that surprising, really.
A lot of attention this season has been centred around the consistent poor form of supposed star man Eden Hazard, but Chelsea's interim boss Guus Hiddink is confident of keeping him at the club and overseeing a return to form. You can read his comments here.
Meanwhile, City could be boosted by the return to fitness of Bacary Sagna, but Manuel Pellegrini is likely to take the opportunity to blood some of his younger players. Teenage Kosovo international Bersant Celina has impressed when called upon in the past and could start, with Kelechi Iheanacho expected to lead the line up front.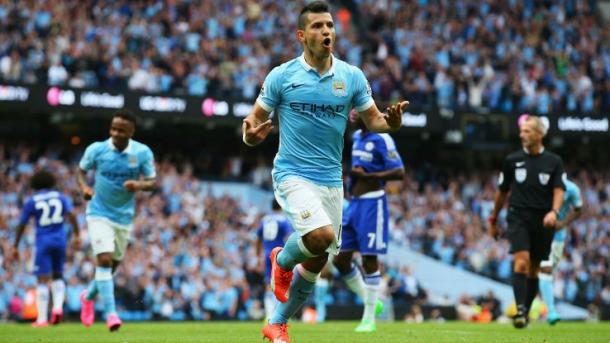 In terms of early team news, the hosts will have to start without their captain John Terry once again as he continues to struggle with a hamstring problem picked up in the recent thrashing of Newcastle United. Oscar could continue his return from a calf injury with a start but his Brazilian compatriot Alexandre Pato is still short of match fitness after joining in January.
Manchester City, too, have three victories from their last six but things are looking far from rosy in the blue half of Manchester after back-to-back defeats to title rivals. Leicester City tore Manuel Pellegrini's men apart in their own back yard two weeks ago, before Christian Eriksen's winner helped Tottenham Hotspur confirm their place in the title race last time out.
With three wins in their last six games in all competitions, Chelsea come into this game on some of the best form of their season so far. However, their most recent game ended in defeat in Paris, as Edinson Cavani struck late on for PSG to leave the Blues with a job to do to remain in the Champions League.
In fact, Chelsea's last victory in this fixture came five games ago, with Branislav Ivanovic's goal securing a one-goal win at the Etihad in February 2014. It might not sound that long ago, but Alvaro Negredo, Samuel Eto'o and Demba Ba posed the main attacking threats for the two sides in that encounter. How times change.
The last meeting between these two came right at the start of the season, with a week dominated by Jose Mourinho's spat with Eva Carneiro ending badly for Chelsea as their title credentials took an early hit with a 3-0 defeat at the Etihad. You can relive that day through the match report here.
With respect to their vanquished opponents, neither side has had the trickiest of journeys through the competition to get this far. Today's hosts Chelsea eased past Scunthorpe United and MK Dons in the previous rounds, while Manchester City thrashed Norwich City and Aston Villa.
Good afternoon and welcome to our live commentary of Chelsea vs Manchester City in the fifth round of this year's FA Cup. We'll have all the build-up, minute-by-minute coverage and reaction throughout the day so if you couldn't make it to Stamford Bridge today, stay right here on VAVEL.