Manchester City will travel to Stamford Bridge on Sunday to face Chelsea in the FA Cup, and it will be an important match for the struggling champions.
Team news
Chelsea captain John Terry will not be match fit due to a hamstring injury he sustained against Newcastle United last week. Alexandre Pato is still not fit either, but Oscar has returned from injury midweek and could make an appearance.
Chelsea interim manager Guus Hiddink has an excellent record with Chelsea in the FA Cup, winning five of five matches in charge ofthe west Lodon club, and would like to see a repeat of past successes.
As for Manchester City, Manuel Pellegrini has said that he will rest some senior starters during this match in favour of younger players, which could lead to a weakened side.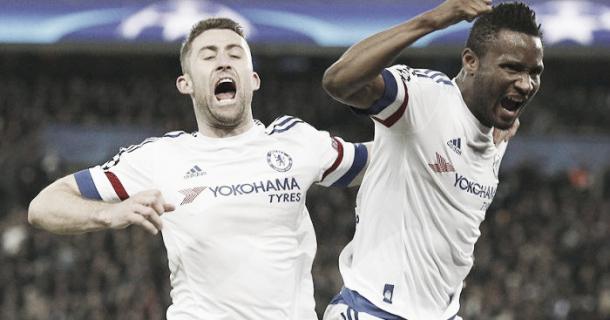 Hiddink's hopes
The Dutchman spoke to the press on Friday about the upcoming fixture, "I will make hardly any changes because we take the FA Cup very seriously. Winning the FA Cup is a prestigious prize in England but also worldwide."
"He will not be fit for this weekend," revealed Hiddink on Terry. "I saw him this morning, he worked with the physios and yesterday he tried to do a bit on the pitch but he has too many issues to be fit for the weekend."
"I hope next weekend he will be available," he continued. "I cannot predict it, we have to be cautious with him as he likes to be there every day but we must be careful."
He went on to speak about Chelsea's new signing Matt Miazga, who was included on the bench last Tuesday, saying: "Miazga is close. We are doing some tests but he should be fit. What will the weekend bring? It's too early to say."
Hazard and Baba mentioned regularly
He also spoke about Eden Hazard and Abdul Baba Rahman, the latter of which is expected to play on the left to accommodate for the absence of Terry.
"He was in a difficult situation but he has to step up, he knows that," the manager said of Hazard. "I don't like broad talks but sometime small conversations."
Hiddink continued, "He's very keen to be here, he's extended his contract, he's happy here and his family is happy here."
He added, "We will encourage him and talk to him about his performances as we do with all the team."
Hiddink gave his thoughts on Baba Rahman, "He's a gifted player, good going forward and he's calm on the ball."
However, the Dutchman stressed that Baba "has to make an improvement" in his defending because "it's very important in this league".