Before the season, if anyone had suggest that in late February Southampton would be seven points above Chelsea, and six places above them too, many people would have suggested they would be wrong. Many had actually predicted the Saints to be relegated following the departures of Morgan Schneiderlin and Nathaniel Clyne.
But this season, there is a new hope surrounding the St. Mary's Stadium. Manager Ronald Koeman even said his team could make the Champions League: "If Leicester can win the title, then we can finish fourth or fifth. We are only one point below Manchester United after today and my team is looking very comfortable."
For Chelsea, making the Europa League would be a success after a nightmare first half of the season.
How each team has been playing
Southampton come into this match winning five out of their last six matches. The other result was a 0-0 draw with third place Arsenal. After a bad start to the season, they look to fly high and stay around the top four.
For the Blues, it's been a trend of winning once, then drawing twice. They look to break this cycle as they defeated Newcastle 5-1 in their last Premier League match. They've had two other matches recently, a 2-1 defeat at Paris St. Germain in the Champions League and another 5-1 win over Manchester City in the FA Cup.
Injuries and suspensions
Although they are back in training, Jay Rodriguez and Florin Gardos are out for tomorrow's match. There has been no news on Matt Targett's ankle injury as well, while midfielder Victor Wanyama is out due to suspension.
The Blues will be without captain John Terry after he suffered a hamstring injury against Newcastle. Loanees Alexadre Pato and Radamel Falcao both remain out.
With Terry's injury, this could mean the sooner than expected debut of Matt Miazga; the 20-year-old American centre-back bought in January from the New York Red Bulls. Another option is bringing up the young Englishman Jake Clarke-Salter.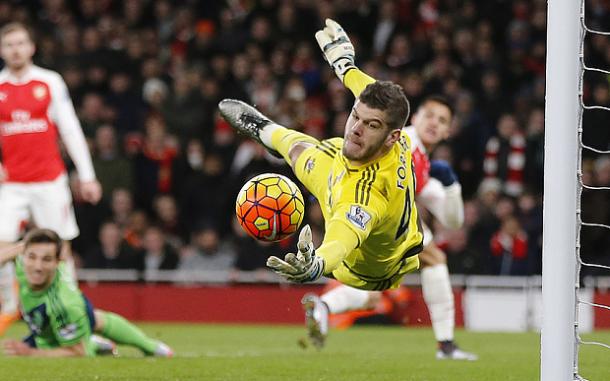 Key players
Goalkeeper Fraser Forster has been in superb form recently for the Saints, keeping a clean sheet for six straight matches, including a game against Arsenal where he made eleven saves.
However, Spanish international Diego Costa has reignited his goal scoring form under Guus Hiddink. He has nine goals in twelve games, and doesn't seem to be stopping any time soon.
Previous matches
October 3, 2015: Chelsea 1-3 Southampton
March 15, 2015: Chelsea 1-1 Southampton
December 28, 2014: Southampton 1-1 Chelsea
January 1, 2014: Southampton 0-3 Chelsea
December 1, 2013: Chelsea 3-1 Southampton
A win can bring Chelsea up to ninth place, but a win or a draw for Southampton could send them into fifth.