Southampton had the lead at half-time, but Chelsea came back in the last twenty minutes to take back the three points.
Summary
The game started out with in-form Southampton controlling well and looking for opportunities. Chelsea were dealt an early blow when Pedro had to be replaced by Oscar for a hamstring injury in the seventh minute. Southampton's back line looked sturdy against the likes of Chelsea, who did not have many attempts on goal in the first half. Saints goalkeeper Fraser Forster also broke a record in the 34th minute, going 667 minutes without conceding a goal.
Then, in the 42nd minute, a crucial mistake on the part of Abdul Baba Rahman was punished by Shane Long, who capitalised on Rahman's header and Thibaut Courtois' hesitation to come out by giving Saints the lead.
However hesitant they seemed in the first half, the Blues certainly began adding pressure in the second. Rahman was replaced by Kenedy, and Chelsea began to fall into their routine, keeping the ball mostly in Southampton's half, passing around, looking for an opening. The home side did an excellent job of defending under pressure, and tensions eventually boiled over beginning with a foul by Diego Costa, seeing three yellow cards awarded within the span of a few minutes.
The equaliser came in the 75th minute after Costa chased down a ball to the endline, passed it back to Cesc Fabregas, who then in an attempt to set up Eden Hazard for the goal found the back of the net. Only 13 minutes later, captain Branislav Ivanovic put the Blues ahead with a bullet header off of a corner kick from Willian.
Hiddink pleased with the reaction
Interim manager Guus Hiddink spoke in the press conference about the game, beginning with whether or not he thought the result was deserved: "Yeah, I think so. I think we started rather difficult in the first half, but then we got the composure, we got the control in the first half. I think we should have scored already with our dominance."
He was particularly impressed with the second half showing, "I think in the second half, the team reacted very well, not just in mentality to recover as soon as possible the ball, but also maintaining their position against a defensive Southampton and maintaining their composure."
Rahman was taken off at the half after committing an error that cost them the opening goal, and Hiddink hinted that his substitution was a punishment, adding a comment on Kenedy's performance after replacing the fullback.
"When a defensive player makes an error, then it's a danger. But yeah, he was taken off, that's a consequence sometimes," Hiddink explained.
He added, "Not always, but we have had experiences in the past. I must say that young Kenedy, he did a rather good job."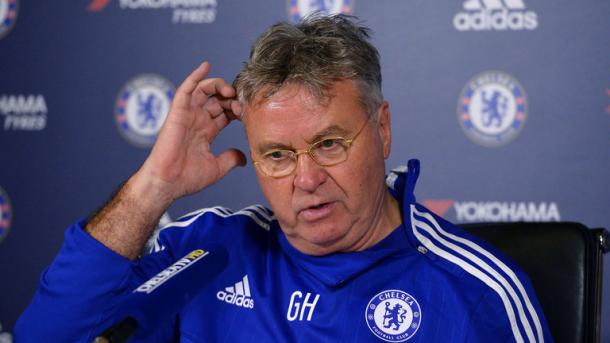 The Dutchman was also full of praise for the players, goalscorer Ivanovic, and the fans.
"Of course when there's a setback, you have to react, but I think the team reacted very well," the veteran coach said,
He continued, "Normally defensive oriented players react in a spirit, but also one that we emphasize on is the gifted player, which we have, a lot, they must work also."
"I think he has a very good record on these corner kicks," he continued, speaking about Ivanovic. "And he's not just courageous, which he is by nature, but also he's timing perfectly and executing the header very well."
About the fans, he said, "They were supporting even when we were one-nil down, and that's also encouraging for the team."
So are Chelsea moving in the right direction? Hiddink suggested that they are.
He said, "We started a few months ago, and then you had to get the results. We got some results in draws, and that was necessary because the team lacked confidence."
Hiddink continued, "But they now start playing, and we said, 'Hey, we have to go not just in draws being unbeaten, but also go in wins.'"
Finally, on the lack of recovery time before Chelsea play Norwich City on Tuesday, Hiddink was brief, commenting, "Yeah, Tuesday, Norwich. Difficult to see if we have some damage."
He concluded, "We have a bit, I think, and then we have Stoke and Paris Saint-Germain, so we are in a very beautiful time of the season."