With it being all but confirmed that the Blues will miss out on Champions League football next season, Chelsea manager, Guus Hiddink believes they will still be able to attract Europe's top players.
This comes following Chelsea's exit from the Champions League on Wednesday, as they were beaten 4-2 on aggregate by French champions, Paris Saint-Germain in the round of 16.
Slow season
Chelsea currently sit 10 points behind fourth-placed Manchester City in 10th place. The current champions have had a terrible season which saw them sack former manager Jose Mourinho after a 2-1 defeat to Leicester City in December.
Since Hiddink's arrival, their form has improved and they are yet to be beaten in the league. However, they have only won one home game and drawn the other five.
Hopes of playing European football are not all gone for Chelsea as they are still in the FA Cup, which they compete in the quarter-final of tomorrow, and would offer them a spot in next season's Europa League should they win the competition.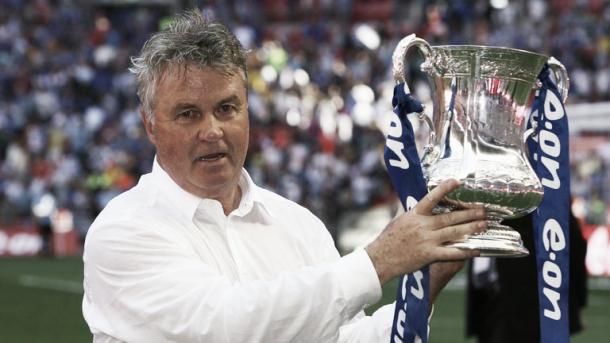 Hiddink hopeful
Interim manager Hiddink admitted that it would be difficult to sign top players without the prospect of European football, but he was adamant that an offer from Chelsea would still remain attractive.
Hiddink has stated that every club has an experience of 'one year of lesser performances' but that does not necessarily 'mean they aren't attractive for big players'.
The Dutchman has remained focused on the trophy he won in his last tenure as Chelsea manger, the FA Cup, and is hoping to win it to bring some joy to an otherwise dreadful season for Chelsea. When speaking about the FA Cup, he said: "It's an important competition. It's not just for me, but for the players."
Despite his desire to win the cup, he said that he still demands effort and concentration on the Premier League despite their unexpectedly low position.