It's been a busy winter in South London as Chelsea Ladies manager Emma Hayes looks to avoid the same mistakes made by Jose Mourinho last summer.
Whilst the Special One failed to strengthen his title-winning team, one of many contributing factors to their downfall and his departure this season, Hayes is pulling out all stops to ensure the club can boast some more silverware in 2016.
It's not just some silverware they are the favourites to claim either, but all of it on offer given the manner in which they have strengthened their squad, not just their starting XI.
With the FA WSL Cup coming in the form of a midweek schedule, and their WSL 1 fixtures similarly demanding - week one alone asking them to play two games in four days - the additions of some top quality squad players could prove to be the deciding factor in this new season.
Focus can be wider thanks to transfer business
Strength in depth is not something women's football is all too familiar with. The game doesn't have the wages to offer millions to players to bench warm, with regular game time more commonly pursued.
However, the project Chelsea and Hayes are building seems to be appealing to many despite a lack of game time perhaps coming with it, with the likes of Bethany England, Jade Bailey and Becky Spencer prepared to go from being regular starters to players competing for a place in the XI in order to be a part of the vision.
Chelsea lacked impact substitutions in 2015, despite doing the double so comfortably. They had some talented players on their bench, albeit ones who struggled to influence and change games when they came on. Many of those have moved on to other clubs now, and more effective impact players such as England can now assume those roles.
The rotational options offered by their new signings could be even more telling too, with exhaustion less likely to set in as the club bid to fight on four fronts.
Last year, they managed to clinch two of the titles available with what was a rather thin squad - one that had a sublime starting XI, but just a lot of raw talent around it, nothing more.
With a more packed team now, more competition for places and more room for change for Hayes, there's no reason why Chelsea cannot completely dominate on a domestic level, with the potential of a treble certainly not coming with the most impossible odds. They no longer have to put all their eggs in one basket; they have enough to go around.
Of course, they'll have to deal with teams putting everything into the cups when their success in the league becomes limited, but if they are able to rest usual starters on the bench, they'll be able to introduce them and their game-changing qualities to swing ties in their favour too.
Progression in South London
If the squad strengthening pays off, and one would imagine it will on some level, then Chelsea fans may have an opponent to thank in fact, with VfL Wolfsburg arguably having set the example to follow.
This was emphasised when Caroline Graham Hansen came off the bench to essentially win their Champions League tie with the Blues at the back end of last year, the goal-scoring Norwegian just one of several stars amongst the substitutes for the Wolves, alongside the likes of Ewa Pajor and Zsanett Jakabfi.
Chelsea are the only club who seem to have learned lessons from this tie. All of England sat and watched, cheering the Blues on, but only Hayes took note of Wolfsburg's real advantage.
It wasn't the Wolves' match fitness overpowering a professional team, it wasn't their superior quality dominating a double-winning club, it was more options seeing off a thin squad.
While they have brought in a huge name in Karen Carney and several very promising young English players, the rest of the league has almost stood still.
Manchester City clinched a big name in Kosovare Asllani, and Arsenal grabbed headlines by recruiting Fara Williams, but one player cannot win a team a trophy and no one else has really made waves in the market like Chelsea.
Doncaster Belles and Liverpool have been busy, but are they title-challengers?
Chelsea's rivals for the throne have made their respective marquee signings, but they haven't strategically strengthened like the reigning champions.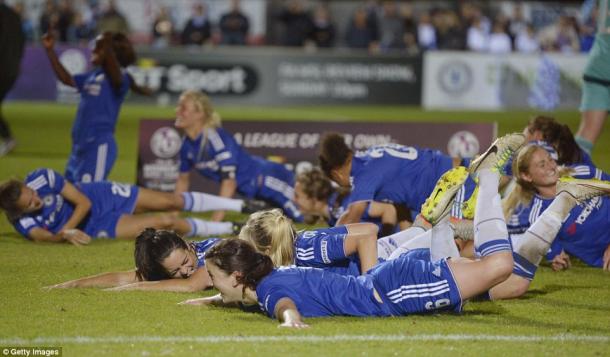 Next step
It's not just in England where Chelsea need to assert themselves either, but in Europe too. The Blues' draw last year was admittedly unkind, pitting them against the dominant Wolfsburg, but they definitely have the credentials to challenge in the elite competition - particularly after such a strong window.
Nine years ago, Arsenal clinched the continent's greatest prize - beating Sweden's Umeå IK when it was still a two-legged final and still called the UEFA Women's Cup - but since then, England have barely come close.
The Gunners have made it to three semi-finals since, and Birmingham City one, but they have been comfortably defeated every time.
Yet, with Chelsea looking to adopt a similar mindset to the likes of Wolfsburg, their progressive thinking could take them not only to domestic success, but European glory too.
Forward Eni Aluko told Sky Sports that the club "realised last season that [their] squad for the Champions League isn't perhaps as deep as it could be," which shows exactly why Hayes was looking to bolster the team.
Aluko continued, saying this was "particularly" a problem "at the end of the season when there are niggly injuries and there are players that are very tired," which was in great contrast to Wolfsburg's fit, full and firing squad when the tie came around.
Having been treated as a lesser nation for many years in the game, England burst onto the scene to defy all expectations and prove a point last summer with their Bronze medal at the 2015 FIFA Women's World Cup.
Now, it's up to their domestic teams to continue the country's progress, and the forward-thinking minds of those at Chelsea, particularly Hayes, are the perfect fit to carry the baton.