That's all for today. I've been Noah Ziegler, and it has been a pleasure!
What. A. Game. After taking the lead twice, Chelsea claw their way back with two goals late in each half. Fabregas is the hero for the Blues as his brace keeps their undefeated run in the Premier League alive.
Full Time: Chelsea 2-2 West Ham (Lanzini, Fabregas, Carroll)
90+4: Loftus-Cheek receives the ball, but the shot goes wide.
90+3: "Come on Chelsea!" rings throughout Stamford Bridge.
90+2: Payet's free kick is easily saved by Courtois.
90: Fabregas and Willian receive yellow cards.
90: Five minutes have been added.
89: A scuffle breaks out among the teams. All cleared up now.
88: Fabregas sends Adrian the wrong way as he slots home a penalty to level things up!
GOAL CHELSEA! Fabregas gets his brace!
87: Willian makes a brilliant run and plays Loftus-Cheek through, but Antonio brings him down!
87: PENALTY TO CHELSEA!
86: Carroll's header nearly goes in, but Bertrand Traore is there to clear it.
86: Emenike uses his pace and strength to send it a dangerous cross, but Carroll can't connect.
83: Loftus-Cheek comes on for Oscar.
83: Mikel tries his luck as a volley goes wide.
81: Obiang comes on for Lanzini.
80: Things are heating up! Chelsea pressing as Fabregas gets the ball after a failed tackle by West Ham, and his shot is deflected wide.
78: Another chance for West Ham as a corner is whipped in and the English international Andy Carroll meets it, but Courtois does very well to keep it at 2-1.
77: Payet had an opportunity to seal it for West Ham, but it takes a deflection and goes wide.
75: Chelsea get a corner, and it is John Terry who again gets his head on it but it (again) goes above the bar. Chelsea really putting on the pressure!
74: Emmanuel Emenike comes on for Enner Valencia.
73: Pedro sends in a cross that finds Oscar, but the Brazilian's volley is deflected and it lands to Fabregas who tries a bicycle kick but it goes just above the cross bar.
71: Fabregas gets his head on a corner, but the chance goes achingly high.
64: Bertrand Traore fires a shot, but Winston Reid does well to block it. It looked as though the New Zealander used his arm to block the shot and the wave yet again waved away a penalty appeal, but further replay shows the referee was correct in doing so.
62: Bertrand Traore comes on for Loic Remy.
60: Lanzini plays Andy Carroll through and sends it through the legs of the Chelsea goalkeeper. The visitors lead 2-1 now.
GOAL! Moments after coming on, Andy Carroll scores!
59: Andy Carroll comes on for Sakho.
57: Close for West Ham as Cresswell's shot slams the crossbar!
51: Fabregas' free kick finds John Terry, but Adrian palms it away.
49: Ivanovic sends in a cross and after a few bounces, it finds Oscar at the far post but his shot goes wide.
46: A great opportunity for Dimitri Payet, but his shot was stopped by John Terry.
45: Pedro has come on for Kenedy.
45: We have kicked off! West Ham get the second half underway
Well, that was a fun half. From West Ham leading via a Lanzini strike and Chelsea wasting opportunities, things did not look good for Chelsea. However, on the brink of half time, Cesc Fabregas equalized for Chelsea to set up a half with everything to fight for.
Half time: Chelsea 1-1 West Ham (Lanzini, Fabregas)
45+2: Fabregas takes the free kick, and curls it past the West Ham keeper. Game on!
GOAL! Fabregas equalizes for the Blues!
45+1: Reid takes down Oscar outside the box, winning a free kick for the Blues. Last chance to equalize.
45: Three minutes have been added.
44: Willian finds Azpilicueta making a run on the left, but the Spaniard can't control it.
43: Kenedy returns to the match.
40: Willian curls a free kick, but it goes wide.
39: Kenedy needs to be helped off after winning a free kick for Chelsea as it seems he has a problem with his nose.
30: Now it's West Ham's turn! Creswell with a great chance to double the visitors' lead, but the shot is slightly deflected and goes wide.
29: Chelsea continue to pile on the pressure, a good flick by Fabregas sees Remy with an off-balance header, but Adrian again does well to save it.
27: Appeals for handball by the players and fans, but the culprit Enner Valencia looks at the ref with innocence. The ref says play on.
27: Oscar finds Willian, whose shot is blocked and goes out for a corner.
25: Kenedy dribbles past Kouyate, then tries to curl it just as Lanzini did-but the shot goes high.
16: Lanzini recieves the ball a few yards outside of the box, dribbles to his right and then fires a shot that curls into the top right corner. Courtois now has not kept a clean sheet in 10 games.
GOAL! West Ham have got the first goal as Lanzini finds the top corner!
15: Ivanovic is booked for a foul on Payet.
8: Remy is played through, but his low shot at a narrow angle is saved by Adrian.
3: Kenedy played Remy through, but the 20 year old Brazilian was slightly offside when he received the pass.
0: We have kicked off at Stamford Bridge!
Lead by the captain John Terry, the Blues make their walk onto the pitch.
In the U.S., this game is available on the USA Network and NBC Live Extra. You can listen to the game on Sirius XM radio channel 85 or on Talk Sport.
What are my predictions? Honestly, West Ham are in good form while Chelsea simply are not. A 2-1 win for the visitors would be my best guess.
The Dutchman has elected to start a more veteran line up, rather than giving the youngsters a go. Loic Remy gets the nod over Bertrand Traore, and John Terry makes his return to the line up. Kenedy, however, is starting above Pedro. Pato also makes an appearance on the bench. West Ham have their fire power in Payet, Valencia, and Lanzini all starting today. It will surely be a great match.
West Ham Bench: Randolph, Oxford, O'Brien, Obiang, Song, Emenike, Carroll
Chelsea Bench: Begovic, Baba, Matic, Loftus-Cheek, Pedro, Traore, Pato
West Ham Starting XI: Adrian; Antonio, Reid, Ogbonna, Cresswell; Kouyate, Noble, Lanzini, Payet; Valencia, Sakho
Chelsea Starting XI: Courtois; Ivanovic, Cahill, Terry, Azpilicueta; Mikel, Fabregas; Willian, Oscar, Kenedy, Remy
The lineups are in! Has Hiddink given some youngsters a chance?
Let's begin with the build up of a crucial game for both sides. For West Ham, this season has been nothing but phenomenal. Sitting in fifth place (and only two points off of the cherished fourth place/Champions League bid), the Irons find themselves on the opposite end of the table from what they are used to. Chelsea, however, are suffering the aftermath of a horrific first half of the season. The Blues sit in tenth place, but are only nine points behind their rivals.
How did each team do their last times out? For the home side, they have bowed out of not only the FA Cup but the Champions League in a span of four days. A crushing 2-1 defeat to Paris Saint Germain saw themselves having to focus on the FA Cup as it was beginning to look like their only way into European football. However, things did not go their way and Chelsea took a 2-0 defeat to Everton. Now the Blues have one option: Hope that matches go their way and sneak in via the league.
West Ham are flying high after a good run of results. A good 1-0 win over Tottenham continued the push for a Champions League place. The Hammers followed that up with a dramatic 3-2 win over Everton. West Ham were somewhat halted in a 1-1 draw with Manchester United in the FA Cup, which the replay fixture was announced today to be on April 6.
The key players for both sides will bring the team to a full 90 minute fight. For Chelsea, they will be missing Diego Costa due to suspension. That leaves Guus Hiddink with the choice of the young Bertrand Traore or Frenchman Loic Remy. Whoever he chooses, they are going to be vital in Chelsea's attack. Traore has found the net 4 times this year, taking the Premier League by storm. Another key player is the goalkeeper Thibaut Courtois. The Belgian international has struggled recently and has not kept a clean sheet in nine games, the last one being a 0-0 draw with Watford.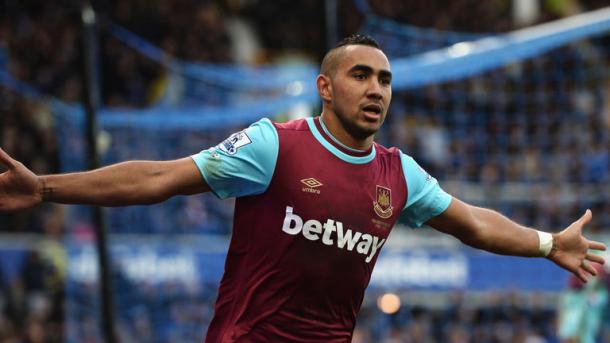 West Ham find themselves with multiple players that are ready to pounce on every opportunity they get. Most notably, Dimitri Payet has gotten 8 goals this season and has electrified the London side. Michail Antonio follows the Frenchman with 6 goals, then Cheikhou Kouyate, Manuel Lanzini, Diafra Sakho, and Enner Valencia all have 4 goals.
Chelsea are without striker Diego Costa, as he is serving his suspension for receiving a red card against Everton. Eden Hazard was also announced that he will not feature in the match. West Ham will be missing James Collins as he is not fit, and also Victor Moses will be sidelined due to the terms of his loan agreement.
What would a win do for both sides? For Chelsea, a win could propel them to ninth, but that would require Stoke to lose by at least four and Chelsea to win by four. A victory for the away side would mean a possibility of being in a Champions League place.
Hello and welcome to Vavel UK's live coverage of the Chelsea FC vs. West Ham United match. The two London sides square off in what should be a cracking match. Kick off at Stamford Bridge is at 15:00 BST (11:00 A.M. EST), so stay tuned for team news before the match begins.