Chelsea drew 2-2 with West Ham United at home as Guus Hiddink continues his unbeaten form in the Premier League, stretching his run to 13 League matches without a loss since his return.
The roles were reversed this year, with West Ham closing in on a potential Champions League spot and Chelsea sitting in mid table. Slaven Bilic has come into the side and worked wonders with this West Ham side, currently just one point outside of the top four.
Hiddink can be proud of his tenure in charge of Chelsea once it finishes, the Dutchman has confirmed that he is leaving at the end of the season. The former Holland manager has dragged Chelsea steadily from a potential relegation threat to being comfortable in mid table and with the strong possibility of breaking into the top six by the end of the season.
Summing up another hit-and-miss showing
The two Chelsea goals had hints on controversy about them. Both scored by Cesc Fabregas, the Spaniard had tucked away a free kick and a penalty to pull Chelsea out from a losing position twice.
His free kick was questioned however, with the wall standing 10 yards back, the former Arsenal midfielder pulled the ball back a further two yards, making the wall 12 yards away and giving him more space to get the ball up and over. He did just that, and Chelsea drew level. This came after Manuel Lanzini curled a fantastic effort into the far corner from 25 yards out.
Andy Carroll then gave West Ham the lead again finishing off a great through ball from West Ham's player of the season Dimitri Payet.
Ruben Loftus-Cheek then went down in the box in stoppage time, and despite seeming to trip over his own feet, referee Robert Madley pointed straight to the spot. Giving Fabregas the opportunity to stroke home and side his side from a loss.
It's fair to say that all those associated with West Ham United should feel hard done by after this result, having lead twice and only getting a point when they really should have had three.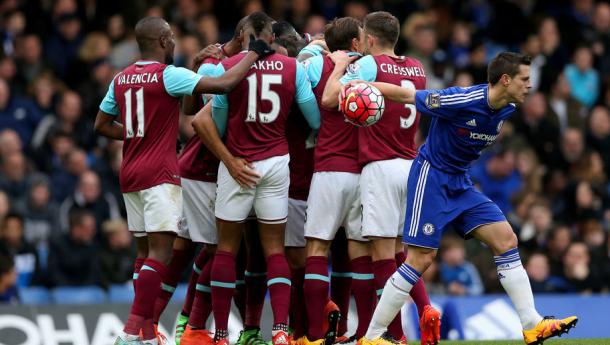 Positives for Chelsea
Despite taking a point out of this game in controversial circumstances, Hiddink should talk some positive points from this game. His side were the dominant force with possession, and having the lion's share of the chances.
Pushing a side like West Ham United right to the hand is something that should be the least for Chelsea, yet this season it is seen as an accomplishment, which is not only a testament to how far Chelsea have dropped since their title winning season last year, but it is also testament to how far West Ham have come.
Cesc Fabregas put in a fantastic performance as he often does, dictating play from deep in midfielder but managing to get forward to be a potent goal threat himself. If Chelsea were to have their main goal scorer, Diego Costa, it's easy to believe that the connection that the two Spanish internationals share would have provided more goals and even a win against their London neighbours.