The largest pre-season tournament held in the United States announced its schedule yesterday. After competing in the first and third years of the International Champions Cup (ICC), the Blues continue to be a club that garners attention from the fans.
Last year's tournament really foreshadowed how the first half of the season would pan out. After losing their first game to a youth-filled New York Red Bulls, the only two positive results Chelsea were wins in penalty shoot-outs against Paris Saint-Germain and Barcelona. The Blues capped off a less than stellar tournament with a 1-0 loss to Fiorentina.
This year will definitely be different in terms of style and mindset. A new manager will be at the helm - supposedly it will be current Italian national team and ex-Juventus coach Antonio Conte - and the beginning of a new Chelsea will unfold.
Buck delighted
Chelsea chairman Bruce Buck said on told the official club website, "It gives us great pleasure to know we will be testing ourselves at the highest level this summer."
He continued, "I am sure the squad will benefit from the excellent facilities available to us across the United States."
Buck concluded, "We have always found the support shown to the club by our American fans to be passionate and positive and cannot wait to see them once more."
The teams participating in the 2016 International Champions Cup are Chelsea (ENG), AC Milan (ITA), Barcelona (ESP), Bayern Munich (GER), Celtic (SCO), Inter Milan (ITA), Leicester City (ENG), Liverpool (ENG), Paris Saint-Germain (FRA), and Real Madrid (ESP).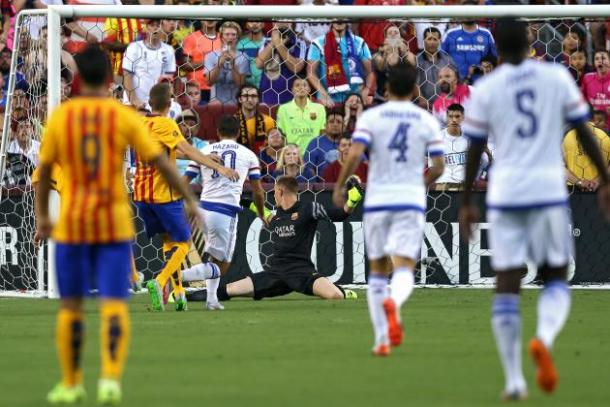 Chelsea's schedule is as follows
Chelsea vs. Liverpool (7/27/16, 8:30 PDT) in Pasadena, California.
Real Madrid vs. Chelsea (7/30/16, 3:00 EST) location is to be announced.
AC Milan vs. Chelsea (8/3/16, 8:30 CDT) in Minneapolis, Minnesota.
It will be exciting to see the new Chelsea manager and some new players get a chance to show their skills.