Chelsea interim manager Guus Hiddink has said that fully-fit Alexandre Pato can now "show his quality" after their 4-0 win over Aston Villa.
Villains quashed
Chelsea received an easy three points on Saturday lunchtime as they traveled north to take on a struggling Villa side.
Ruben Loftus-Cheek opened the scoring before Pato marked his debut with a goal from the penalty spot on the stroke of half-time, having came on earlier in the half for Loic Remy. That was before Pedro bagged a second-half brace to round off a convincing victory.
Instant impact
The Brazilian striker made an instant impact 63 days after initially moving to Stamford Bridge and following the game Hiddink shared his delight at the Brazilian's start in a Chelsea shirt.
Hiddink said it was "good" to see Pato "coming in" and admitted that he could have "brought him in earlier", but believes with his improved physical condition he can "show his quality".
Hiddink continued, admitting that it wasn't the "toughest game" against Villa - now under the watch of Eric Black - and said that they will have to see how Pato "copes against more resistance".
The Dutchman said that the 26-year-old had been "suffering" by doing "extra work" with the fitness coaches at Stamford Bridge but stated that "other coaches" and "other players" are are "happy for him" and "relieved" to see him "score his first goal".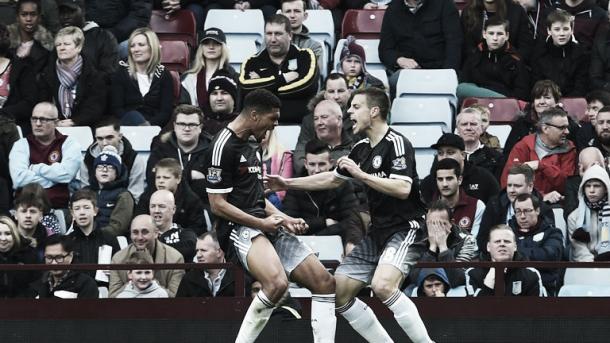 Youth comes first
Loftus-Cheek's opening goal has shown the quality of players in Chelsea youth ranks and Hiddink has said that he will sacrifice his own personal record at the club to give youngsters like Loftus-Cheek a chance as the season enters the final seven games.
He said that he will "bring in the youngsters" and for the "rest of the season". Hiddink believes they have the "opportunity" to bring in the youngsters "more frequently".
The coach admitted that it "would be nice" to maintain his unbeaten record but said that is "rather personal", and feels that he would prefer to "give the youngsters a chance".
Chelsea will visit Swansea City at the Liberty Stadium on Saturday, April 9 with kick-off at 3pm BST.