Chelsea began to show shades of their former selves in an impressive victory over Bournemouth yesterday, which saw them move up to ninth in the Premier League table.
The Blues attacked with purpose and players such as Eden Hazard and Cesc Fabregas stepped up their performances to the level that is expected of them, something that has been a rarity in what has been a forgettable season for the London outfit.
Hazard finds his form
Whilst this season has been terrible for the club as a whole, for one man in particular it has been truly horrendous. Going from the Player of the Year to someone who barely warranted a place on the team's bench with his seemingly lacklustre efforts and desire at times, Hazard has even seen his own fans question him this season. One of the men responsible for the dismissal of Jose Mourinho, the tricky Belgian finished last season with 19 goals, yet until this weekend hadn't scored once in the league.
Thankfully for Chelsea - and Hazard himself - it seems he has found his shooting boots after finding the back of the net twice in one of his most impressive games of the season. Hazard was returning from a hip injury that has seen him miss the last five games and appeared to be in fine health causing the Cherries defence plenty of problems.
The goals were his first in the league since May 2015, a staggering statistic that few would have believed this time last season; now he will be hoping to finish the campaign the way he expected to start it.
Fabregas chasing records
Another player who hasn't hit the dazzling heights that are expected is Cesc Fabregas. He hasn't been quite as poor as Hazard, but the midfield maestro has failed to reach the same levels as last season. Yet a hatrick of assists and the man of the match award certainly proved he still knows how to get the job done, and those assists helped him climb the leader board of the Premier League's records for players with the most assists.
Fabregas currently sits third in the records with 95, from his time at Arsenal and Chelsea combined, and there is a club legend in the form of Frank Lampard sitting ahead of him in second (102), with Ryan Giggs topping the list at 162. Fabregas will certainly be aiming to break those records in the future, and when he is performing at his peak level it is without doubt achievable.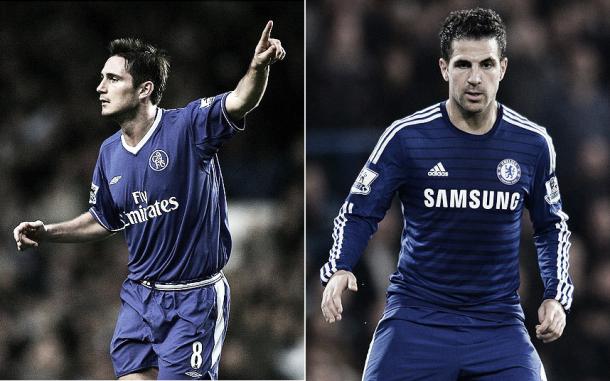 Fans want to cost Spurs
Something that was made very clear throughout the game was the fans' desire to play a major role in this season's title race. Whilst Chelsea may not be involved they can certainly have a huge impact on who gets their hands on the Premier League in a few weeks time. With Monday's derby game with Tottenham Hotspur being one of the biggest in history, the Blues faithful made their opinions clear - chanting about their desire to beat them.
Whilst Guus Hiddink revealed that he "didn't hear what the fans were singing", there is no doubt he will be leading his men into that game with only one thing on his mind; another three points.