Struggling Chelsea FC winger Eden Hazard has indicated that he will remain at Stamford Bridge next season saying that he is "ready for the future" under new manager Antonio Conte.
Staying put
The current campaign has been nothing short of a nightmare for the Belgian, having guided Chelsea to the Premier League the previous season picking up the PFA player of the year along the way.
He has failed to recapture that form missing the majority of the campaign with numerous injuries and lack of form but seems to be making a return with his first two league goals of the season last Saturday in the 4-1 defeat of AFC Bournemouth.
Hazard has been linked with big-money moves to both Paris Saint-Germain and Real Madrid but it was reported by Standard Sport that Conte wants to keep the Belgian and the 25-year-old is prepared to stay in London and write the wrongs of the current campaign.
Hazard told Chelsea TV that the side will "try to forget" this campaign and said that the side are "focused" and "ready" for the new season on the current Italy national manager.
He continued saying that he was "ready for the future" and that the side are "together and strong".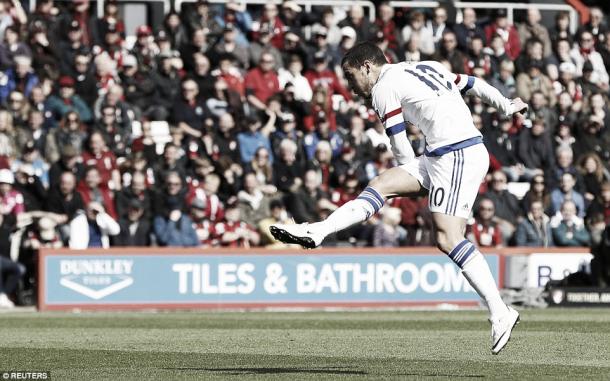 Doting fans
Hazard admitted that the current campaign has been far from his best but was quick to praise the fan's appreciation through what has been a difficult time in his career.
He said that the fans were "fantastic" the previous season and that despite the "difficult season" he has had they are always behind him which he appreciates.
He continued saying that him and Stamford Bridge faithful have "alot of stories to write together" and they were ready for the future.
Chelsea FC will host Tottenham Hotspur at Stamford Bridge on Monday, May 2 with kick-off at 8pm.