It was one of the biggest games in the history of the rivalry between Tottenham Hotspur and Chelsea. With the Blues only needing a draw to hand Leicester City the Premier League the pressure was certainly on, but after coming from two goals behind the former champions proved they were up for the fight - whilst Spurs simply wanted to fight.
The clash was certainly a feisty affair in what Guus Hiddink described as an "emotional and hectic game", which saw nine players booked with several situations that could have easily warranted a red card. There was also a post-match scuffle that saw the Chelsea boss topple down some stairs.
Full of praise
Despite the way the game ended, the fight back from Chelsea showcased the spirit that the club has - something that Hiddink has managed to bring back - and he was happy with the result. The interim manager was particularly proud of the impact Eden Hazard made. A half time substitution, Hazard proved too much for the visitors and ultimately scored the goal that sent the Premier League trophy to the Foxes.
Hiddink stated that he originally wanted to play him "for an hour" but due to the intensity of the game he didn't want to take the risk and therefore decided it was "wiser" to bring him on at a later time. Having him at "full speed" for the entire second half proved to be a turning point, as Hazard showed "what he's capable of", even though he has had a "difficult season". The way he is finishing it will give hope to the Chelsea faithful that he will be back to his best next campaign.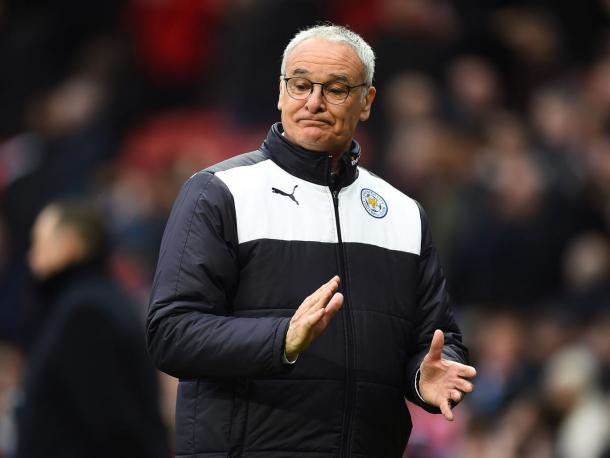 Full time fights
Tensions brewed to boiling point after the final whistle, as the teams began pushing and shoving each other at the tunnel. It wasscene that Hiddink believes you "must not have" in football, as he went on to say people need to "calm down". The Chelsea boss fell down some steps during the shoving match between hot tempered players, and he admits he must now "look calmly" at video footage before deciding on any further action.
New champions
No matter what happened on the pitch, the real story was happening off it as Leicester City were crowned the new Premier League champions in one of the most remarkable stories in football history and Hiddink believes they "deserve it".
He received a phone call shortly after the game from former Chelsea boss, Claudio Ranieri, thanking him "five times" for what they did, showing what a class act he really is. Even though Chelsea don't have their hands on it this season, seeing the popular former boss have his moment makes the bitter taste a little sweeter.