After an intense London derby that ended in a 2-2 draw, Gary Cahill says the Chelsea team was very happy that the fans got to see a fantastic game. In a match where the title was on the line for Tottenham, it only added to the atmosphere the tussle.
Even though Chelsea are out of contention for any silverware this season, picking up momentum for next season is the best thing the Blues can do.
After Harry Kane and Son Heung-Min put Spurs up 2-0, Chelsea fought back through goals from Gary Cahill and Eden Hazard. The match ended 2-2, and gave the Premier League title to Leicester City.
Cahill keen to emphasise atmosphere
The atmosphere was one that many noted as the best they have ever seen. Even the players noted how amazing the stadium felt. Gary Cahill spoke to ChelseaTV about it today. "It was a proper game, a local derby," Cahill said. "Obviously we knew the club wanted to win the game," he continued.
"We know how much it means to the fans and even before you got a sense of the atmosphere even in the dressing room," the defender added.
Cahill admitted the team "were buzzing to get out there" and to "get going", saying he was "sure they were the same".
This year has been anything but successful for the Blues. After digging themselves in a 2-0 deficit, Tottenham were surely not going to give up the lead. Cahill mentioned how difficult it was to go down 2-0, then claw their way back to a draw: "We showed a lot of determination, character and guts to come back into the game."
He explained, "It's maybe been lacking this year so that was pleasing because to go 2-0 down was difficult."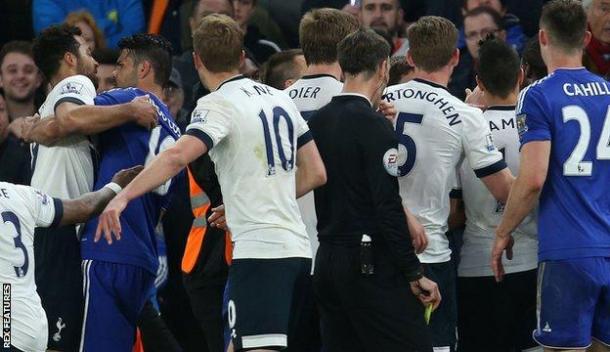 Tensions boiled over as Spurs felt the title slip away. Defender Danny Rose apologized for his role in the half-time scuffle, and Eric Dier was noted for many questionable tackles.
For the second consecutive season, Eden Hazard scored to seal the title. However, this year it was for Leiecester City. Although the headlines belonged to the Foxes, this derby win for Chelsea is monumental for the attitude heading into next season.