Chelsea legendary captain John Terry has confirmed that he wants to sign a new contract at Stamford Bridge.
Show goes on?
Terry may end his long legacy at the club on a sour note having picked up a red card in the 3-2 defeat to Sunderland last weekend, which may see him sit out of the last two matches with Liverpool and Leicester City.
Terry's current contract will run out this summer with his future in the capital in the hands of new coach Antonio Conte and, during his recent visit to Denmark, he hinted that his time at Stamford Bridge might not be over just yet.
He told Brondby's YouTube channel that he still wants to play for a "couple more years" and is hopeful that those years will be "at Chelsea".
Terry continued saying that he is a "Chelsea player" and that it has been his club since "the age of 14" and the he loves the Blues.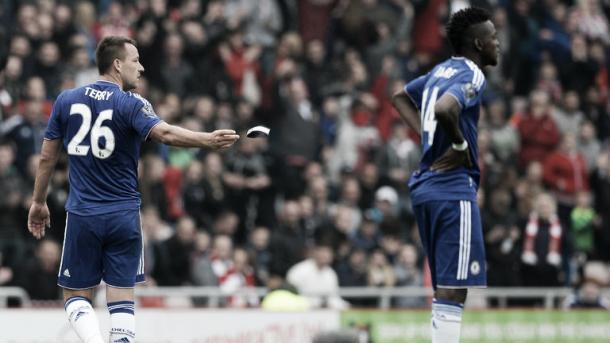 Worthy of a stay
The 35-year-old - who has made more than 500 appearances as Chelsea captain since his debut in 1998 - has been linked with move to both China and America in the last few weeks but current club interim manager Guus Hiddink believes Terry is still a key player to the side.
He told Sky Sports ahead of their clash with Liverpool that when he makes a judgment on "his age and his fitness" Hiddink believes that Terry is "able to continue" and "able to play".
Hiddink continued saying it is good to have "key players" around the side but insisted that the decision is "up to the club" and that if the Sunderland defeat was last Hiddink said "when he goes, if he does" then Terry deserves a "huge goodbye".
Chelsea will take on Liverpool at Anfield on Wednesday, May 11 with kick-off at 8pm BST.