New Chelsea coach Antonio Conte has said that all of his focus is currently on Italy ahead of this summer's Euro 2016 tournament.
Immediate concerns
​The 46-year-old took over from Cesare Prandelli in August 2014 and his tenure in charge of the Italian national side will end this summer after the major tournament in France. That will see him take over from interim manager Guus Hiddink at Stamford Bridge.
However, despite his move to the English capital being imminent, Conte insisted that his focus is currently on the national team.
Conte told Sky Sports that people that know him, will say that he works on things "one at a time" and that he will "try to deal" with them "in the best way".
He continued, saying that this summer's tournament will be the "end of a two-year journey" and that he wants to "tackle this tournament in the best way". He believes that "knowing the difficulties" that the side "didn't expect to face" will be key to that.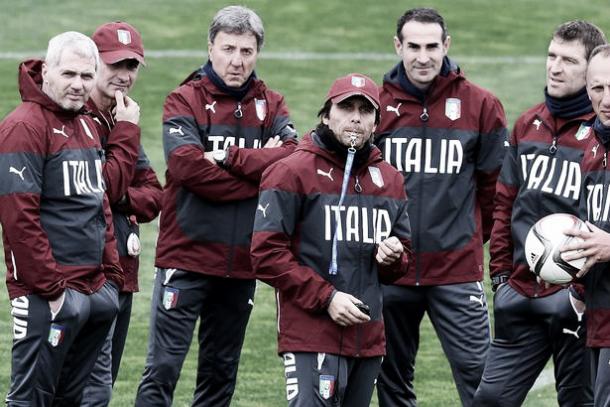 Returning glory
​​Conte will be looking to work his magic once again, as he looks to deliver a European Championship title for the first time since 1968 - having finished runners-up back in 2012.
Conte said that he always "talk about work" and will expect his side to work with their "head down" and try to do "something great".
Scars run deep
It has been a good week for the manager as he was cleared by an Italian judge of match fixing after four years of investigation, and Conte admitted that the fiasco has took a lot out of him.
He told ESPN that an acquittal "doesn't erase what happened" over the last four years and there were "a lot of situations" that hurt him. He also says his family that he "can't forget that" and it has left a "lasting scar" on his life.