The list of friendlies that the Chelsea youngsters will partake in has been revealed.
The struggle for the youth - even after success
Chelsea have been blessed to have produced great talents such as Ruben Loftus-Cheek, Jake Clarke-Salter, Tammy Abraham and many more potential stars. However, it seems only Loftus-Cheek and Clarke-Salter have established themselves as first team candidates.
This next year will tell how the great youth stars will be used in the first team. With new manager Antonio Conte coming in with a "the best players will play, no matter their age" mentality, it gives the academy players a new hope of reaching the first team.
After winning the UEFA Youth League for two years in a row now, it is obvious the talent is there. The problem, again, is the transition to the first team - something controlled by the manager.
Luckily for the youth, it is reported that Roman Abromavich wants more young players to feature in the first team - and Conte is supportive.
Friendlies seem to be a time where players can be lax, but many will use this opportunity to showcase their talent.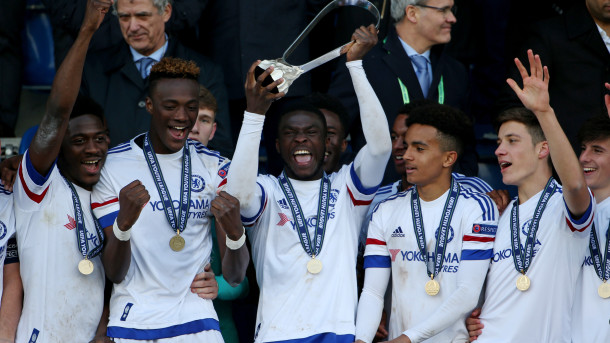 Friendly fixture list
Under-18s
vs Bayern Munich: Sunday 10 July at 2:00 P.M.
vs QPR: Saturday 16 July at 11:00 A.M.
vs MK Dons: Saturday 23 July at 11:00 A.M.
vs Vitesse: Sunday 31 July at 10:30 A.M.
vs Watford: Wednesday 3 August at 12:00 P.M.
vs Derby County: Saturday 6 August at 11:30 A.M.
Under-21s
vs FC Nuremburg: Sunday 10 July at 2:00 P.M.
vs Charlton: Friday 15 July at 2:00 P.M.
vs RC Lens: Friday 22 July (kick-off TBA)
vs Reims: Sunday 24 July at 12:30 P.M.
vs Vitesse: Saturday 30 July at 11:00 A.M.
vs West Ham United: Friday 5 August at 1:00 P.M.
All home matches in bold.
Of course, these will allow youth players to show their skill and fight for a potential spot in the first team. The common criticism of Chelsea, however, is that the transition from the academy to the first team seems nearly impossible for the London based club.