As summer rolls around, so do the transfer rumors. Some players play them down and deny negotiations. Others, like Napoli defender Kalidou Koulibaly, express their dissatisfaction with their current club.
Other options
In an interview with French news outlet L'Equipe, the 24-year-old said: "Big clubs want to sign me and there is no sign of a renewal with Napoli. The negotiations for a contract extension have stalled and they never wanted to discuss with us."
The French center-back has been linked with Premier League clubs such as Arsenal. His stellar performances helped guide Napoli to a spot in next year's Champions League. The Gunners are behind Chelsea in a race to gain his signature, but Koulibaly stated he hasn't contacted new manager Antonio Conte yet.
"I have not talked to him [Antonio Conte] but that may be soon," he added. "If nothing happens at Napoli, I will start to have contact with other clubs."
Koulibaly explain that "the game in England could be suitable" for his play, but admitted he "like[s] Italy".
He concluded, "I do not press for a transfer but I hope to sign a renewal with Napoli or we proceed to other solutions."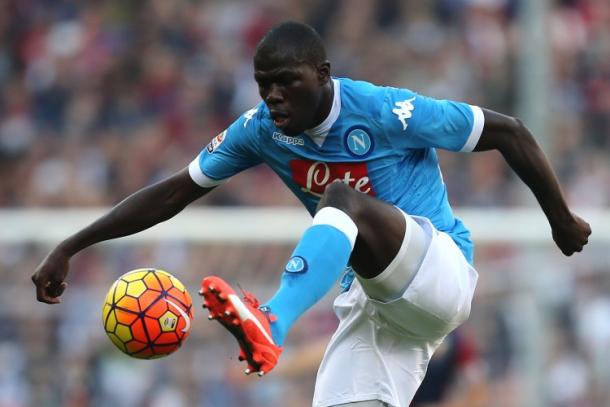 An angry president
Upon hearing his star defender's interview, Napoli's president Aurelio De Laurentiis voiced his anger towards the player and his agent. De Laurentiis told Corriere dello Sport, "I thought Koulibaly was a good man. The moment I realize you and your agent haven't read the contracts properly before signing them, I cannot tolerate that."
Koulibaly's comments not only raised Chelsea's hopes of signing him, but damaged a commercial opportunity for Napoli: "Napoli were about to sign a new commercial deal to use Koulibaly's image, but his statement cancelled those opportunities. His shirt cannot be sold now."
After saying this, he shifted his focus to Chelsea. He showed he is not afraid to take it to the courtroom with the English giants, "If we discover that Chelsea were behind this, we could sue them for damages."
The transfer window hasn't officially opened, but the drama has already started.