Chelsea's campaign last season was nothing short of a disaster but with the season finished and the new campaign looming in the distance, there's plenty to look forward to. The Premier League fixture list for 2016/17 has been announced and Blues fans will be raring for their team to get underway.
Ones to Watch
Opening Weekend: Chelsea - West Ham (August 13th at Stamford Bridge)
Antonio Conte's first Premier League match in charge of Chelsea and it's a bitter London derby. West Ham will be aiming to prove they belong in the Premier League's top six permanently while Chelsea will be hoping to get back to title-winning ways with a win against a rival. Chelsea have the best opening day record in Premier League history, losing just three out of 24.
Chelsea - Arsenal (September 24th at The Emirates Stadium)
Conte's first meeting with another London rival and the first meeting against a title contender. Chelsea haven't lost to Arsenal in the Premier League in five years, can they keep that record going?
Chelsea - Manchester United (October 22nd at Stamford Bridge)
Jose Mourinho's return to Stamford Bridge will be one of the most exciting spectacles all season. Chelsea sacked Mourinho in December of 2015 after an atrocious start to their title defense and with the "Special One" back managing in England, this time for a rival, things should be interesting from start to finish.
Chelsea - Tottenham (November 26th and January 2nd)
Both games are of signficance in this fierce London rivalry. Stamford Bridge is the venue on November 26th, the location of last season's feisty encounter that saw Chelsea end all hope of Tottenham's Premier League title bid. January 2nd marks the final London derby between the two at White Hart Lane, a special day for all involved. Danny Rose's recent comments about his readiness to play Chelsea should also fire up both clubs, with plenty of new found intensity set to be on show.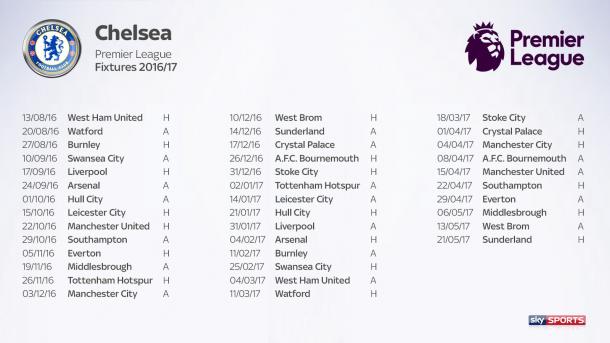 Chelsea - Leicester City (January 14th at The King Power Stadium)
A trip to the reigning champions is a must-see game for all the right reasons. By January, we should know whether Leicester are threatening to repeat as champions and Chelsea will be looking to establish a title bid of their own and a game against the champions is always a big one.
Chelsea - Manchester City (April 5th at Stamford Bridge)
The Blues were embarrassed twice at the hands of Man City last season, losing 3-0 both home and away. The meeting at the Bridge comes toward the end of the season in what may be a game that has a huge say in where the title ends up. Can Conte outwit Pep Guardiola in London? Only time will tell.
Chelsea - Sunderland (May 21st at Stamford Bridge)
There are rumours of Chelsea leaving Stamford Bridge for a few seasons as they plan to expand and if that's the case, this could be the final game at the historic ground for a while. It could also be a day in which Chelsea celebrate another title but there's a long way to go before any predictions are made.