Highly-rated midfielder and French international, N'Golo Kante has officially joined Chelsea from defending Premier League champions, Leicester City.
The 25-year-old is the second signing in the Antonio Conte era as Chelsea manager, following the signing of Michy Batshuayi only weeks before.
Reports are suggesting that he completed a five-year deal of around £30 million.
Successful last season
Kante played a key role in the Foxes' maiden Premier League title, in which he was regarded as one of the best players in the Premier League last season for his intelligence on the pitch when he became the first player in Europe's top five leagues to win over 100 tackles this season. He - alongside players such as Danny Drinkwater and PFA Player of the Year, Riyad Mahrez - were the main influences in Claudio Ranieri's successful first season with the club.
That success got him a call-up to the French national team, in which he was included in the Euro 2016 squad on home soil where they finished as runners-up losing in the final against Portugal, but that and the season he had in Leicester were enough for the Blues to poach him to West London.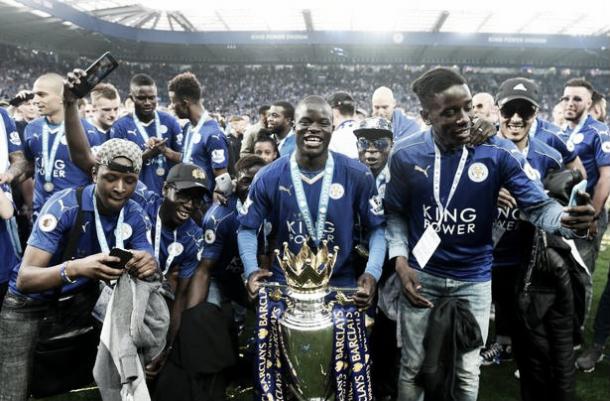 What he had to say
Speaking to the club's website, Kante expressed fantastic satisfaction on joining the four-time Premier League champions. "I am so happy to have signed for one of the biggest clubs in Europe. It's a dream come true for me,'' said the French international.
He added, ''My first season in English football was very special and now I hope to go on to achieve even more during my time as a Chelsea player." Kante concluded, "I am looking forward to meeting up with my new team-mates and helping the club achieve a lot of success."
In a season that will certainly be a turnaround following the unsatisfactory campaign they had last term, Chelsea struck gold getting one of the most talented young midfielders not only in England but in the world. He will join a midfield comprised of players such as Willian, Eden Hazard and many others as Antonio Conte looks to achieve a successful first season at Stamford Bridge.
Kante will be looking to join the Chelsea squad for the pre-season International Champions Cup tournament happening in the United States in a couple of weeks, prior to the start of the 2016-17 Premier League season.