Crystal Palace face Tottenham Hotspur in the FA Cup on Sunday afternoon, looking to ease some pressure following a shocking run of form that has seen just two wins in eleven competitive games. Both of the Eagles' victories since Christmas have come in the cup against Southampton and Stoke City, while their league form reads even worse - no wins in nine, including a 3-1 defeat to Spurs in January.
Contrastingly, Spurs are unbeaten in eight competitive games. A sensational 2-1 victory away at title rivals Manchester City last weekend summed up their fantastic season thus far, and they will be certainly looking to extend that run against Alan Pardew's confidence-stricken side.
Spurs fan and VAVEL UK writer Francesca Byrne offered her thoughts to Palace writer, Sam Smith, ahead of the highly anticipated all-Premier League FA Cup tie.
Pochettino 'encourages competition', while Dele Alli is expected to once again be a threat to Palace
Tottenham have been in superb form recently. What has been the catalyst for Spurs' excellent consistency this season and how much of it has been down to Mauricio Pochettino's management?
I think much of Tottenham's consistency is down to Pochettino. He encourages competition within the squad and so players know that if they have a bad game someone just as good will come in and take their place, as seen at the moment with Tottenham's full-backs. On top of this, the manager emphasizes how important it is to take this season one game at a time, to work hard and believe and I think this has had an impact within the squad. The further into the season we get the more the players want to work hard and achieve something and the fact that they believe they can this season is motivating them a lot.
Tottenham have fielded strong teams in the FA Cup so far and seem to be taking the competition seriously, despite also challenging for the Premier League title. Which Tottenham players will be the biggest threat to a confidence-stricken Palace side?
Dele Alli is obviously in great form at the moment, so with his movement and awareness on the pitch he will definitely be a threat. Along with Christian Eriksen, Alli has been influential in a lot of Tottenham's games; he's also determined to do well so keeping him quiet will be difficult. I think another problem for Palace will be breaking down Tottenham's defense as it has been so solid this season. Kevin Wimmer has fitted in nicely for an injured Jan Vertonghen, and Toby Alderweireld is consistently calm and composed. Despite this, the biggest threat about this Tottenham team is how well they play together rather than individual talent.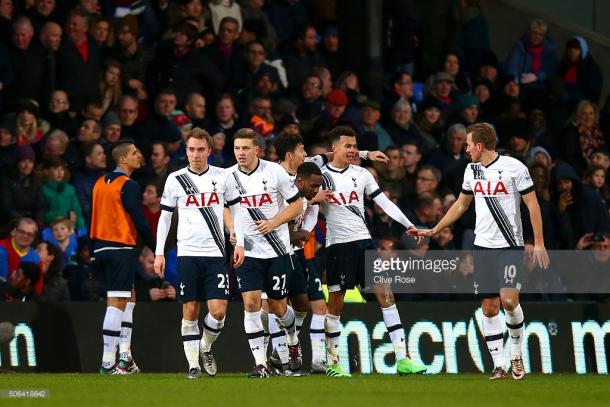 Adebayor will be 'motivated' to score against former club Spurs
New Palace signing Emmanuel Adebayor has claimed he will definitely celebrate if he scores against his former side on Sunday. What sort of reception will he get from the crowd and do you believe he poses any sort of threat to Spurs?
The only threat Adebayor will pose is through motivation to score against his old club. The striker hasn't seen game time in approximately three months before signing for Palace, yet he is known to have a good first season. As for how fans will react to him, I think he won't be receiving a warm reception. Many fans saw him as lazy and money-orientated while he was at the club and so causing a dislike towards him. Whether that's enough to hold a grudge against him when he no longer plays for Spurs - we'll have to wait until Sunday to see.
Palace have suffered a huge dip in form recently. In general, what have you made of Alan Pardew's side this season?
Palace got off to a really good start this season and looked promising. Their dip has seemed to coincide with the injury to Yannick Bolasie in mid-December, but he looks set to return for this fixture, so we'll have to see. Their main problem recently has been not scoring goals and they have added Adebayor to help them with this issue, but this is a gamble. The striker will either score in abundance or not at all, there is little middle ground for him. But if he does start scoring Palace could get back on track.
Verdict: Spurs expected to dominate FA Cup tie and worsen Palace's predicament
Finally, could you give us a prediction of how the game will pan out?
I think Tottenham will win and dominate the game due to a combination of their recent form and Palace's dip. I can't see Palace scoring based on how good Spurs' defense has been this season and how little amount of goals Palace are scoring, even with the addition of Adebayor. Therefore, I think Tottenham will win 2-0.
A big thank you to Francesca for answering the questions, may the best team prevail on Sunday!