Crystal Palace welcome Liverpool to Selhurst Park on Sunday, looking to end an alarming run of form against a Reds' side who the Eagles have seemed to enjoyed playing against in recent years.
Liverpool have not defeated Palace in the Premier League since 2013, while some historic matches have been played between the two sides - namely the 1990 FA Cup semi-final, in which current manager Alan Pardew scored the winner in a 4-3 Palace win, and the infamous 3-3 draw that crushed Liverpool's Premier League title hopes in 2014.
However, both sides' form guides completely contrast; Palace are winless in the Premier League since December, while Liverpool - revitalised under the charismatic Jurgen Klopp - are unbeaten in their last five league meetings.
To preview the game, VAVEL editor, Sam Smith, fired some questions at VAVEL writer and Liverpool fan, Eevry Goren. We would like to thank Eevry for his time.
Klopp has instilled stability at Liverpool, says Eevry
Liverpool parted company with Brendan Rodgers in October and appointed the highly reputable Jurgen Klopp as his successor. How have things changed under the German and how has he adapted to life in England?
"First and foremost, Klopp has brought a change in attitude and a sense of stability. As is well known, he's an interesting character but also has a bit of ruthlessness about him hidden under that comical facade that Brendan Rodgers lacked. I think the fact that the formation has remained largely the same from the Rodgers era is a big advantage as well. I'll praise Rodgers for his tactical diversity and ingenuity but I do feel at times it included too much chopping and changing. As for his adaptation to life in England, I believe it's still a work in progress to a degree, as evidenced by the number of injuries, which is likely a result of his unfamiliarity of England's lack of a winter beak coupled with his intense training methods, but I believe his management of Daniel Sturridge is proof of his improved understanding, not to mention the fact that he has got the newspapers wrapped around his finger - which not many managers can successfully claim."
Klopp appeared to give most players a fresh start when he arrived – including some from the academy. Which of the Reds' players have you been impressed by this season and who has disappointed?
"There are a few players who have been revitalised under Klopp, but I think you have to point towards Joe Allen first and foremost. Allen is a player who all Liverpool fans had been calling for him to head for a swift exit - myself included - but I think he's proven to be a really viable option at times and we may finally be seeing what Rodgers claimed to see in him. Overall, the most consistent player in the squad for me has got to be former Palace defender, Nathaniel Clyne. He's similar to Glen Johnson and possibly slightly better, and I believe he brings a lot of characteristics to the side - most notably his fitness and balance that we generally lack in other areas of the pitch. As for players that have disappointed me, there are some obvious ones who many will point to - namely Christian Benteke, while for some James Milner - but my choice is none other than Emre Can. Klopp's countryman is a player who is full of energy and aggression, however, he looks clumsy and aimless on the ball at times and for a player so highly rated by Klopp, he must tidy up his game in my opinion."
Palace should fear Coutinho but, likewise, Reds will be wary of dangerous Palace wing pair
Looking ahead to the game on Sunday, which Liverpool players should Pardew and his side be wary of, and who do Liverpool fear most from the Palace side?
"I think Palace should be fearful of Philippe Coutinho. Thanks to his fantastic form over the past 18 months, everyone now knows what the little magician is capable of producing, but given his recent slight dip in form and Klopp's seeming preference of the fantastic Roberto Firmino, he has struggled in recent games. However, I think there are many factors that will fall into place at the right time for Coutinho and he will soon produce a brilliant performance, and the time could come against Palace. On the other hand, Liverpool are most likely to fear either Wilfried Zaha or Yannick Bolasie; there's something to be said about natural pace and even though Liverpool's full backs certainly don't lack speed either, we have seen what Palace's wingers are capable of producing, particularly against Liverpool."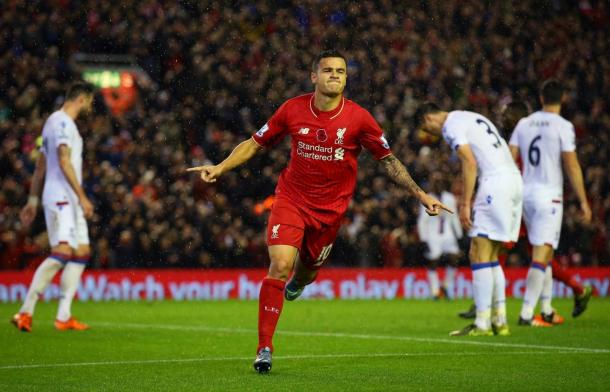 Palace have suffered a dip in form of late but had an excellent start to the season. What have you made of the Eagles this season?
"It's really quite perplexing for me that the same team who claimed sensational victories against Liverpool and Chelsea, and even thrashed Newcastle 5-1 in November, have yet to record a win this calendar year. Overall, I think I would put it down to consistency and concentration. Palace have been hit hard and early in many of their matches since January, while they have also missed Bolasie through injury for large chunks of the season. They have suffered inconsistent production from the forwards - namely Connor Wickham, who has a similar amount of goals to central defender, Scott Dann - and the chopping and changing of the full backs is problematic as well. I think Pardew's side can, and will, throw a run good run of results together as Emmanuel Adebayor continues to find his feet and they return to the basics of the counter attacking football they're so brilliant at."
defeatist mentality has 'largely dissipated' under Klopp, but a draw is the likely outcome
Palace have a decent record against Liverpool since promotion in 2013, but Klopp's side seem full of confidence at the moment. What is your prediction for the game?
"While I think some of the mental issues that were lingering from previous defeats under Rodgers have largely dissipated, I think the physical issues, such as slow centre backs and a lack of intelligent physicality in midfield, still remain and are far harder to change without trying and testing different players. As such, despite not being in good form I can see Palace exploiting some of the problems they provide with their pace to earn a draw. My prediction is a 2-2 draw."
Once again, we would like to thank Eevry for his time and may the best team win on Sunday!