Crystal Palace manager Alan Pardew has called for his players to stand up and claim the glory in their FA Cup semi-final against Watford on Sunday.
In the lead up to the game, Pardew said that he is "not going to be the hero for winning the trophy and bringing it here" because as always in the Cup, "the real hero is going to be the one who scores the winning goal or has a great game - that's who fans remember."
Pardew hopeful one of his players can "be the hero"
He followed this up by saying he wants to be "one of my players" someone like Yannick Bolasie, Wilfried Zaha, "Macca, Yohan Cabaye or Paddy McCarthy."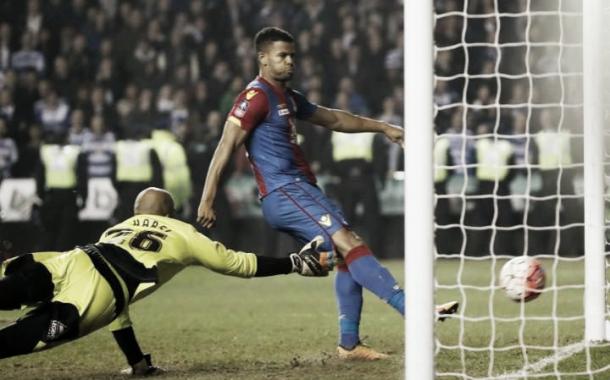 Pardew himself knows what it's like to be a hero in this fixture. He scored the winning goal to make it 4-3 in the 1990 FA Cup semi-final for Palace against Liverpool at Villa Park.
When asked about the famous game, he said that his "overriding memory of the Liverpool game was half-time" after he had given a goal away. Pardew says he "was thinking 'I hope he [Steve Coppell, the manager at the time] doesn't take me off'."
'Fortunately' for Pardew, Coppell decided to continue with Pardew in the side and after that "the second was a whirlwind really."
The Eagles boss believes that the victory that day was positive off the field as well as on it, saying that when he looks back to 1990 he remembers the Palace "fanbase for that game - it was completely different afterwards" because the club had "grabbed the community a little bit. I hope we do that again this time as well."
Pardew praises opposition manager
When asked about Sunday's opposition, Pardew was full of praise for their manager Quique Sanchez Flores and their strike force, saying that the Watford manager "has done a great job, he has come in and has a traditional British pair in Odion Ighalo and Troy Deeney. It is the area of the pitch that we have to deal with."
Booking a place in the FA Cup final would cap off a fantastic past few weeks for the Eagles, after they finally ended their wait for a Premier League win in 2016 against Norwich two weeks ago and took a point from Arsenal at the Emirates last week, the only recent negative being the 2-0 defeat to Manchester United earlier this week.