Crystal Palace midfielder Lee Chung-yong has criticised manager Alan Pardew for the way he has been treated during his time at Selhurst Park, accusing the Eagles boss of making a particularly "absurd" decision and forgetting how many substitutions he had made during a game.
Lee made his outburst to South Korean publication Sports Seoul and stated that he does not have "any reason" to stay at Palace next season, despite still having two more years left on his contract.
Pardew is 'very smart' according to Lee, but has previously forgotten how many subs have been made
The former Bolton Wanderers man had one piece of praise for his boss in the interview in his home country, saying Pardew is "very smart" at the training ground, but is often "hot tempered" in matches - while he has also been known to forget how many substitutions he has made during matches.
Lee recalls one game when Pardew told the midfielder to warm up, but then made his final change and the Korean was forced to sit back on the bench for the remainder of the game. However, forgetting how many subs had been made, Pardew told Lee to warm up once again and the outcast midfielder had to remind his manager that all three permitted changes had already been made.
Pardew also runs the team with a "short-term vision" according to Lee, who claims that despite Palace having a great squad, his boss "plays the same players again and again until someone gets injured". Lee continued by saying that once a player is injured, their replacement "cannot play well" because the player is "playing for the first time in two months".
The South Korea international furthered his criticism of Pardew's squad management by pointing to one instance where he trained "as a starter" for the week leading up to the game because a player in his position had been injured. However, that player returned from injury in time to replace Lee in the starting eleven – much to the annoyance of Lee, who claims the player "had not trained all week."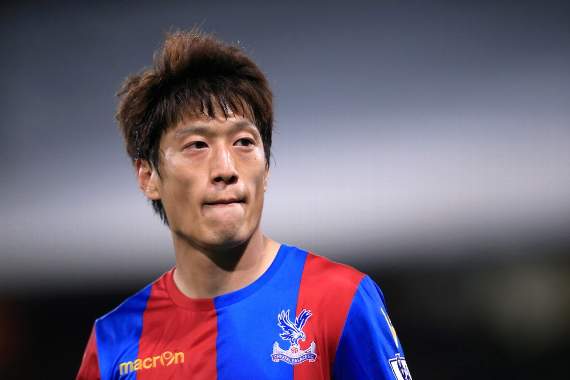 Obvious regrets about joining Palace will lead to summer exit
Lee joined the south London club from Bolton for an undisclosed fee, citing Pardew's willingness to add him to his squad as a key reason for joining. However, Lee clearly regrets his decision to return to the Premier League and claims that despite his contract running until 2018, he sees no reason why he should not talk to other clubs when the opportunity becomes available.
Having played just 19 times in his 14 months at the club, Lee has largely failed to impress and is often criticised by for his inability to track back. Although, despite this, he feels that he "played very well" when he was given the chance to play three consecutive games over the Christmas period against Chelsea, Swansea City and Bournemouth.
Lee's most memorable moment in a Palace shirt was scoring an 88th minute winner against Stoke City in December - one of just two goals for the club - but it now seems he will seek a summer exit with more attacking depth likely to be signed during the close season.