As Everton prepare to travel to face Watford in the Premier League, here are five things to look out for ahead of the game.
A lack of chemistry between the Blues squad
Leighton Baines spoke out about Everton's lack of chemistry after last week's disappointing loss away to Manchester United. Baines' comments were not wrong and he did not need to apologise for them.
Everton have looked like a squad of individuals who have been put together and just gotten to know each other. They've resembled a pre-season squad in recent games instead of a team who has played 30 Premier League games together and progressed to FA Cup and Capital One Cup semi final's in the same season.
Whether they've been missing the calm head and experience of Gareth Barry due to suspension, players playing for Euro 2016 places or even summer moves away from Goodison Park, the Blues need to get on the same page. They sit seven points above 17th and at the start of April have yet to reach 40 points in the league. That needs to change drastically.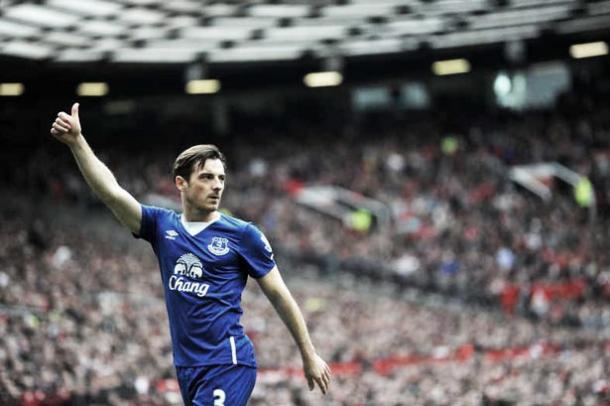 Toffees looking for a win
Everton need a win. Roberto Martinez needs a win. The fans who are travelling home and away to watch need a win. Without a Premier League win in four games, this game represents a chance for Everton to finally set a turning point on the season.
The talk has been there for Martinez and the players about turning points but they need to put that talk into actions on the pitch.
A win at Watford represents a start in the last seven games where Everton need to move away from 12th place and start climbing the table. There is unrest between players and the fans, a win would be a start.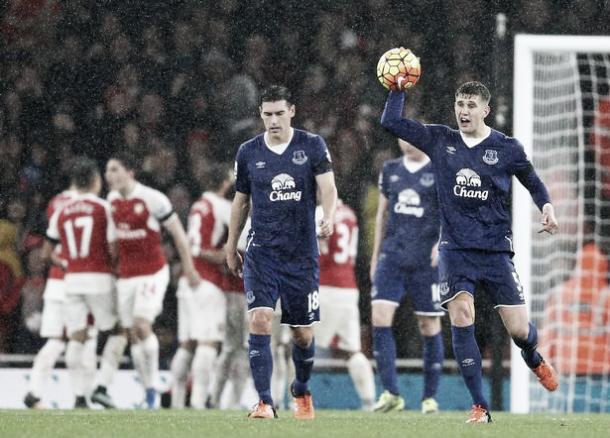 A need to support Romelu Lukaku
Leighton Baines spoke about Everton's reliance on certain players in the squad. While the England international did not name any names, it's clear to many that one player he was referencing was Romelu Lukaku.
Without the Belgian's goals this season, the Blues would have exited the FA Cup a few rounds ago and would find themselves in much worse position in the Premier League table. While Lukaku has spoken about a potential move in the summer, he is still an Everton player and while under contract his focus has to be on doing his best for the Toffees.
Now Everton need to start to help him out.
Whether that be in the form of Oumar Niasse or Arouna Kone starting alongside him up front, or playing Aaron Lennon and Gerard Deulofeu out wide instead of one out wide and one behind him, is up to Roberto Martinez, but the striker needs help.
Lukaku often finds himself stuck between two, and even three defenders at times, lacking support and often losing out on attacks. Giving him the option to play one on one with a centre half that he can dominate with his strength and speed would be a huge advantage to the Blues.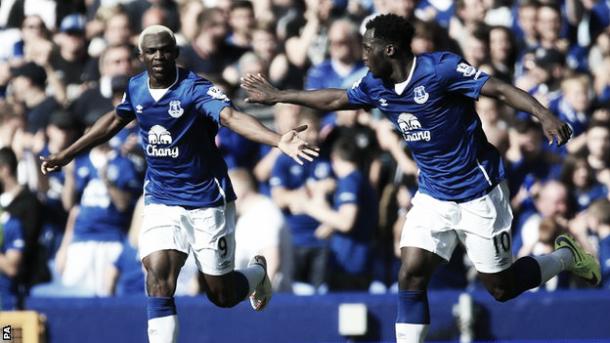 A step up in player performances to secure FA Cup Semi-Final place
With a date at Wembley only two weeks away, there should little to no guaranteed places for any Everton player. Putting in a good performance here and then continuing on to Crystal Palace and the Merseyside derby against Liverpool will go a long way to claiming a place at the home of football.
The key areas for places are in defence and midfield. Barring injury, Romelu Lukaku's place will likely be secured and if he can get back amongst the goals between Saturday and April 23rd, it will be a big boost to the Blues' hope for silverware.
In defence, Phil Jagielka has had a few down games where his performances have not been up to the standards expected of the Everton captain. Ramiro Funes Mori is a serviceable replacement and finds himself out of the team due to the return of John Stones.
In midfield, there is a battle between four players for two positions. Gareth Barry, Muhamed Besic, Tom Cleverley and James McCarthy are all in competition to play in the holding midfield roles in Roberto Martinez's system.
In front of them, Ross Barkley should hold his place but the Blues are looking to him to recapture some of his early season magic. Gerard Deulofeu returned against Manchester United and had the defence on their heels for the first 30 minutes. Aaron Lennon's work rate will be needed to help his full back and launch a number of counter attacks.
Defensive solidarity is much needed for Everton
The defensive performance against Manchester United was much better but mistakes that have lingered all season were still present. The lone goal the Blues conceded was avoidable; John Stones found himself marking space, allowing Anthony Martial to run free at the far post. Stones was in a position to clear the ball had he been switched on.
That's not to take away from what was a classic Stones performance. Bar that lapse of concentration, he looked back to his old self, clearing the ball when needed and taking the ball from the toe of many a United attacker.
If Stones can continue in the same vein of form that propelled his name into big money transfer talks, some of the criticism of him should die down and he can get back to concentrating on playing his football.