Everton will face Manchester United in the FA Cup semi-final later this month after Louis van Gaal's side won 2-1 at West Ham United in their quarter-final replay.
The tie, which will be Everton's first trip to Wembley since the 2012 FA Cup semi-final defeat to rivals Liverpool, is to be played on Saturday 23 April.
Semi-final opponents confirmed
Marcus Rashford handed Manchester United the lead 10 minutes after the interval with a brilliant curling finish past Darren Randolph, before former Everton midfielder Marounane Fellaini sealed their victory by turning home a loose ball from a Jesse Lingard cross.
James Tomkins' late goal made things interesting, but West Ham couldn't find a way past David de Gea in the closing stages and will see a repeat of the 2009 FA Cup semi-final between the two sides. Phil Jagielka's winning penalty secured a 4-2 penalty shoot-out win after a 0-0 draw to send the Blues into the final, which they lost 2-1 to Chelsea.
Not only is the match a repeat of the Toffees' successful 2009 semi-final, but it also echoes their 1966 glory in the same competition. Having not conceded throughout all prior FA Cup rounds in 1966 - just like the current campaign - the Blues faced United in the last four before a dramatic triumph over Sheffield Wednesday at Wembley.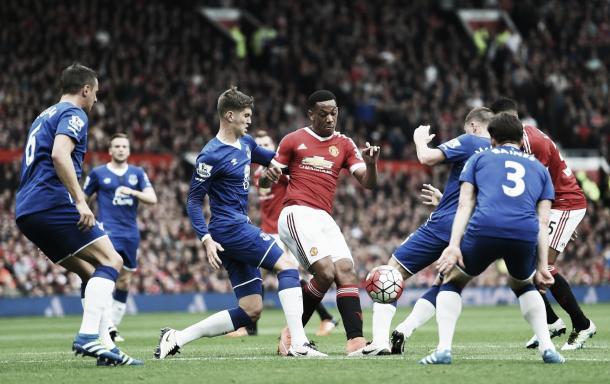 The biggest game of Everton's season
Everton will also be hoping to avenge their recent defeat to Manchester United after Anthony Martial's winner inflicted a third successive league defeat on Roberto Martinez's side last month. The run of defeats have come in a run of games that has seen Everton record just three victories in 14 league games.
The team's regression and underachievment in the Premier League has led to growing criticism and pressure on Roberto Martinez, with supporters making their frustration clear during the Toffees' 1-1 draw at Watford last Saturday. Supporters displayed banners around Vicarage Road, which were visible evidence that all is not well on the blue half of Merseyside.
There is no doubting that this is now a cruical period for Everton and Roberto Martinez, with the FA Cup providing the opportunity to be a saving grace for Martinez after a largely frustrating season. For those supporters who would like to see Martinez gone, the reality is it would be unlikely that Everton win a major trophy and Martinez loses his job.