Roberto Martinez breezed through the Goodison Park door in the summer of 2013 accompanied by a fresh wave of optimism, stating his Champions League aspirations and employing a vibrant, fearless brand of football.
Fast forward three years and Martinez leaves Everton having promised more than he has delivered, similar to his rhetoric, after failing to guide the Toffees to the next step. But where has it gone wrong for Martinez at Goodison Park?
From future Barcelona boss to Goodison footnote
Two years ago, when Everton surged into a fifth place finish and recorded their best Premier League points tally, playing attacking football that showed ambition and intelligence alike, Roberto Martinez was being touted as a "future Barcelona manager". However, a stark shift in fortunes has seen the Spaniard become a Goodison footnote.
Martinez talked the talk in his first season, matching bravado with results on the pitch. In his first campaign, Everton were two points off the lead at Christmas having lost only once in the Premier League against Manchester City. The Toffees won 21 league games in Martinez's opening campaign and finished the season fifth with their highest ever points tally in the Premier League.
The sound bites continued but the results sadly haven't in the following two seasons. Since the start of the 2014/15 season, their league record stands at 22 wins in 75 matches. Their win ratio has almost halved, dropping from 55 per cent in the first season to 29 per cent in matches since. Everton are set to finish in the bottom-half of the table for the second consecutive season - something that never happened under his predecessor David Moyes, who could only dream of the squad that Martinez has available.
Martinez must bear the brunt of the blame for his failure; his blinkered approach, blind faith in underperforming players and tactics that no longer stand-up to scrutiny. His unwillingness to be flexible and adapt his philosophy and tactics when things were not going Everton's way has ultimately cost him.
On the pitch and in the dugout there has been a distinct lack of progressive ideas or individuals determined to seize on the potential lurking within the club and that is reflected in the many damning statistics that highlight Martinez's demise and where it has gone wrong for the former Everton boss.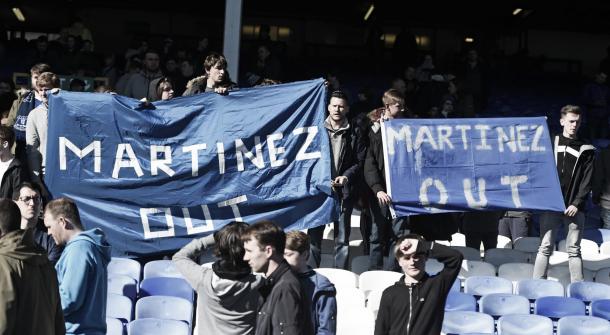 Martinez's struggles in stats
One of the greatest disappointments is Martinez's failure to build upon what David Moyes left behind; a stable club, a squad of well-proven top-half players and a team that prided itself on a solid defensive basis.
The Toffees conceded 39 goals in Martinez's first season, but they conceded 50 goals last season and they have already conceded 55 goals this season (the most since letting in 57 during the 2003/04 season), including six in their last two games. It is the way that the Toffees have conceded them that have only caused further anger and frustration.
Errors, set-pieces and crosses have all been common areas from where Everton have conceded, while one of the most frustrating things and damning statistics has been the amount of winning positions they have lost, especially in the closing minutes of games, because of Martinez's game management and attacking philosophy. They have conceded 18 points from winning positions this season - only Tottenham Hotspur (20) and Liverpool (19) have a worse record.
Two-goal advantages were lost at both Bournemouth and Chelsea, but even when they regained the lead in injury-time they still drew 3-3 on both occasions. In March, a 2-0 lead at home to West Ham United with 12 minutes left ended in a 3-2 defeat.
Only bottom club Aston Villa have conceded more goals at home this season and this campaign has seen Martinez's side record the Blues worst record at Goodison Park in the club's 138-year history. The Toffees won 42 points at Goodison in his first campaign at Goodison, but won just 28 at home last season and this season has been even worse, picking up just 20 points at home, with eight defeats, five draws and five wins.
There is, however, some evidence that Martinez has succeeded in producing a top-class free-flowing team. Only last season's top-four boast a better passing accuracy this season and only the current top three have created as many clear-cut chances. Everton have scored 56 goals this season, but even the goals have dried up over recent weeks. The Toffees have failed to find the net in five of their last nine games and it is a combination of all these ingredients that has seen Martinez sacked.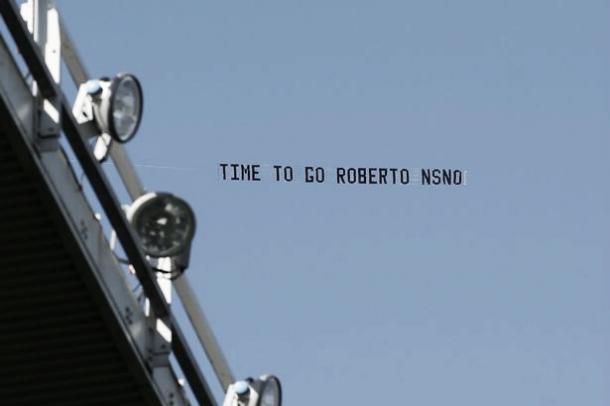 Two treacherous conditions were always going to lead to Martinez's unravelling
It has not been all doom and gloom at Goodison Park over the last three seasons. Martinez did lead the Toffees to their best Premier League points tally in the first season at the club, reached the round of 16 of the Europa League in his second season and has guided the Blues to two semi-finals this season in the Capital One Cup and FA Cup.
However, unfortunately for Martinez this was not enough for a club that has high ambitions and he has been dealing with two treacherous areas that would only ultimately lead to one outcome - unpopularity with supporters and a reshaped hierarchy with a new financial ambition in the shape of Iranian billionaire Farhad Moshiri.
Everton's chairman, Bill Kenwright, is renowned for his loyalty and patience with his managers, Kenwright is no longer the club's major shareholder after Moshiri acquired a 49.9 per cent stake in February and changed the make-up of the Goodison board.
There have been an increasing number of protests against the Spaniard from supporters. A banner saying "Time to go Roberto" was flown over Goodison during the 2-1 win over Bournemouth last month, while some supporters remained inside the ground for more than an hour after the final whilstle to protest.
The feeling amongst many was that the FA Cup could be a saving grace for Martinez as the reality was it would be unlikely that Everton would win a major trophy for the first time since 1995 and Martinez loses his job. However, their FA Cup dreams were crushed by an injury-time winner from Anthony Martial for Manchester United in the semi-final and a run of one win in 10 games has led to Martinez becoming a Goodison footnote.