Everton have announced a part of their pre-season plans as they will play in the two-day Dresden Cup in Germany. The tournament has been organised by Dynamo Dresden and will take place on the 29th and 30th of July.
The four-team tournament will see the Blues play alongside hosts Dynamo Dresden, Bundesliga outfit Werder Bremen and La Liga club Real Betis.
Everton's participation in this tournament has been rumoured for a number of weeks and looked to set to be a part of former manager Roberto Martinez's pre-season plans. Whoever takes over will still compete in the tournament but will also have to organise their own plans.
Last pre-season, Everton played in a number of different conditions and scenarios in a bid to jump-start their fitness preparation for the Premier League season.
Recent clashes with tournament opponents
Real Betis have made a trip to Goodison Park for a friendly in the past few years and were the first opponents at Goodison Park under Martinez.
Betis' then manager Pepe Mel went on to manage West Bromwich Albion in the Premier League later that season.
Everton have also played Werder Bremen in pre-season within recent years. The Blues lost 1-0 against Bremen as Wagner scored the only goal of the friendly.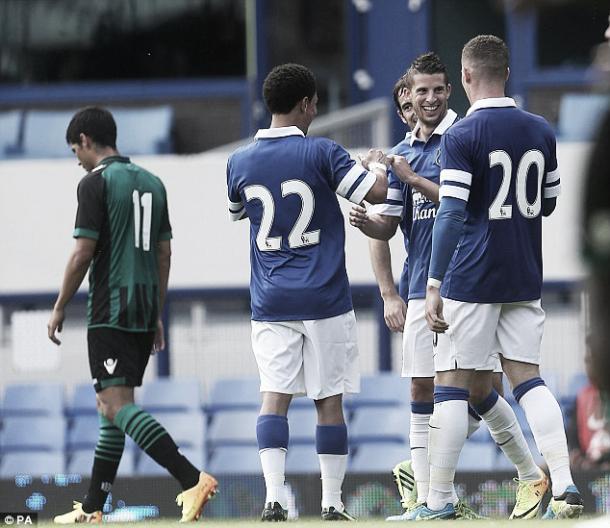 Potential pre-season plans
Like many, it's traditional for Everton to have a training camp as a part of their pre-season plans. The Blues usually go to Austria or Scotland for fitness training and play a handful of games against the surrounding teams.
Whichever manager takes charge of Everton will have to organise their pre-season plans, unless the Blues have already scheduled a number of games. This is unlikely as nothing outside of the Dresden Cup has been rumoured or reported.
The Blues will also play a friendly at Goodison Park towards the end of pre-season. Everton usually play a game against a European team, with Villarreal, Malaga and Real Betis all playing them on Merseyside in recent years.