Former Ajax manager Frank de Boer is keen on taking over the managerial role at Goodison Park, according to his brother Ronald De Boer.
Frank left his job at Ajax at the end of last season after a six-year spell in charge of the Dutch giants. De Boer picked up four domestic trophies and is ready to test himself at the next level. Everton are still searching for a new boss after parting ways with Roberto Martinez.
His brother Ronald has been speaking, via the Liverpool Echo, about how "keen" Frank is to take a job in the Premier League.
Ronald paid a compliment to the Blues, saying that Everton "are a big club and it would be a challenge" for his brother, but "he has to wait and see what the management (Farhad Moshiri and Bill Kenwright) does at the club."
De Boer's name has been linked with the job for a number of weeks and he has already become the fan and betting favourite to take over. Once Martinez's position as manager started to become uneasy, De Boer was quickly touted as his successor.
It has also been reported that De Boer will meet with Everton owners Farhad Moshiri and Bill Kenwright this week to interview for the job. He will interview alongside a number of top candidates including former Manchester City boss Manuel Pellegrini, current Southampton boss Ronald Koeman and current Sevilla manager Unai Emery.
De Boer open to the job
De Boer has made no bones about his desire to manage in the Premier League but only when the timing was right. He has turned down a number of teams in the past, including Liverpool, but this time he is the one searching for a job.
His style of play would likely be welcomed at Goodison Park as he mixes defensive solidity with quick, counter attacking play.
The Blues had a number of defensive struggles under Martinez and need a manager who is going to take over and make changes to that department. De Boer's Ajax side ranked first defensively in last season's Eredivisie, losing twice and only conceding 21 goals.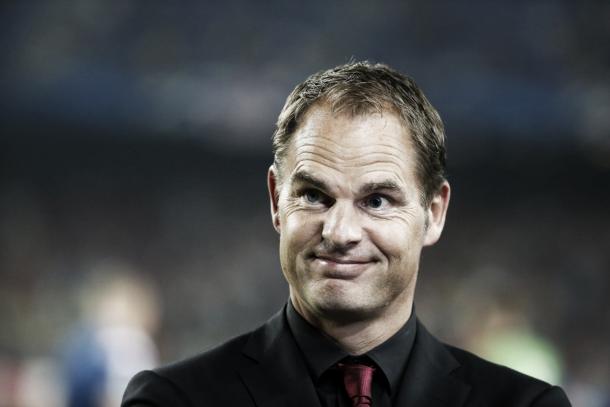 De Boer could be third or even fourth choice
Everton are looking to get it right this time around with hiring a new manager. Martinez was their number one target last time around and there was little word of a back-up plan.
Reports suggest that the Blues could interview no less than six top quality managers but is De Boer really the first choice?
When lined up against Emery, Koeman and Pellegrini, it's easy to put De Boer at the bottom of that list, but he's young, hungry and wants a challenge.
One criticism of Pellegrini last season was that he was unable to get the best of out his players. He already had a world-class squad at Manchester City and a similar situation could be worrisome at Goodison Park.
Emery and Koeman are both contracted to stable jobs, meanwhile, and seem fine to stay in their respective positions.
The Blues cannot complain about a lack of options this time around but it is down to Moshiri and Kenwright to make the correct decision.