It's an exciting time to be an Everton fan. The Blues secured their number one managerial target, Ronald Koeman and he has already talked up his ambitions and plans for the future.
Koeman is expected to address the media on Friday afternoon but has already spoken to the club's official media outlet, EvertonTV.
As a fan, it's easy to get swept up in the excitement surrounding Everton. Koeman was the main candidate for the board and they secured him. With Farhad Moshiri ready to back the club this summer, The Blues could realistically bring European football back to Goodison Park.
Like his predecessor, Roberto Martinez, Koeman is preaching patience for his first season in charge.
Koeman knows that a huge transfer budget cannot solve all of Everton's problems. Of course, it goes a considerable way to fix some problems, but he says it will only help if everybody at the club is pulling in the right direction.
He said that as a manager you cannot do everything by yourself as a manager, you need "everybody pulling in the same direction."
When everybody is on the right page, Koeman believes that you get "a very good family feeling" and that helps "to reach something special."
Focusing on the Premier League
Wherever Koeman has gone as a manager he achieves success in his first season, in the form of European qualification or a domestic cup win. The Blues would be grateful to finally end their drought without a trophy.
During his tenure, Roberto Martinez sacrificed performances in the Premier League for progress in the Europa League, Capital One Cup and FA Cup. Those competitions led nowhere and the Blues wasted two Premier League campaigns.
The Blues new boss believes the main focus has to be on the Premier League.
"It's (the Premier League) a competition, which as we saw last year, is very unpredictable." Of course, Koeman is not talking about winning the league just yet, but that there are opportunities to achieve success, mainly European qualification, through league positions.
Koeman also added that the Premier League is the "strongest competition in Europe" and that he is looking forward to the "support of the fans" during his first season in charge.
The Blues faithful have had their fair share of footballing buzzwords in recent years and they want somebody who is going to tell it like it is.
Roberto Martinez rubbed a lot of the fanbase the wrong way with his continual praise of players during poor spells. Koeman is the opposite and a clear breath of fresh air. He ticks the boxes for fans.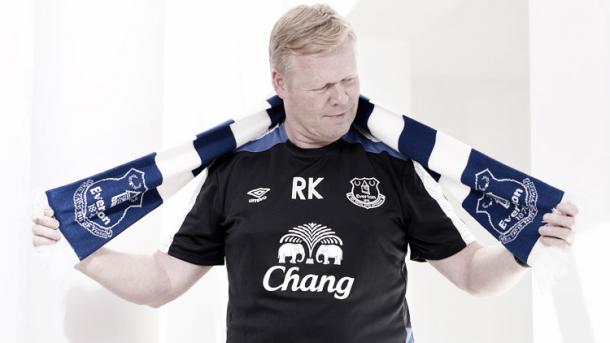 The Blues have high expectations regardless of the past 18 months
Roberto Martinez promised Champions League football but was unable to deliver, Koeman isn't promising anything just yet and that's not a bad thing.
The Blues want a trophy, but so does everybody else. They would like to qualify for European football, but so does every other team.
Proclaiming instant success raises the standards at Goodison Park even higher. Koeman is not tempering expectations nor is he going to be able to pull a fast one on Everton supporters.
The Everton board won't allow Koeman to temper expectations. The Blues are willing to invest a sizeable amount in the Dutchman and they want success as much the fans. Farhad Moshiri has already shown he is willing to get rid of an underperforming manager, he won't be afraid to do the same with Koeman.