After watching their team overcome a tough challenge in the form Alan Pardew's Crystal Palace on Saturday evening, fans were left revelling in the fact that Leicester City were now eight points clear at the top of the Premier League.
Thanks to a solitary Riyad Mahrez strike mid-way through the first period at Selhurst Park, the Foxes returned to the East Midlands with another three points which could prove crucial in the race for the title. Claudio Ranieri and his match-winner have given their reaction to this and the team's big win in the capital.
"We have to continue"
Talking in his post-match interview after the competitive clash, it was clear to see that the ex-Chelsea boss, Ranieri, was delighted with the result regardless of a somewhat below-par performance after the break. Stating that his team "deserved to win" because they played "so well", the 64-year-old was evidently pleased with the approach and attitude of his players.
Nevertheless, the enigmatic Italian did however state that it was a "tough" game against the Eagles - displaying a similar opinion to that he shared in his pre-match press conference. Again, this goes to show how much of a big win in the context of the season this was for the Midlanders.
However, Ranieri does not seem to be allowing himself to get carried away despite suggesting that the "Champions League is very close". In an attempt to reduce the hysteria in the media, the former Inter Milan manager said that he is "not dreaming" of the title. Instead, he suggested that his players need to "stay calm" and "continue to push" in this astounding season.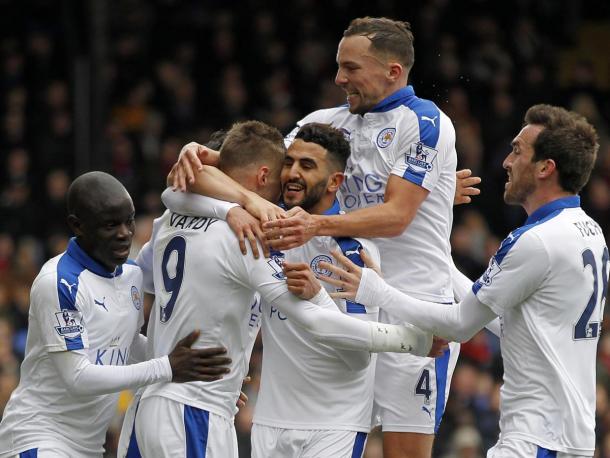 "We will see what we can do"
As a matter of fact, there also appears to be a similar opinion in the dressing room. Talking after the game, match-winner Riyad Mahrez, stated that him and his team-mates need to "keep going" in this vein of form and stay "focused" in order to uphold the most unlikely of challenges for the Premier League title.
Also saying that there's a "long way" left to go of the current campaign, it's clear to see that the Foxes are staying grounded ahead of the final few fixtures of the season. However, the mercurial Algerian also suggested that "we will see" what his team can do - almost implying that the Midlanders do in fact have the strength to lift their first-ever Premier League title.
Regardless of the position that the club find themselves in, the former Le Havre man was quick to point to a positive performance at Selhurst Park on the day. Telling the media that "the game was very difficult", Mahrez was quick to highlight that it was a "very good win" in tough circumstances.