Leicester City manager Claudio Ranieri has finally admitted that his side can win the Barclays Premier League.
The 64-year-old Italian continued his weekly ritual by greeting the 40 or so journalists as he entered the media room at King Power Stadium, by shaking each individual's hand before taking his seat. Ranieri admitted that his team are now fighting for the title, however he maintains his famous 'one game at a time' approach.
"If we want to win the league we have to fight. It'll be a tough match [against Swansea City]."
Friday afternoon's press conference wasn't all serious though, as Ranieri once again introduced visiting journalists to his fantastic sense of humour down at King Power Stadium.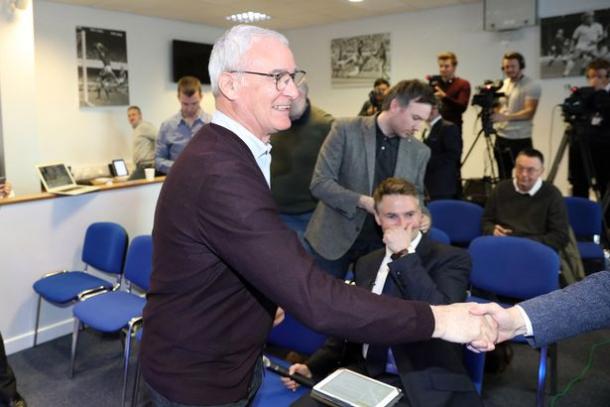 "We're in Champions League! Dilly Ding Dilly Dong! It's fantastic. Terrific! Well done to everyone! The owners, fans, players, staff," Ranieri exclaimed. He went on to tell the present media that "everybody is happy" about his club's "great achievement" of qualifying for the Champions League.
"Now we go straight away to try to win the title! Only this remains. I believe!"
Will Leicester miss Vardy?
Ranieri will be without top goalscorer Jamie Vardy, who is one of six candiates for this season's coveted PFA Player of the Year Award.
Discussing Vardy's absence, Ranieri told media "it was normal to accept" the FA charge. Vardy, who has scored 22 Premier League goals this season, has received public backing from England manager Roy Hodgson, who told the press this week that Vardy did not dive and backed his "natural" reaction. This is an opinion shared by Mr. Ranieri.
"It's not only sympathy but also truth," he stated. "Maybe it's not a penalty but not a yellow card."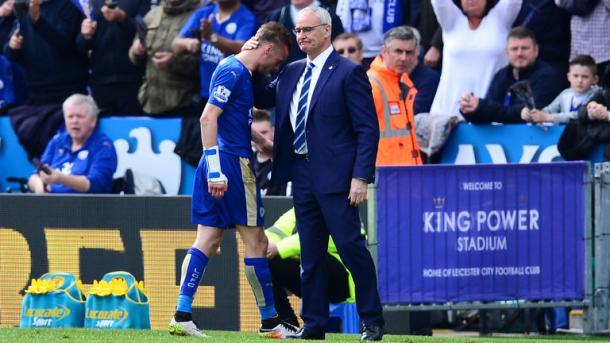 Tottenham Hotspur manager, Mauricio Pochettino, has had his own say on how Vardy's absence would effect Leicester this weekend.
"I think that it's a big impact for Leicester because Vardy is one of the best players in the Premier League," he said.
"Leicester have very good players and are in a position that they deserve to be, this is important, nobody gave nothing for nothing."
Leicester focused only on themselves
Ranieri was keen to make a joke of Pochettino's comments, insisting that he is focused on his own team. "Pochettino is... Mauricio, calm down," Ranieri joked.
The Leicester manager has stressed the same point throughout the season, that "it's not important what Tottenham do" - and he did exactly the same on Friday. He is a firm believer that the only way his side can win the title is if they "believe and push with heart and soul."
One topic that created much debate last week was the performance of referee Jon Moss, but Ranieri has no problems with this week's appointment. "Mark Clattenberg is a fantastic referee. It's no problem. I have no problems with referees."
How will Leicester line-up at the weekend?
"You see on Sunday," the charismatic Italian teased - when asked about his starting eleven.. "We'll have to change something. Without [Vardy] we make another strategy."
Argentine target man Leonardo Ulloa has done well during his limited appearances this season, often from the substitutes bench.
"Leo deserves to play but before Leo there is a team. I think about what's best for the team," Ranieri told the media on Friday. The Italian does have other options, of course, with highly-rated wingers Jeffrey Schlupp and Riyad Mahrez also capable of playing up front. Ranieri had no hesitation in heaping praise on the latter.
"Riyad is our light. When he's switched on. Leicester change colour. That's the truth."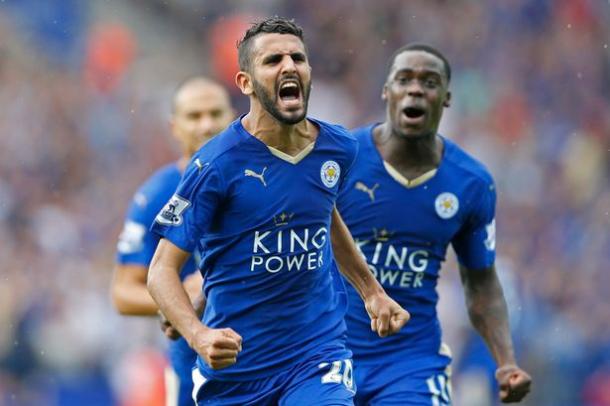 Some more good news!
The Leicester City manager also confirmed to the press this afternoon that his assistant mangers, Craig Shakespeare and Steve Walsh have both signed new contracts at King Power Stadium. "I think they've signed. For me it's done," the Foxes boss said.
The duo were key to Leicester's success under former manager Nigel Pearson, but have been quick to build a solid working relationship with Ranieri. Steve Walsh worked as a European scout for Ranieri during his time at Chelsea.
View from the Swans camp
Swansea City manager Francesco Guidolin also spoke to the press on Friday. "I hope for Ranieri that Leicester can win the title. They deserve to win," he told the press. "They play very well, and it is a dream for Leicester and their team."
"It is a very important match for us. Our season is not finished. The table is looking better but we need points."
Guidolin is fully aware of the size of the task his team faces, stating that "he will be able to control the situation and the pressure."
"I want my team to play well and fight against the top team in the table," Guidolin said. "This is an important game for Leicester, but for us as well."