After seeing Tottenham Hotspur draw 2-2 with Chelsea at Stamford Bridge on Monday, Claudio Ranieri's side were surprisingly confirmed as Premier League champions.
As was expected, the celebrations continued well into the night after the Foxes managed to claim their first-ever top-flight title in their 132-year history. Nonetheless, their attentions now have to be turned to their final home match of the current campaign as Claudio Ranieri's team welcome Everton to the East Midlands.
Excellent expectations?
With the Foxes expected to be lifting the Premier League trophy following the match against the Toffees, it goes without saying that not many foretold this upturn in fortunes ahead of the 2015/16 season. Most (if not all) pundits and maybe supporters predicted a season of struggle at the other end of the table and could well have foreseen Ranieri's men competing against the likes of Aston Villa and Sunderland as opposed to Arsenal and Manchester City.
Anticipating another campaign geared towards fighting relegation, those individuals regularly adorning the terraces of the King Power Stadium surely would not have been expecting anything of this magnitude to occur. However, having amassed an unassailable 7-point lead at the top of the table, the East-Midlanders have managed to fight off the challenge of Mauricio Pochettino's Tottenham Hotspur to claim an unbelievable league title.
Racking up an outstanding club-record 22 league wins so far during this campaign, most will argue that nobody else truly deserved the Premier League crown as much as the swash-buckling Foxes. Therefore, it goes without saying that Ranieri's men have really exceeded all expectations put towards them this season (and then some).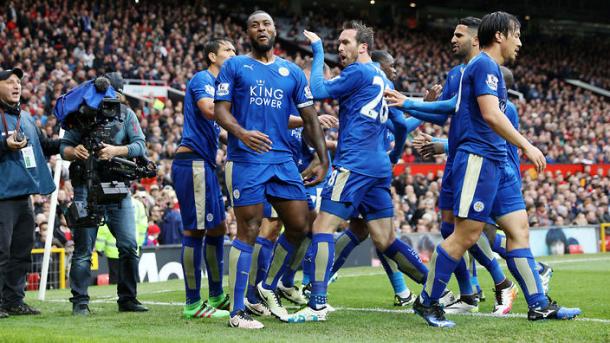 Elsewhere, in his third season at Goodison Park, Roberto Martinez has really struggled to have an impact and has come under his fair share of criticism. Following an overwhelming first season on Merseyside, in which the club finished 5th, most expected something similar this campaign if the likes of Romelu Lukaku, Ross Barkley and Gerard Deulofeu were to all be on-song. Although, it's not really panned out that way for the Toffees this season.
Currently languishing in 11th place in the Premier League table, any chances of European football visiting Goodison Park evaporated some time ago. In fact, the Merseysiders have only managed to chalk up 10 wins in the league all season and have drawn the most amount of games of any other side in the top-flight (14).
On the other hand, Martinez has earned some plaudits this season for managing to get his side to the FA Cup semi-final against Manchester United – their first since 2008. However, with them being eliminated by the Red Devils at Wembley, fans will be hoping that the Toffees can finish their campaign positively, starting at the home of the new champions.
Glut of goals?
If history is anything to go by between these two sides, those lucky enough to have a ticket to the match should look forward to a treat. Since the first meeting between the two way back in 1908, an average of 3.42 goals has been scored per game, an outstanding total most will argue. As a matter of fact, since Leicester City's promotion at the end of the 2013/14 campaign, the two have shared 13 goals in only 3 matches.
You only need to look back at the Foxes' 3-2 victory at Goodison Park in December to reinforce that point. That day, a solitary Shinji Okazaki strike coupled with a brace of Riyad Mahrez penalties set Ranieri's men on their way to an important victory that surely assisted them in striding to their first-ever top-flight league title.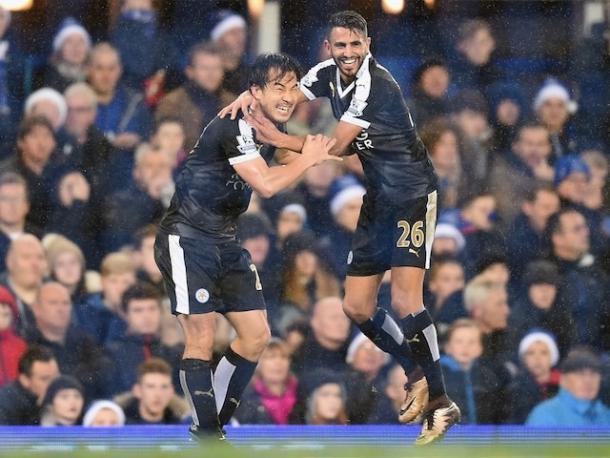 Despite the steady flow of goals previously seen in this particular fixture in the past, the result tends to be a closer affair. In 94 tussles between the two, the East-Midlanders have claimed the win on 30 occasions and have drawn the same amount of games. Unfortunately for the Foxes though, the visiting Toffees possess a slight advantage in the historical standings having earned victory 34 times.
Furthermore, Martinez could also have a look at his team's away record this season for a further boost of confidence. Managing to only lose on the road twice in the league throughout the home campaign (to Arsenal and Manchester United), some could argue it is this that is keeping the ex-Wigan Athletic boss in his job.
Although, in order to earn the win, the Merseysiders will have to overcome Leicester City's exemplary home record. The champions have only fallen to one solitary defeat in the league so far this season and even that came way back in September in a 5-2 defeat to Arsene Wenger's Arsenal. As a matter of fact, the Foxes have not lost at home to this weekend opponents on home soil since 1997.
Team News
Despite the fact that Claudio Ranieri has somewhat lost his "Tinkerman" label this campaign due to his extremely consistent team selections, supporters should be expecting a new-look Leicester City side this weekend.
Following the Foxes' 1-1 draw against Louis Van Gaal's Manchester United at Old Trafford last Sunday, a number of the newly-crowned champions could well be missing from the starting XI. After picking up a red card against his former club, Danny Drinkwater will not be available for selection for Ranieri. Also joining him in the stands will be former Chelsea defender, Robert Huth. Being charged by the FA for violent conduct, the big German is now set to miss three matches with suspension.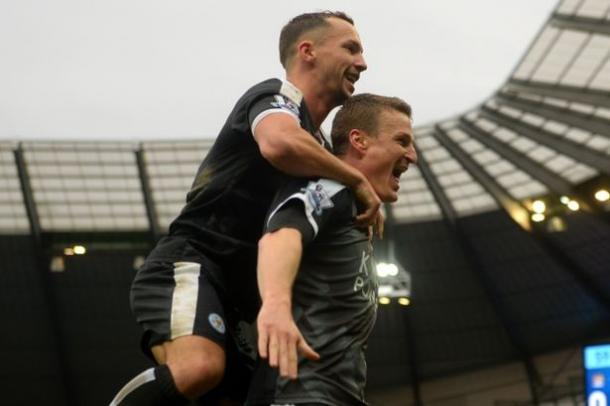 However, there could well be a few returning names for the home crowd to get excited about. During his press conference on Thursday, the Foxes' enigmatic Italian revealed that long-term absentee Matty James could make his return from a cruciate ligament injury he suffered last April against Southampton. Whether the popular 24-year-old makes an appearance from the start or from the bench, the King Power Stadium will be delighted to see him return.
Also making his comeback could be 22-goal striker Jamie Vardy. Having served his suspension for a charge of improper conduct, fans again will be glad to see one of the Foxes' star-men return to contention.
Elsewhere, Roberto Martinez does have a hefty injury list to contend with for the trip to Leicestershire. Numerous key players remain on the side-lines including the likes of Gerard Deulofeu, Phil Jagielka and Ramiro Funes Mori (suspended). Nonetheless, they could also be joined by numerous others such as Gareth Barry and Seamus Coleman.
On the other hand, the Toffees still have unbelievable quality to call on when needed. With the likes of Romelu Lukaku, Kevin Mirallas and Ross Barkley all available for selection ahead of Saturday's game, the Blues could still field an extremely strong side regardless of all the injuries and other absentees.
Predicted Line-ups
Leicester City – Schmeichel, Simpson, Morgan, Wasilewski, Fuchs, Mahrez, Kante, King, Schlupp, Ulloa, Vardy.
Everton – Howard, Besic, Stones, Pennington, Baines, McCarthy, Gibson, Lennon, Barkley, Cleverly, Lukaku.