Jürgen Klopp insisted that he wasn't pleased with the performance of his Liverpool side after they drew 0-0 away at Augsburg in their Europa League last 32 first-leg on Thursday.
The German returned to his home country for the first time since his Anfield appointment as the Reds returned to continental competition to take on the Bundesliga outfit in the first knockout round.
But neither side was able to find the breakthrough across a tight 90 minutes at the WWK Arena, leaving the game finely poised for the second-leg on Merseyside next week.
"I'm not 100 per cent satisfied", admits Klopp
Speaking to the press gathered inside the ground afterwards, Klopp reflected somewhat positively on "one part of it" as "a 0-0 in an away game in a Europa League first-leg" and said that makes it seem "everything is okay" but he admitted he's "always interested in results" and "the performance too" in their "situation."
"We had a few good moments, really good play and an early chance in the game," he added, saying that he was pleased with their second-half performance because of the "good moments in possession and good passes" but rued that there were "some other moments we were not happy with."
The Reds boss declared that he's "not 100 per cent satisfied" at the end of the game and said that they "have a chance in the second game" and must "use it" - as he reflected that he wants the team to "play the level we are able to more often."
He said it was "clear that the visitors "could have created more chances" against Markus Weinzierl's charges and bemoaned the "moments when we played the wrong pass, lost patience or made the wrong decisions."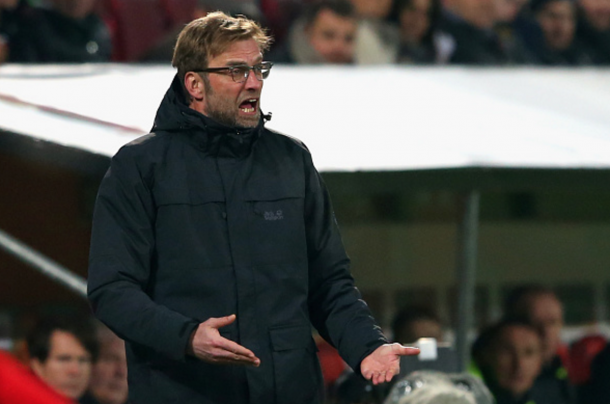 Klopp accepted that "things like this can happen" and said that it's "not a big problem" but vowed that it's "important we speak with the team about the things we can improve" because it would have been easy to say "0-0 is a top result, let's go home and win the second game."
The Liverpool manager went into great tactical depth about the situations he found himself frustrated with, insisting that there were "a lot of situations on the counter-attack where it was completely unnecessary that [Augsburg] had them."
He explained that his side "have to stand better in protection" so that they "can win easier balls" and said it's not necessarily just "about defending" but rather "about protecting your own offensive situation."
Klopp: "Liverpool have to work on consistency"
"You can win easy balls back and then you have the space you had to work for a few minutes ago," insisted Klopp, who explained this way of playing as "much easier" and "makes absolute sense."
He said that that the team "didn't play too often together in this formation in key positions" and referred to their previous game, a 6-0 thrashing of Aston Villa in the league, saying "from a specific moment it was an easy game", not because of their quality but because "you can have days like this."
Klopp insisted that German teams are "really strong on the tactical side" and spoke about the fact they "defend really well, close gaps and don't offer any space" to their opponents.
After a dull first-half, in which Roberto Firmino went the closest to opening the scoring for the visitors, Liverpool pushed for a goal after the interval but despite creating a number of promising opportunities, were unable to get the better of goalkeeper Marwin Hitz.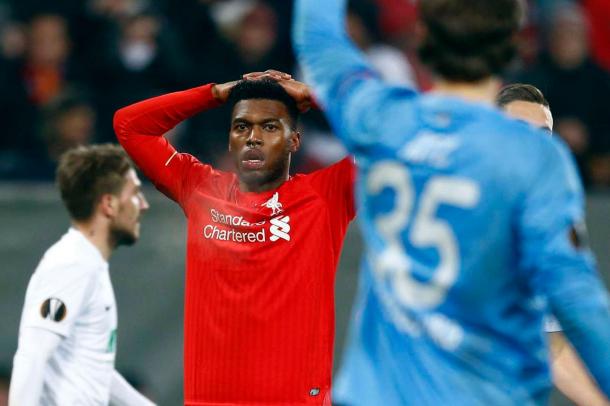 But Klopp was encouraged by the improved performance after the break, saying: "You could see Phil [Coutinho] was better [in the second-half]" and that he was "better" and "created a few really important things for us."
"We saw in the first-half which spaces we could use, with high full-backs and wide wingers in the half-space," continued Klopp, who further said that would be more effective if the players "have rhythm" and could "play together more often" - which is what the Reds "have to work for" according to the manager.
Reds "got to go for it" in second leg, says Klopp
The goalless stalemate leaves the return leg up in the balance for both teams, with either side requiring just a win to reach the last 16 of the competition.
Despite the second game coming just three days before Liverpool's Capital One Cup final against Manchester City at Wembley Stadium - Klopp admits he'll be forced into fielding a full-strength team as they aim to reach a showpiece European final in May.
"As strong a team in the second leg? Yes. I think so," said the boss, who said "maybe it's a different team" but insisted they "shouldn't think too much about the final" later in the week.
He acknowledged that they "cannot ignore it" and insisted he won't ignore it, but said they must treat their second-leg with Augsburg seriously.
He admitted it could've been easier had they won comfortably in the first-leg, but said that it's "not possible to beat Augsburg 5-0, so there was no chance for us to have an easy game in the second-leg" as he said even had they won "1-0 or 2-0" then still "nothing is decided."
Klopp warned that they must be "really concentrated" and show that they "want to go to the next round" - challenging his team to "always give 100 per cent" and said that if they do so, they will "get the benefit."
"If you save energy or power for the final, you will lose on Thursday and Sunday," he insisted, adding that they "should be concentrated" for the second-leg and then they can "think about Sunday" afterwards.
He revealed that Augsburg will come to Liverpool and "they will defend and they'll play for the counter-attack" and therefore said that the "result is good" despite admitting "an away goal would have been good." He lamented that his team "didn't get it" but simply said: "Now we've got to go for it in Liverpool."