James Milner accepted that Liverpool weren't at their best against FC Augsburg on Thursday but believes they are capable of making amends in the second-leg next week.
The Reds couldn't break through a well-drilled back-four at the WWK Arena in the first-leg of their Europa League round of 32 clash with the Bundesliga outfit, leaving the tie in the balance for the return game at Anfield.
Despite both teams creating a number of good opportunities to break the deadlock, the draw means that Jürgen Klopp will be forced into fielding a stronger side than he might have liked just days before the Capital One Cup final.
Milner, despite acknowledging the disappointment of not coming away with an away goal advantage, said that they are capable of winning next Thursday to maintain their hopes of winning the competition.
Reds can do better in the return leg, suggests Milner
"We had plenty of chances but it didn't go for us," the midfielder said to Liverpoolfc.com, despite admitting that they "probably didn't play well enough" to win the game.
However, the England international believes 0-0 isn't "a terrible result" but says they will "take it home and hopefully get the result there."
The 30-year-old took the positives from his side's performance, adding: "The desire was there, I think you can see that. Hopefully we can improve next week."
He continued that they have to "make sure we keep the ball moving" as well as "creating the chances like we did" and then "hopefully one of them will go in."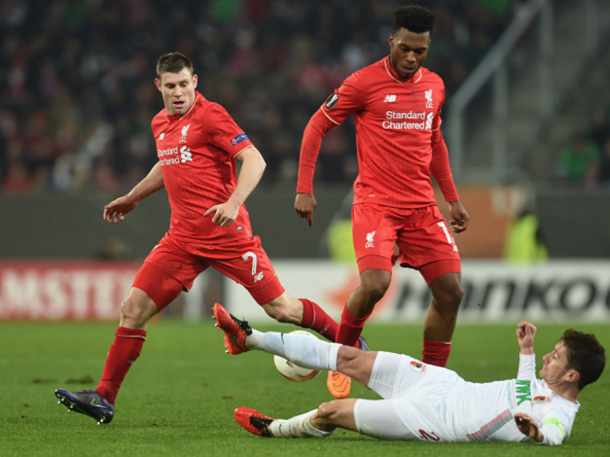 Milner also explained that when the Reds are attacking they must ensure that they are "sound at the back and don't give away too many counter-attacks."
On their hopes of moving into the latter rounds of the tournament, Milner explained that it's a "tough one to win" because there's "a lot more games to go" even though they have played "a lot of games" to get to this stage.
"But you're in it and you want to go and win it," he said, insisting the opponents make for "a good test" and declaring "it would be a great thing for us to go on and win."
Reds must make the most of a week off, says midfielder
The Reds' vice-captain have a welcome week's rest before the second-leg, which precedes a monumental fixture at Wembley Stadium.
Milner and his teammates travel to the capital to take on Manchester City in the final of the Capital One Cup, hoping for their first piece of silverware since 2012, and he says they must use their extra freshness to give their all in both games.
"In terms of where we are now, we've got that rest and we have to use it," Milner said, acknowledging the "two massive games" that they face next week.
"A chance to progess in this [the Europa League] and a chance to win a trophy which doesn't come around too often," he added, explaining that it's "important" that the team are "ready for those two" in order to "get two positive results."