Adam Lallana. Even the mention of the name brings about a debate. The man that Brendan Rodgers decided to spend £20 million to bring him to Anfield is still yet to prove that he was worthy of that price tag.
Inconsistency. The best word that can be used to describe the career of Lallana during his time at Liverpool. Injuries have of course played a huge factor in Lallana's inability to find consistency but he has struggled to hold down a spot in the Liverpool first-team and that's partly because he doesn't produce top-quality performances week in, week out. The fact is you don't really know what Lallana is going to turn up.
With Jürgen Klopp having the luxury of numerous attacking options at his disposal, the competition for places is heating up. The front three of Daniel Sturridge, Philippe Coutinho and Roberto Firmino, that started a game together for the first time last Sunday against Aston Villa and continued against Augsburg, will likely be the number one selection choice if all players stay fit. It leaves players like Lallana in a difficult position because the bench looks the most likely place for him at the moment.
Midfielder a potential game-changer off the bench
But that might not necessarily be a bad thing. Lallana's substitute appearances have seen him be quite effective in recent times whilst, when starting games, he has struggled to fully impose himself and create and score goals. His problem is mainly at home when Liverpool have bags of possession because whilst the England international possesses huge skill, his lack of pace and killer passes mean that he is largely ineffective in games.
The 5-4 victory over Norwich earlier this year was the biggest indication that an impact substitute role could be the way forward for the former Southampton man. Liverpool had struggled to create many chances until his introduction but Lallana's willingness to make runs in behind proved crucial in stretching the game and led to him setting up Firmino when he made it 3-3, as well as scoring the eventual winner.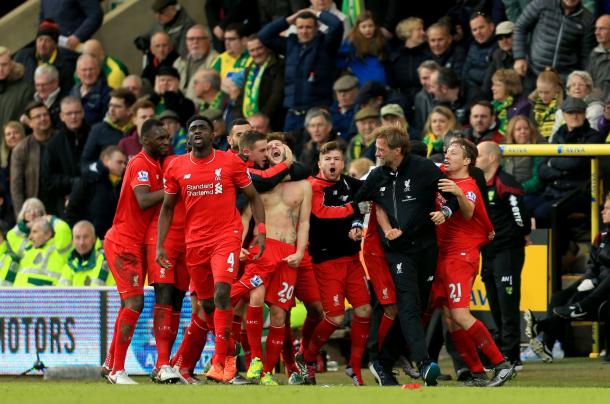 You can't question Lallana's work ethic and one of the reasons why you want him in the team is that you know he will run around for you all day long and will leave everything out on the pitch. It's why you feel that he is one of the players likely to stay at Liverpool and continue under Klopp, because the pressing style suits him down to a tee.
Deeper midfield role the answer for Lallana?
I've recently been reading people's opinions on Lallana and a few have suggested that he move into the midfield three which currently consists of James Milner, Jordan Henderson and Emre Can. The latter two have taken on the main central midfield roles during their time on the pitch together with them sharing sitting duties whilst Milner has been given the freedom to run around and be everywhere and anywhere, mainly on the right flank.
Milner and Lallana both share the endless energy tanks which would make him an ideal replacement, if Klopp wants to bring him into the team when he returns from injury. Liverpool, for the large part this season, have lacked any real threat from the central midfield players with the Augsburg snore fest being a good example of that. With Lallana in that deeper role, it could give him more space on the ball but also the license to roam, which you feel he would enjoy.
What may worry Lallana is that Klopp spoke recently about the need to bring more experienced wingers into the club. Therefore, you would expect him to make that one of his priorities in the summer window. With competition for places already high that makes it even more difficult for Lallana to become a regular feature in the first team.
Firmino and Coutinho are both the more favoured options already and an additional winger would push Lallana further down the pecking order. Even if he moved into a deeper creative position Klopp has been linked with Ilkay Gundogan and Granit Xhaka in the last few weeks and central midfield is another department that will look to be strengthened.
As it stands the future remains very uncertain for Lallana. It may be the case that he comes into the team for Milner when he returns from injury, but that seems unlikely. The big insight into where his future lies will become apparent in the summer transfer window. For now though, Lallana will be concentrating on getting himself fit and trying to force his way into the first-team during the run-in. After all, he might just be fighting for his future.