Simon Mignolet says Liverpool cannot afford to think ahead to their Capital One Cup final next weekend and instead insists they must focus on the second-leg of their Europa League clash with FC Augsburg.
The Reds couldn't find a way to break down a resilient German side on Thursday night as the two teams drew 0-0 in the first meeting of their two-legged round of 32 affair.
That leaves the game finely balanced just days before Liverpool's showpiece Wembley showdown with Manchester City just a few days later, but Mignolet says they can only afford to concentrate on their next game, rather than thinking ahead to the highly-anticipated final.
Shotstopper says Liverpool must focus on Augsburg second-leg
"There is no point in looking forward to the League Cup final," insisted Mignolet, who said that Liverpool must take "every game as it comes" because the next game "is always the most important."
He acknowledged that it's a cliché but said it was "as true as it can be" and said that they are "used to playing two games in a week" having played so regularly over the past few months.
"We have seven days to recover - which is a change from what we have done recently," added the 'keeper, who said thay must "get on with it" and "look at the things we can do better" so that they can "do the business at Anfield" in the second-leg.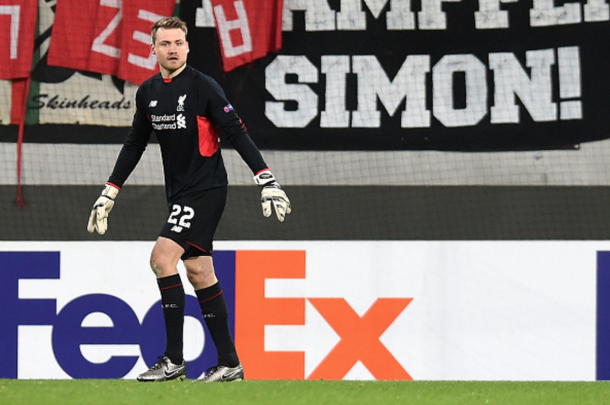 Although the Reds spurned a number of promising opportunities on the night, Daniel Sturridge wasting the best of which from James Milner's low cross, Mignolet believes they can take some positives in to the return tie.
The No.22 called it "pleasing" that they "defended well" and explained that they are "still in this tie having not conceded away from home." The Belgian custodian added that is "a positive thing" and said they "have to do the same things next week and try to score a goal."
"When you play away from home you want to score a goal but that didn't happen," he admitted, but said that they "knew it was going to be tough" because Augsburg are "very technical, difficult to beat and don't give many chances away."
Reds still in strong position to reach next round, says Mignolet
Mignolet said that he and his teammates are "still in a decent position" for next week's game, saying that they "created enough chances to score" and especially in the second-half, but rued that they "didn't capitalise on those."
He explained that "every German team is tough to beat" because they are "technically up-to-date" and make it "difficult to play" and said that it's "a different kind of play to what you have in England" which he said is "a bit more pressing" as opposed to Bundesliga clubs playing "a bit more tactically."
"It is not easy to adapt to that," added Mignolet, who said they "make two lines of four" which is "difficult to break down." He dismissed their failure to score as "just how football goes" after scoring six in the game prior, joking that "sometimes you have to save a few in the previous game to score one in the next game!"
He simply said that "have to accept that" and will "focus on making sure" they "do the job at home" - insisting they "have to have a bit of luck" in order to prevail, despite admitting it balanced out a bit on Thursday, saying "a 0-0 draw was probably the right result" and Liverpool will "try and do the best we can next week" to try and get through.
Mignolet believes fans can help make the difference
With the intriguing return fixture presenting Jürgen Klopp's charges with the ideal opportunity to entertain their supporters with another famous night under the Anfield lights - Mignolet believes the home crowd can help spur the hosts on towards their goal of European glory.
"The fans will be behind us and you can always do a bit more when that comes along," added the 27-year-old, who said that "every 90 minutes is different" on L4 and said that the fans will "be up for it" and "pushing us [the team] forward."
But he acknowledged that it's up to the team to "try to get through" and said that there are "many good teams playing in the Europa League", so they must "show we are willing to go to the next round."
He said they can "learn from the game" on Thursday, because they "know what" their opponents are about as he added that they have "a big chance" in a "very big competition" which they want to try and win, which Mignolet insists is "all we will try to do next week."