With Liverpool facing Manchester City in the final of the League Cup this Sunday, the rumours surrounding line-ups and formations are beginning to set in.
The defensive area of the Reds has been a flawed area this season, but could defensive midfielder Lucas Leiva help ease the crisis and plug the gap which has caused so much unnecessary trouble?
A starting place this Sunday would shockingly mark the Brazilian's first Wembley appearance for the club despite being earning a League Cup medal in the 2012 season.
After being with the Reds since 2007, it does seem rather perplexing that a midfielder that has been such a familiar in the first-team has not made a stop at one of England's biggest stadiums.
Injury ruled him out of three Wembley opportunities in 2012, and another last season, but the 29-year-old will be keen to make up for lost time and force his way into manager Jürgen Klopp's plans wherever that may be.
Head-to-head
Comparing the Anfield veteran to his fellow defenders may provide a clear platform to justify his defensive starting place.
With 28 appearances across all competitions already to his name, should that number rise this Sunday for the former Grêmio player?
Occupying a defensive midfield role for much of his career, his tenure as a centre-back has been very short as he has featured in the role few times this season last appearing in the FA Cup defeat to West Ham United.
Comparing the feisty Brazilian to preferred centre-half Martin Skrtel the statistics are rather strange as in just 20 games Lucas has managed to rack up 72 successful tackles while in three games less the Slovakian defender has tallied just 16.
The downside of the No.21 is that he is often seen as ill-disciplined as he has managed to concede 42 fouls equalling just over two fouls a game, which in a deeper position could prove fatal to his team.
Mamadou Sakho also pails in comparison as the 29-year-old has maintained a much better tackling win rate at 79.1% while the Frenchman's sits at 61.25%,.
Strengths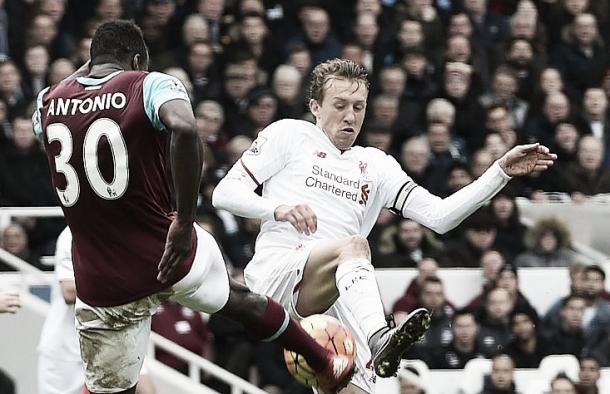 With all of the current recognised centre defensive players taller than the Brazilian, heading would not be his strong suit even despite his impressive 60% win rate.
However, Liverpool under Klopp's regime have begun to play a much more fluid style of football that is centralised on possession and passing, utilising the strengths of the current midfielder in a defensive position could provide some much-needed quality at the back.
Passing is a strong aspect of Lucas's game and this alone could catapult him into the defensive scene, and help him stand alone above the other defenders.
Averaging 56 passes a game with an accuracy rate of 82% demonstrates his comfortableness on the ball and could lead to a stronger platform for the team to attack.
An established veteran of the Liverpool squad and respected amongst his players, the leadership that Lucas seems to bring throughout his game much be a much needed element at the back.
Goalkeeper Simon Mignolet often lacks a clear voice and the authority at the back and as shown in the West Ham fixture, the Rafael Benitez signing was an effective leader in defence.
Rally Cries

Liverpool legend Jamie Carragher has given his two cents on the opinion of starting Lucas in a centre back role.
The former stalwart gave his views via Twitter in which he said "Couldn't understand Klopp using Lucas at CB in the last few months but looks like he was right #Colossus."
The post was retweeted nearly 1,500 times showing there is clearly some agreement within the Anfield fan base. But is Klopp amongst those of the opinion that Lucas is the answer? Time will soon tell.